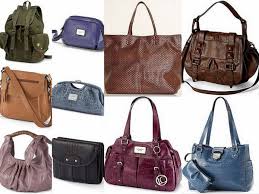 Whether it's for a casual evening, a party or a formal do, bags help you 'carry' off the look with panache. They are a woman's best friend as they carry all the must-haves and 'hang' around with girls wherever they go. Bags can make a simple outfit look classy, and a wrong one can ruin the almost-perfect look. To help understand what to choose from the wide range of variety available, here are few tips on how to select the bags for each occasion and maintain them as well:
The classic day bag: The classic day bag is an essential item in the urban life. No matter what brand do you prefer you must invest into a black bag. Whether from designer label or you just bought it from the street corner, a black classic day bag is a must have in the wardrobe of every woman. The advantage of this bag is that it goes well with any outfit you feel like wearing.
Clutches : Party-girl or not, clutches are a must. A convenient and compact way to carry all your essentials, clutches go with your party dresses (of course) and your formals. The best part of clutches is that they go well with every outfit. If you have some little space in your kitty of bags you can have a conventional black, brown clutches for the formal meeting. For the party you can have a sequence or a hand embroider one. Since they come in various designs and colours, it won't be difficult to find the right one (or ones) for you!
A Luggage Tote: You can take this on flights or pack an overnight bag! It holds substantially more amount of stuff than any other bag and can be held over the shoulder. This can also be used as a great shopping bag so you don't end up with a gazillion tiny ones. We would suggest you go in for neutral tone or maroons.
A sling bag: A sling bag will leave you hands free while holding all your essentials in place. This is the perfect little thing to take on a picnic, a hiking trip, tourist- visits or anywhere where you don't want to feel burdened by the weight of a big bag you can own one in pop colors.
Now that we know which are the most bags in your wardrobe we share with you few points on how it maintain them as well.
Storing of bags: If you have picked a new bag and wish to keep aside the bag which you are currently using for while and use it after some time, it is always better to fill it with papers inside the bag so that it does not lose shape. Since leather is porous, it loses moisture through evaporation. Use a conditioner once a month to keep your bag looking its best. Wipe excess product and allow the bag to air dry completely before storing it. You can apply a water and stain repellent product after conditioning.