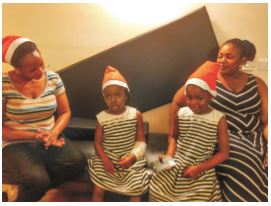 A four year old female child from Nigeria, Zahra Oyalami, was unable to walk or talk normally due to Cerebral palsy that she suffered right from childhood.
"Zahra is a twin who was born prematurely in the 7th month. While her twin is absolutely normal, Zahra suffered hypoxic brain injury (oxygen deprivation to the brain). She had seizures on the 8th day after birth and was administered medicines. As Zahra grew, squint was noticed in her eye. At around 8 months of age the parents noticed that she was unable to sit on her own and also had seizures. Investigations were done (EEG) which revealed that the child had partially suppressed generalized seizure activity. She was advised oral medications and physiotherapy by which mild improvement in her overall condition was noticed. However, it was observed that she was unable to communicate everyday needs and perform daily activities effectively," said Dr. Pradeep Mahajan from StemRx Hospital, Rabale.
The parents had consulted many specialists in their country and also in Dubai and London. However, no improvement was noticed in Zahras' condition following conventional treatment. On referral by a Kenyan patient who was successfully treated at StemRx for a neurological condition, the parents decided to come to India/StemRx for cellular therapy.
At StemRx, following investigations and clinical assessment a personalized treatment protocol was planned for the patient. Over a period of 15 days, 2 sessions of cellular therapy was given along with rehabilitation programme. The goal of cellular therapy was to improve the child's cognitive, speech, motor/neuromuscular functions thereby enabling her to perform activities of daily living. The rehabilitation programme comprised of physiotherapy exercises and neuromuscular stimulation. In addition, oxygen therapy, diet modification, nutraceuticals were advised to the patient.
"Following the first session of cellular therapy and intensive rehabilitation programme, an increase in strength of muscles was observed. An improvement in gait was also noted. After the second session, the child was able to walk comfortably with support. Eyeball movements appear more coordinated and her squint has decreased. Gradual improvement in communicative ability is being noticed. Zahra can now speak single words/short sentences clearly. Overall, the general condition of the patient improved, as a result of which she is now gradually able to perform routine activities more efficiently," informed Dr. Mahajan.
Role of stem cells in treatment of cerebral palsy:
Most cerebral palsy patients have a history of intrauterine hypoxia, preterm birth, asphyxia after birth or other complications during the perinatal period. These factors may result in impaired function of different areas of the brain.Cerebral palsy is currently one of the major diseases that cause severe paralysis of the nervous system in children for which conventional treatment modalities are not very effective.  Bone marrow mesenchymal stem cells (BMSCs) have strong self-renewal, proliferation, and differentiation potentials. The mechanism underlying the function of stem cell transplantation in nerve repair may involve cell replacement function and neurotrophic effect. BMSCs can be induced to differentiate into neuron-like cells and glial cells. Therefore, autologous BMSC transplantation may be a promising option for treating cerebral palsy, say doctors.