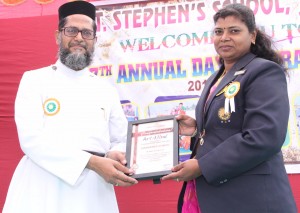 Jasai: St. Stephen's School, Jasai in Raigad District and Taluka Uran, which was once a small English Medium School in Jasai area, has now come up to the International level with the students participating in the International Assessment for schools (IAIS) organized by the Macmillan Education India.
"This exam was conducted for the students of Std 3rd to 6th. Many of the students came up with higher distinction. We are proud to say that among them one of our students of Std 4th Mst. Mhatre Ayush Janardhan scored Higher Distinction in Digital Technology and Distinction in English, Maths and Science", said Mrs. Revathi Nair Headmistress of St. Stephen's School.
"With the encouragement and guidelines of our Headmistress Mrs. Revathi Nair, our students could come up to this level", said Mrs. Vaishali Mhatre and Ms. Sheetal Bhekare- the teachers who took great pain to teach the students and bring them upto this level.
The School Headmistress and all the staff are very proud to see the students doing well although the students are from the small area of Jasai. The school has also received Brilliant School Award, Active School Award, Kalabhushan Award, Dronacharya Award, Ideal Principal Award for various competitions.
The Management, Rev. Father Thomas Varghese, President of Koinoniya Charitable Trust congratulated the Headmistress, staff and all the students who have performed for this activity and wished them all the best for the coming year.