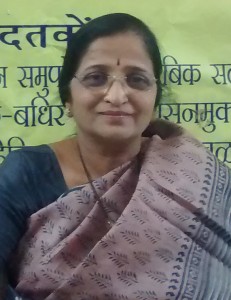 A former employee of City and Industrial Development Corporation (CIDCO), Amarja Chavan is a well known figure in Navi Mumbai and is known for her social services as well as her untiring work for the underprivileged people of the city.
The general secretary of a Navi Mumbai based non-governmental organization (NGO)- Navi Mumbai Swayamsevi Samanvay Sanstha (NMSSS)- Amarja leaves no stone unturned to help the needy and poor in all possible ways. Her NGO has currently roped in 60 other like minded NGO's working for the betterment of people in various fields under NMSSS's protective umbrella.
"I have always believed that whatever we have in this world is given to us by the Almighty. As a responsible citizen, I feel, it is our duty to give something for the welfare of the society in accordance with our ability. Right from the very tender age, I have always desired to work for the society. Thankfully, my family has supported my endeavor and has been very encouraging."
Speaking about the inception of NMSSS and its activities, Chavan said, "I used to feel sad to see the plight of many families living in Mumbai and Navi Mumbai and how it was extremely difficult for them to make both ends meet. I felt that these families needed support and hence with the help of few other like minded individuals thought of forming NMSSS."
"NMSSS's main aim is to work for the under privileged sections of the society and ensure better life for them. As it is a Herculean task and impossible for a single NGO to do it alone, we have joined hands with other NGOs who are working for the same cause. Together, we are trying to help the families in whatever we can," adds Chavan.
NMSSS has its own 24×7 Helpline no 022-27820000 where people can approach them with their problems and grievances.
As a future course of action, NMSSS wishes to start art and craft courses for the needy to make them financially independent and have proper sanitation in the city to ensure that there are proper toilets for women.