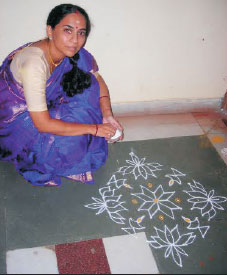 Its 6.00 am in the morning, draped in a traditional Kanjivaram silk saree, Vijaya Sharadha is busy drawing an intricate Kolam (Rangoli) at the entrance of her house in Navi Mumbai. She wants to complete the Kolam before her daughter Anamika leaves for college. Well it is no special occasion. It is just a normal routine for Sharadha- an enthusiastic Kolam artist- drawing Rangoli since the last three decades.
Born and brought up in a traditional South Indian family, 'kolam' happened to be an integral part of her growing up days, says Sharadha. "In Chennai, Tamil Naidu, Kolam aka rangoli is drawn every morning by women on the ground with white rice flour at the entrance. It is believed Kolams bring prosperity to homes", she said.
"In Chennai, every house will have a kolam. Likewise, even at my home, either my mother, chithi (Aunty) or Alamelu mami who used to help my mom for cooking would draw a kolam every day. However, I was inspired by my chithi and Alamelu mami. They used to put enormous and most complicated kolams in no time and all designs were very beautiful", she added.
As a beginner, Sharadha started with simple chalk practice and created various designs with simple pulli kolam (dots based rangoli). Sharadha within no time picked up the trick.
Her passion for Kolam art was so avid that despite being hard pressed for time during her academic years or juggling between professional and personal life post marriage, Sharadha ensured that she never missed a day without adoring her house with a Kolam.
"I'm lucky. I always had the support of my family. After my daughter's birth, I took a sabbatical. During that period I decided to pursue my passion of Kolam and Palmistry", she said.
It was during 2007, my husband, Suresh, was creating a blog to post pictures of our trips to various places. So that it could be shared with friends and relatives easily. Seeing that I thought of creating a blog for kolams", beamingly she said.
'Being creative is not a hobby but a way of life', she firmly believes. "My aim was simple- I wanted to pass something to today's generation. Kolam or rangoli should just not be a mere festive symbol. But an integral part of life", she stresses.
Today, Sahardha's blog www.yourkolam.blogspot.com has more than 900 various types of Kolam's and rangoli designs contributed by her and other kolam artist around the world. The designs vary from basic to advance kolam's, free hand designs, special occasions kolam designs etc.