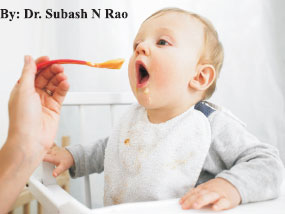 By: Dr. Subash N Rao
Complementary feeding means gradual transition from breastfeeding to full diet by making the baby accustom to food other than milk.
It is NOT a replacement for milk when started.
Complementary feeding should be attempted around 6 months of age
Reasons:
Developmentally ready to receive & digest semisolid non-milk based diet
Diminished tongue-thrust reflex and head control achieved
Earlier or late introduction may lead to rejection( food refusal & vomiting )
Not later than 8 months as
Breast milk alone is inadequate to provide for the increasing nutritioncalorie and protein requirements of the growing child.
Develops taste buds around 8 month. Hence likes and dislikes start after 8 months
Refusal act comes at 8 months in child development
How to start Complementary feeding?
Complementary feeding could be attempted around 6 months of age
Introduce only one food at a time.
Do not change the food daily. Try one food for at least a week before introducing another.
Start by giving the food once a day in small quantities (say half a cup) and then gradually increase the frequency to twice and then thrice a day. Also the quantity of the food can be gradually increased after a week's time.
The prepared food may be tried before a breast feed
Do NOT force feed the baby
At what frequency to give?
6 months   – twice a day
7 months   – thrice a day
8 months onwards – 3 to 4 times a day
What food to give?
6 months
Liquid food like Dal water, fruit juices (apple, orange, sweet lime),
Rice Kanji and later thick soups (tomato, mixed veg.)
7 months
Semisolid food like Rawakheer, mashed fruits (apple, banana and chikoo), Nachni, mashed potato with butter
8 months
Mashed rice and dal, sabudana or rice khichadi. Mashed boiled vegetables like carrot, cabbage, beetroot and leafy vegetables can be added to it later.
Ready-made baby foods can be given though NOT a must.
9 months to 1 year
idli, dhokla, upma, poha, custard, boiled egg yolk, chapatti soaked in milk or dal, cornflakes soaked in milk can be tried.
After 1 year
Give everything cooked at home.
Milk upto half a litre a day.
The writer is the Consultant Pediatrician, Child Care Clinic, Shop 16, Landmark Bldg, Near Petrol pump, Sector 14, Vashi. Tel: 022-27650198