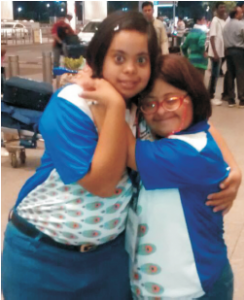 Belapur: The students of Swami Brahmanand Pratishthan, Belapur Ms. Sneha Verma (21) and Ms. Disha Maru (27), who had bagged Gold and Silver medals respectively in the Special Olympics World Summer Games held at Los Angeles, USA in July 2015 have been awarded with cash prizes from the Ministry of Sports, Government of India. Sneha, who had won Gold in 50m Freestyle swimming, has received cash prize of Rs. 5 lakh while Disha, who had won Silver in 25m Breast stroke, received a cash prize of Rs. 3 lakhs.
"We are grateful to our Prime Minister, Narendra Modi for boosting the confidence of the students with this gesture. Our heartfelt gratitude to Special Olympics Bharat, Maharashtra for giving our students an opportunity to participate in their training programs and sports competitions which enabled both the students to climb the ladder of success," beamingly said Sukanya Venkataraman, Principal, Swami Brahmanand Pratishthan.
In the Special Olympics World Summer Games held in Los Angeles from 25th July to 2nd August 6500 special children from 177 countries of the world participated. 241 students from India took part winning 173 medals (47, gold, 54 silver and 72 bronze) claiming the third position after USA and China. From Maharashtra 23 students participated bringing home 6 Gold, 8 Silver and 13 Bronze medals.
Sneha Verma is 21 year old and has Down Syndrome. She has been studying in the Institution since she was eleven years old. Sneha started training in swimming at an early age of 8.
"Her family members have been very supportive and take great interest in her development. She participated in the sports events at the district, State and National level. In the Special Olympics National games held in Karnataka in the year 2013 she won 2 Gold and 1 Bronze.
Sneha is also a great dancer and has won many prizes for the School," says Shirish Poojary, Director of the Pratishthan.
Disha, 27 year old, also has Down Syndrome. She had represented India in the Special Olympics Asia Pacific Games in Australia in the year 2013 winning two bronze medals in the aquatics. Disha is also a good dancer and has participated in various competitions winning many prizes.
"It is a proud moment for all of us as we see our special children carving a niche for themselves in a world which considers them to be unproductive and dependent. They have proved to the world that they are no less than the other so called 'Normal" children," says Ms. Venkataraman.
This is the third time that the students of the Institution has touched the peak of success. In the year 1993 Mst. Sujit Phadnis was the first student from Navi Mumbai to represent the country in the winter Special Olympics at Austria winning a gold medal in floor hockey. In 2013, four students of the Institution Ms. Lakshmi Shetty (TT), Ms. Disha Maru (Aquatics), Mst. Yash Mhaske (Athletics) and Mst. Shrilak Bhoir (Cricket) participated in the Special Olympics Asia Pacific Games at Australia bringing home 2 Gold, 2 Silver and 2 Bronze respectively.