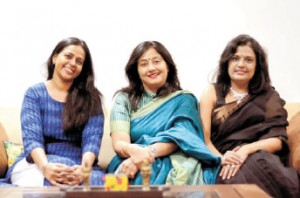 'Mumbai Circle of Moms' providing best platform for the moms to get connected
Mumbai Circle of Moms is a platform for moms connecting young to experienced moms, seasoned entrepreneurs to new startups, career-moms to homemakers. The main motto is to recognize their strengths and their unquestionable power and capabilities and create a quality platform with best moms in the network, organise best events at best places with best associates.
The area of work includes women empowerment, welfare and entrepreneurship through education and skill development. Mumbai Circle of Moms also fights against various social issues affecting women like gender inequality, disparity in education, women health, domestic violence, self-defense and other crime against women.
"The whole idea came into form when I realized that planning for the family demands that moms take time off from their working careers. And as in most cases even years after the family is well settled, moms cannot find much needed motivation to get back to their professional lives. This made me feel the need to connect to some forum to derive motivation and inspiration to start my career again as family and baby were all settled and happy. However, as I was unable to find any such forum, I decided to start one myself," says Shruti Mittal, Founder Director of Tattvam World Foundation and Circle of Moms.
Three first initiatives in this direction was Noida and Gurgaon, satellite towns near New Delhi. This initiative started as a social networking group on Facebook in the summer of 2013. Her initiative now has grown to be the largest women community in Delhi NCR region with over 50,000 women connected.
Last year Shruti decided to expand this initiative to other major cities of India. Mumbai being the first in that series started in December 2015. Today, the Group has about 200 members and has organized many events like Nukkad Natak (street play), cleanliness drives, Go-Green drive and also events to empower & ignite the young minds etc.
"Our vision is to be a global community of moms working hand-in-hand to achieve happiness and fulfillment! Mission is to inspire and empower moms," says Shruti Mittal.
Mumbai Circle of Moms is a network of upper middle class women who seek support from peer groups to socialize and advance in their lives.
"Our Circle of Moms' initiative is to empower Moms under every category. Entrepreneur Circle Entrepreneur Moms connect to Mumbai Circle of Moms to network and widen the reach of their product & services through networking. Our network helps them to connect to end consumers directly through various initiatives of Mumbai Circle Moms thereby reaching each and every household. We also provide startup consulting & required support for startups, digital marketing, Branding and promotion for mom ventures," says Manisha Jhambh, one of the co members of Mumbai Circle of Moms.
Career moms, Circle Executive moms form a major part of Mumbai Circle of Moms. They connect to network, for training & development, best practices and much more. Mumbai Circle of Moms also works to empower women at work place. The Group also conducts career counselling, job placements, various workshops & seminars.
"At times we moms want to do more but don't know how. Homemaker moms have an opportunity to connect to explore the new possibilities. We organise various workshops on cooking, training & skill development. Also we all learn from socializing with other moms at our regular meetups. We also promote freelancing for moms," says Meena Bhatia, another core member of Mumbai Circle of Moms.
For Further Information connect with them on website http://Mumbai.CircleofMoms.in ; Facebookwww.Facebook.com/MumbaiCircleofMoms; Twitter www.Twitter.com/MumbaiCircleMoms; Linkedin www.in.Linkedin.com/in/MumbaiCircleofMoms and Email Mumbai@CircleofMoms and WhatsApp +91 874 505 0547, +91 989 241 8968