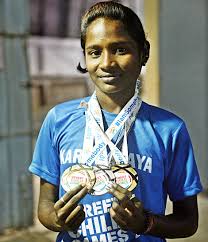 Chennai: R. Hepzibah, 16, daughter of Arrayi, a flower-seller of Chennai's Link Road, has bagged three medals, including one Gold in the World Street Child Games held in Brazil recently. Hepzibah represented India and won all the medals in the field of athletics.
Hepzibah lost her father in 2003 when she was a mere three-year-old. Her mother Arrayi was the sole breadwinner of the family, that included her four daughters. While the three elder sisters of Hepzibahare currently working, the youngest one realized she was athletic.
Hepzibah took up athletics in her sixth standard and participated in and winning several local and district-level competitions. Hepzibah got the opportunity of her lifetime when Karunalaya, an NGO for street children in Tondiarpet, held a screening test to select participants for the World Street Child Games. The NGO funded her for her entire trip.