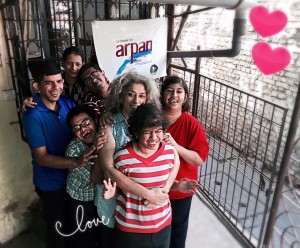 It is said that the way to man's heart is through his stomach. However, this proves wrong when we see Arpan dabba service by Yash Charitable Trust (YCT), an NGO. Their noble initiative will first touch the heart and will later tingle the taste buds.
Arpan dabba services or tiffin services is one of its kind in Mumbai. Started in April 2015 in Juhu by Sushama Nagarkar along with few like-minded people, the main aim is to support individuals with developmental disabilities.
"We believe that persons with developmental disabilities belong to the community and should be afforded the right to participate and contribute. I also believe that we (as a community) should make every effort to ensure they have the same quality of life that others (non-disabled) have. Therefore, YCT came into being", says Sushama Nagarkar, a psychologist by profession and the Managing Trustee of YCT.
As regards the inception of tiffin services, she says, "We were exploring ways to provide supported employment when one of our friends, who runs a fairly successful tiffin venture, helped us in setting this up. It is heartening to note that in this one year of our existence, our members have made a lot of gains in many areas of work and have won laurels and accolades", beamingly says Sushama.
The kitchen has been set up in Juhu in a place owned by the Trust where they currently employ eight adults (ages between 22 and 37).
"We currently have four full time; two part time and two individuals who are on trial (to see if they would like to do this work). In addition we have two full time and three part time support staff," informs Sushama.
It is usually believed that children/adults with different disabilities can work in simple art and craft field and are more exclusionary in nature. However YCT proves this as a myth.
"Those who hold that belief need to come to see our services to understand that even differently abled individuals, if given right support, can do many activities that other individuals can," adds Sushama.
"Our employees have gifts and talents. We have begun a dance and music group; we practice weekly and perform (individually and collectively) when we are given an opportunity. We also have a monthly recreation night aimed at providing individuals an opportunity to have fun in a safe environment. At these events, we eat, drink, play games, dance and so on," she stresses.
The dabba service typically provides one sabzi, one dal, four chapatis, rice and salad or raita. A full veg meal of four chapatis, dal, rice, vegetable and salad costs Rs. 120. A non-veg option is taken separately and that along with the vegetarian meals costs Rs. 180.
"We do take small party orders. But we need to plan this well in advance and therefore require substantial advance notice," she adds.
The delivery services are currently provided at Juhu, JVPD, Santacruz (W), Khar. Orders have to be placed a day in advance. To place an order, call 98924 18057.
In addition, YCT also tries to give back to the community by delivering food packets to a group of street children in Juhu, once in a week. "This is done in collaboration with the Robin Hood Army," informs Sushama.
Catch them on facebook:- https://www.facebook.com/yashcharitabletrust/?fref=ts