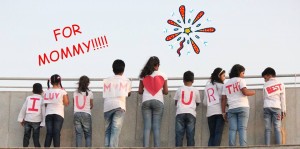 Nerul: On the occasion of Mothers Day on 8th May, Heart Foundation through its 'STREE' (Smash Tradition, Rehabilitate, Educate and Empower) initiative organized a musical extravaganza at Wonders Park, Nerul from 6 to 9 pm where over 3300 people came to watch the show. The programme titled 'Gaata Rahe Mera Dil- Ek Shaam Stree Ke Naam' (GRMD) happened to be the first of its kind with live musical evening by MH 43 India (Retro Bollywood Rock Band) and Soul (Sufi Rock Band). The bands took the full capacity crowd down the memory lane with some of the hit Bollywood retro songs with a blend of modern music.
The other attractions of the evening were Fashion show by 'Zameeni' (an exclusive collection of sarees, kurtis, dupattas- straight from weavers to consumers); where the models were mostly moms, a nukkad play and dance performances by BEATS Dance Academy.
"The programme was a huge success not because of the crowd but because of the way the crowd enjoyed especially the moms. Our motto and desire to help them realize their potential, empower, educate and motivate them was fulfilled and every woman went home satisfied. We were able to give platform to many women and young girls who had the desire to sing and dance in front of live audience but had never been recognised" said Dr. Jayakar Ellis, President, Heart Foundation.
"It was heartening to see that many youngsters came forward with a desire to perform but because of time constraints it was not possible to accommodate them this time, but we would be soon organizing another such program. GRMD would not have been possible without the help of G3 Motors, Zameeni, Stem Rx, Royal Tulip Hotel, Housejoy & Surabhi Hospital, Nasik" he added.
"I came for the program with my wife and was surprised when I was asked a few questions and when I told Dr. Ellis that we were married for 27 years, he promptly gave us a Stay Voucher for two of us at Royal Tulip Hotel, Kharghar" said Mr. Iqbal with tears of joy in his eyes.
"It's the least we could do for the Moms on Mothers day as they are the actual people who are very rarely rewarded for their contribution to the family and mankind" said Mr. Nabendu Acharjee, GM, Royal Tulip Hotel, Kharghar.
"We were glad to be a part of an initiative for the mothers of Navi Mumbai taken by STREE and we were able to communicate to the people about how "LIFE IS DIVINE" and NATURE provides "Natural kits of self repair" in our body "MASTER CELLs" scientifically known as "STEM CELLs"" said Dr. Pradeep Mahajan, Stem Rx.
"I am thankful to STREE for having invited me and honored the Navi Mumbai Traffic department for their contribution towards the women at large" said Arvind Salve, deputy commissioner of police (Traffic).
"We were happy to be a part of GRMD and it was nice of STREE to honor the tireless work of the Women Assistance Cell and also honor me for my work" said Sangeeta Alphonso, who recently took charge of the cell. "I am glad our work was recognized and we were honored for our contribution to the society" said Jyoti Gaikwad, API, Women Asst. Cell, Navi Mumbai Police.
To view pictures CLICK HERE