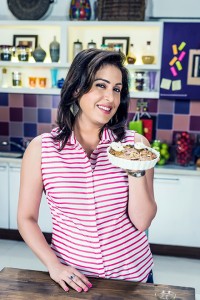 The multi-talented Amrita Raichand is not only a successful model but also a homemaker and has now progressed to be known as one of the most sought after female celebrity chefs. Having worked in almost 100 commercials, anchored numerous live events besides some challenging roles on TV and films, she has now forayed into the world of culinary arts. Her cookery show "Mummy ka Magic" is not only one of the longest running shows on the channel Food Food but also won her The Best Celebrity Host Award. She was also been awarded The Women's Achievers Award for her achievements. Amrita Raichand, apart from winning accolades is also winning the hearts of all the mommies and children. In an exclusive interview Amrita speaks about her journey from being the Queen of Advertisements to Queen of Cooking…
Stree: What prompted you to take modelling as your career?
Amrita: As a teenager, I always wanted to be a model/actor. However, as I hail from a conservative family, I was only allowed to do commercials. While I was pursuing my Bachelor's degree from St. Xavier's College, Mumbai, I was selected for my 1st commercial for PONDS. Since then I did over a 100 commercials and the game changer happened when I bagged the contract for being the face for Whirlpool Home Appliances! That continued for 6 years and made me one of the most popular household faces. I used to laugh and feel very proud at the same time because whoever I met said that their moms wanted a daughter in law like me! I went to anchor many game shows on TV and have also hosted live events including many award functions.
Stree : Besides modelling, did you try acting as well?
Amrita: As I said, my passion was to be an actor. I did an acting course with Mr. Anupam Kher to hone my acting skills and graduated the course with great appreciation from all the teaching fraternity. I did a few TV serials like "Mahi Way" for Yash Raj Films, Time Bomb 9/11with Rajeev Khandelwal for Zee Tv to name a few. I did a few films also like..Baat Bann Gayi, have also played a cameo in a few movies like Subhash Ghai's Kaanchi, Reddy with Salman khan etc..
Stree : Having worked in more than 100 commercials and being the brand Ambassador for 'Whirlpool Home Appliances" what made you don a completely different role of a chef? What prompted you to host 'Mummy ka Magic'?
Amrita: I was fond of cooking right from my childhood. My first experience with food was at the age of 8, when I surprised my mother by making a complete meal of daal, chawal, "Aloo Ka Chokha"and "tamater ki chutney" while she was away at work. Since cooking came naturally to me, I kept experimenting with food and tried different varieties of food. It just happened that one day Chef Sanjeev Kapoor came home and having tasted my food offered me a cookery show in his upcoming channel, Food Food! He said that since you already have such a great connect with parents and kids, lets do something for kids…where you teach parents how to make healthy yet yummy food! That's how "Mummy ka Magic" happened! Little did I know that very soon the show will become such a hit and I will become so popular as a chef. The love and adulation that I received from people for the show prompted me to make cooking my career.
Stree : Can you tell us what exactly the show is all about?
Amrita: "Mummy ka Magic" as the name suggests is all about doing magic with food, making fussy eaters love food. Most children tend to get bored with mundane eating and the only way to feed your child is to try something "New" everyday. This, however, is a herculean task for all mothers. "Mummy Ka Magic" is a 30 minute show where I whip up some interesting recipes for kids which is not just good to eat but also good to see. After five years of being part of the show I feel so exhilarated to get so much love and adulation from the viewers. The show has won the best cookery show award and I have been awarded the Best Celebrity host award for the show by the 7th Golden Star Awards and the Best Celebrity Female Chef Award by Young Environmentalist Programme Trust Awards for Women Achievers.
Stree : What are your future plans?
Amrita: Cook! Eat! Repeat! I have been called Queen of Advertisement World and now my desire is to be called Queen of Cooking. I will continue doing everything with food, whether it's cooking at home or on the screen, whether it is participating in events or curating Sunday brunches… Simply put I will keep spreading the magic..