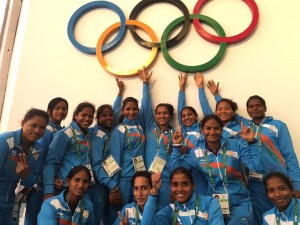 Rio De Janeiro: The Indian women hockey team making their first Olympic appearance since Moscow 1980, will face-off with Japan, ranked 10th in the world, on August 7, 2016. The team led by formidable defender Sushila Chanu will vie to put up a similar show they did when they beat Japan in the World Hockey League last year that kept them in contention for the Olympic qualification.
Though ranked 13 in the FIH world rankings, coach Neil Hawgood feels the girls are upbeat and are eager to make a mark at this Olympics. "The girls are excited and raring to get on with their first ever Olympic campaign. They have had a decent run in the tournament in the USA where we won a couple of games and will hope to convert the confidence from there into good result in the opening tie," said Hawgood.
Skipper Chanu said her team is excited and up for the challenge. "This is our first Olympics and we want to put up an inspired performance. We have done well against Japan in the past and we are able to execute the plans the coach has drawn for us, I am sure we will be able to succeed against them," expressed Chanu.