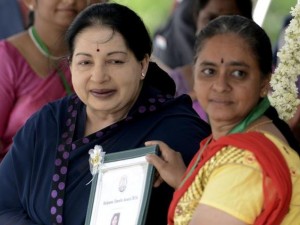 "It is easy to stand with the crowd; It takes courage to stand alone." Undoubtedly, this is what Jayanthi has been doing since 2012. Jayanthi of Senthamangalam in Namakkal district of Tamilnadu works at a place where women do not normally even visit: a crematorium. The 40-year -old has been working as a manager in the electric crematorium since 2012, burning corpses in the face of resistance from some sections.
Coming from a Brahmin family, Jayanthi recalls breaking barriers of orthodoxy even before joining crematorium. "I belong to a Brahmin family. However, during my college days when I was pursuing my MA in Economics, I fell in love with a guy, who did not belong to our caste. Despite objection, I went ahead and got married to the love of my life," reminisces Jayanthi.
"I am the youngest among the two siblings and dearest to my father, who despite working as a priest, was broadminded and would always support me and advised me to do good to society," says Jayanthi.
With his support and encouragement, Jayanthi took up her first job at an orphanage. Life was sailing smooth when suddenly her father expired in 2003. His death was not only a jolt to the family but also made them realize that they had to depend on others for carrying out last rites.
"As we were all sisters, we had to plead with our male cousins to help us observe certain rituals for our father. As they were also working in temple, they were reluctant to perform the rituals, as they could not go to temple for a period of one year after that," recalls Jayanthi.
It was then, Jayanthi found an opening in the crematorium in Namakkal, where she was required to maintain the campus.
"I immediately took up the job. I thought, why shouldn't I take this up? After all, the greatest pleasure in life is doing something which others say you cannot," says Jayanthi with a smile.
"There were criticism, but I didn't mind people talking behind my back. Initially, my husband too, opposed the decision. However, on seeing my grit and determination, he too started supporting me," says Jayanthi.
Working in crematorium, is certainly not an easy job. "It is very disturbing to see the near and dear ones bringing the dead bodies of the loved ones. There is sorrow, a different kind of calm in the atmosphere," she says.
There have been many experiences for Jayanthi while working in the crematorium. However, there is one incident that brings tears in Jayanthi's eyes even now.
"This incident happened a couple of years back. I got a message that two dead bodies will be cremated together by the relatives. When the bodies arrived I realized that one was of a just born child and the other one was of the mother who had died due to excess bleeding during child birth. The scenario was heart wrenching and the relatives were inconsolable. As the body of the child kept slipping, I had to tie the child with the mother's chest. Tears kept flowing," recalls Jayanthi with moist eyes.
Recently, Jayanthi was bestowed with the Kalpana Chawla Award for her exemplary courage and daring enterprise by Chief Minister of Tamilnadu, Jayalalithaa.
Expressing joy over receiving the award she says, "Words fall short. I am happy that my family is by my side. Most importantly my mother was able to hear the news of the award before she left us."