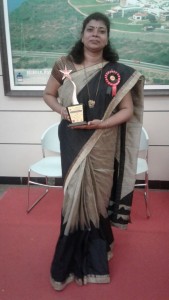 Principal of St. Stephen's School, Jasai, Mrs. Revathi Nair, has been honoured with Dr. S. Radhakrishan Memorial Award for her excellence in the field of education by the Founder of the International Human Rights. The function was conducted recently at Ville Parle, Mumbai. The award was given on the merit of all round performance of the teachers and principals from all over India.
Mrs. Nair has been working in this field for the last 20 years and is presently working at St. Stephen's School, Jasai as a Principal. St. Stephen's School, which was started in a rural place at Jasai, with very few children and staff, is now competing at National and International levels. "Our school is considered as one of the best schools and the entire credit goes to the struggle and hard work by our Principal," beamingly says Vandana Davis, a teacher from the School.
"We are blessed with a very fine principal who is focused and determined to bring out the best in every child," says Vaishali Mhatre, another teacher.
Apart from working in the field of education, Mrs. Nair is also doing social service for the society. She has working for the needy sections of the society by helping them in their daily needs.