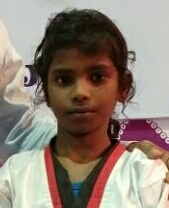 Belapur : Daughter of daily wage parent and student of Navi Mumbai Municipal Corporation run school (NMMC), Muthulakshmi Swamy (12) has made the city proud by winning Gold medal in the U-14 / 16 to 18 weight category in the State level school Taekwondo tournament held in Alibaug, Raigad last week.
Muthulakshmi is in class 6 of school no.4 in CBD Belapur and has been learning Taekwondo since last one and half year.
Speaking about her achievements Revappa Gurav, sports officer in-charge of NMMC said, "Muthulakshmi is a very talented girl and has a great potential to excel. It is very heartening to see that despite coming from a poor background, her parents encourage her a lot and have motivated her to play the game."
Muthulakshmi left for Telangana on 1st October, 2016 where she will be representing Maharashtra in the National Taekwondo competition to be held from 3rd to 6th October, 2016.
"NMMC has been encouraging students to take up sports and apart from regular training also conducts special sports camp for the underprivileged students during summers. We are very hopeful that Muthulakshmi will bring laurels," remarked Sudhakar Sonawane, Mayor, Navi Mumbai.