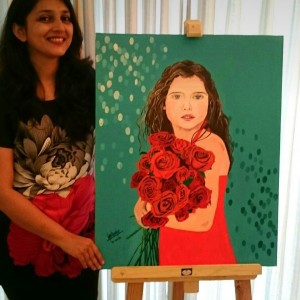 Orhan Pamuk, the well known Turkish novelist had once said, "Painting is the silence of thought and the music of sight." Painter Natasha (aka Poonam) Wankhede, a resident of Kharghar, Navi Mumbai agrees completely.
"As a child I was extremely inclined towards art and had won a number of certificates for various competitions held at school level. Coming from a family which does not believe in art as a qualification or intelligence, it was a far cry for me to take art lessons at a professional level. To fulfill my parents' dream I completed my education as a Mechanical Engineer. After the education, as is the custom of our traditional Maratha family, I got married at the age of 20," says Natasha.
Speaking about her journey Natasha says that she never thought that she would become a painter and thought of doing something in the apparel designs. She took up a course in the National Institute of Fashion Technology (NIFT). "Before getting married I helped my father in his business. However after marriage things changed and motherhood was my priority. However, I was inclined to do something regarding creativity and that is when I joined NIFT and did an apparel designing course with a thought of having my own designer studio. During my training in NIFT, I took a keen interest in drawing especially the figurative ones," says Natasha.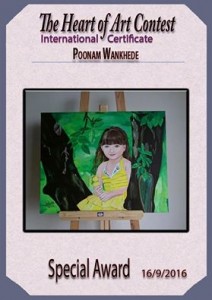 To her surprise, she even topped the project and realized that she has a flare for painting. It was then, Natasha decided to take up painting, which was her first hobby, rather seriously.
Natasha started painting after the birth of her third child in 2011. "My elder son and daughter had started going to school. And I had lots of time in hand. I would paint, whenever my third baby would go to sleep," recollects Natasha.
In the last couple of years, Natasha has turned this hobby into a lifestyle. "I started posting my artwork on my Face book page 'Natasha'. I was showered with compliments from family and friends. This was highly motivating and encouraging," she adds.
"I use lots of colors in my paintings. Also try different techniques and perspectives. My artwork is mostly inspired by the beautiful Nature and children. The flora and fauna are my biggest inspirations. I have worked with palette knife paintings, abstracts, landscapes and portraits," she informs.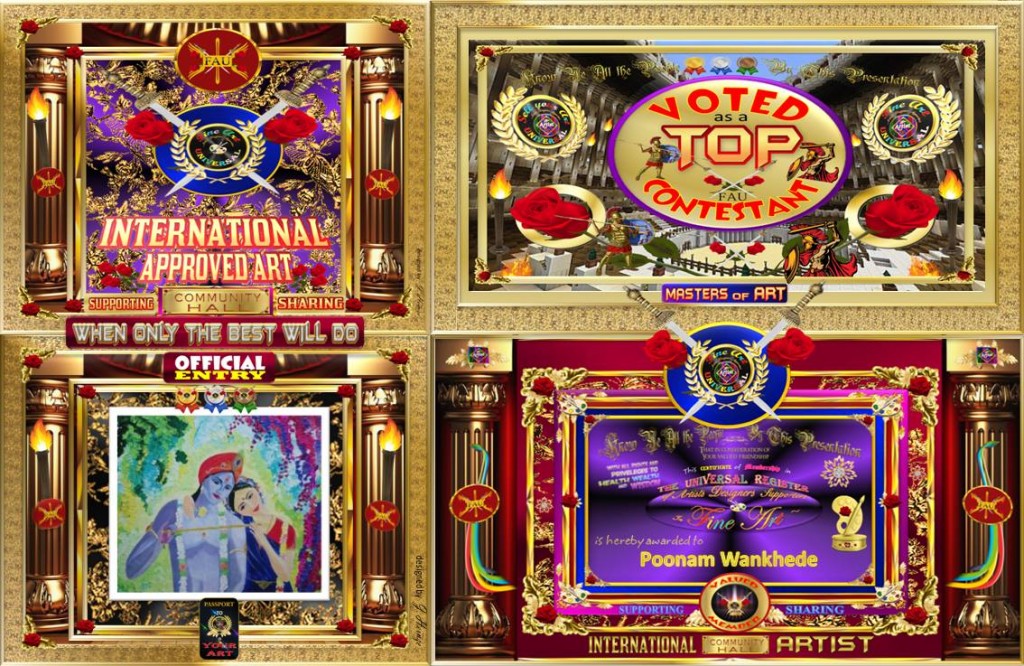 Most of Natasha's paintings depict the serene Nature and the joyful nature of children. Be it the 'Little Joys' where a small girl is looking at a fish tank which won her the international 9th ranking or 'Bubbles of Joy' where a little boy is portrayed playing with bubbles  which has won her a special award by 'The Heart of Art Contest', Natasha simply enjoys painting nature and children.
"Nature and children both are pure forms of joy created by the Supreme Power and that's what draws my attention and captivates me. When something is so pure, the end result is bound to be good. This is what makes my art different," beamingly says Natasha.
Talking about her future plans, Natasha says, "A person should not be deprived of learning Art just because he cannot afford to learn it. And that is what I want to do in future. I desire to teach the underprivileged children the Art of painting."
As a step towards her goal, Natasha has already started visiting an orphanage in Navi Mumbai where she spends time and teaches the children the joy of painting.
"While I don't claim any profound wisdom nor that my path is the best one, I think that some of the aspiring artists out there might be encouraged to see the road that someone else has taken. Many housewives who think that they have wasted their lives and have nothing to do, may get motivated and this will be my biggest achievement," adds Natasha.