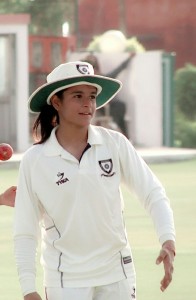 Yashi Pandey, a senior woman Cricket player from Chattisgarh, who has already become a well known figure in the sport, created yet another record recently. She has been selected in the 12 member squad of the BCCI's Green team. With this selection, Yashi becomes the first female cricketer of the state to be selected in the National Green team. Her selection was based on her extraordinary performances as an all rounder Cricket player in the past.
BCCI recently announced the names of the players for India Red, Blue and Green team for its senior women challenger's trophy. Yashi, who hails from Bilaspur Cricket Sangha, will now get a chance to play with other International women cricket players.
Speaking to STREE, Vijay Kesharvani, President Bilaspur Cricket Association said, "Yashi and her elder sister Shivi, are extremely talented players and have brought several laurels for the state. Her selection in the BCCI's Green team is certainly a proud moment for all of us."
Yashi has played three School Game Nationals Under 19 (Girls) since 2011. She also participated in the MPCA Under 23 Inter Zonal tournament and MPCA's Senior Women's one day and T20 tournaments. She was also selected for Senior Women's from CSCS.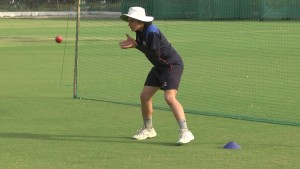 Speaking about her achievement, Dr. Prem Kumar Pandey, father and coach of Yashi said, "Both Yashi and Shivi (sisters) have made several records together and have been widely acclaimed for their consistent good performances. In the School National Games in Kolhapur in 2013-14, the sisters made 204 runs together as opening partners against Tamilnadu. In the Ranji match against Tripura, both Yashi and Shivi together made 108 runs not out, helping the Chattisgarh team to win the match with great ease. Against Assam, Yashi made 50 runs (not out) and made a record of becoming the first cricketer from the state to have made the fastest half century."
"Both Yashi and Shivi are top order batsmen. While, Yashi is medium pace bowler, Shivi is left spinner. Yashi plays aggressively, Shivi on the other hand, is more calm and composed," adds Dr. Pandey.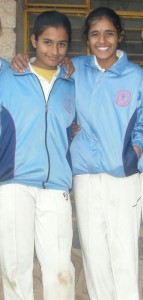 Dr. Pandey, who is also the Principal in Mahamaya Excellency College in Bilaspur, however has a grievance with the UGC's policy with regards to University attendance. Both Shivi and Yashi are pursuing B Com. However, as they have to attend various Cricket camps and go on Cricket tours, their attendance in College falls short than the prescribed norm due to which they are debarred from giving examination and are now pursuing their degree from Distance Education Learning.
"This is the most common grievance of all the State and National level players. The players have to go for matches and the cams on a regular basis and hence are unable to attend Colleges. It is natural that they will fall short of attendances. UGC should give relaxation of attendance for such players. After all these players are bringing laurels for their state and the country," says Dr. Pandey.