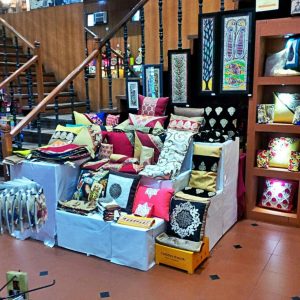 For Yesodha Thiruvengadam Saikia (35), her sabbatical from a well paying 9 to 6 job after the birth of her daughter gave birth to a whole new venture, which usually is just dreamt about. A creative person by nature, architecture happened to be Yesodha's only choice as profession. She wished not only to build/ design houses but also create those elements that would convert a house into 'home' and that is when she decided to start an exclusive home décor label Tvaskathi.
"Women by nature are creators and that's where I derived the name Tvaksathi which in Sanskrit means "to create". Creativity has no borders. Creative ideas can flow into any aspect of our life. I was on a sabbatical from my corporate job. During this time, I was renovating my home and decided not to buy stuff off the shelf. Rather design it. I started experimenting with fabric, colours & lot of new materials," says Yesodha.
She got a lot of positive response from the people who visited her home in Navi Mumbai. During one such visit, a friend suggested that she could showcase these products in some of the multi brand shops.
"Acting on her suggestion, I contacted 'The Bombay Store'. They gave me a chance and introduced me in their grand event called "Launch Pad-2014". This was a platform for budding designers. My products where showcased at 'The Bombay Store, Fort'. The response was overwhelming. Since then I have been at their various outlets for different events," beamingly says Yesodha, who tries to draw inspiration from every little thing that surrounds her. "Be it vibrant colours that define our Indian culture or the things that we see in our day-to-day life, I try to draw inspiration from all," she adds. Yesodha likes to expose the various textures of Indian native fabrics like the Eri Muga, Tussar, raw silk, south cotton etc. in her creations.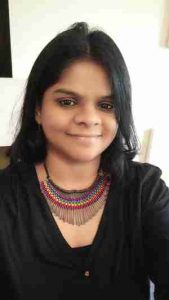 Tvaksathi today not only has a wide range of home decor products such as designer cushion cover, table runners etc. But, has also ventured into ethnic apparels' such as short /long jackets, designers stoles & duppatas etc. It also has a range of jewellery / utility box, designer trays etc.
Speaking about the never-ending competition Yesodha says, "People are spoiled for choices. There is competition in every field. All of us strive to make our products unique. I try to achieve the uniqueness by the use of unconventional combination of colours and fabrics in the products," she asserts.
"I always take care of fine detailing which depicts Indian traditions. I solely procure raw material from various parts of the country and explain each detail that I want to see in a given product to my tailor. Thus we only have few pieces of each product and retain our exclusivity," proudly says the entrepreneur.
Giving advice to the upcoming entrepreneurs, Yesodha says, "There is a huge world beyond the 9-5 jobs. One should keep their talent/hobby/art alive, nurture it and expertise in it. Only this, I feel, will help us in discovering the persons we truly are."