Dr. Jaishree Sharad
Skin is made up of many layers of skin. The upper layers comprise of dead cells which form the stratum corneum.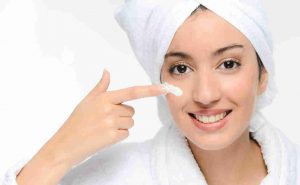 These cells have lipids, oils, lactic acid, urea, hyaluronic acid in them which form the skin's natural moisturising factors. Due to low humidity in winter, the lipid structure in the barrier layer of the skin tends to break up. Thus the water can't be retained in the skin. This makes the skin dry.
Skin becomes drier in cold weather, especially if it's windy, because the moisture of the skin is evaporated more quickly by the wind, and the skin doesn't produce as much oil.  Apart from dry skin, other common problems encountered in winter are chapped lips, dandruff, cracked heels, exacerbation of eczemas and certain skin disorders like atopic dermatitis, psoriasis etc. Thus it is essential to take care of your skin.
A few tips for boosting your winter skin care regimen, so that your skin stays moist and healthy through the winter months.
Avoid hot water showers. Keep your baths short. The thought of a long, hot bath on a cold winter day can be appealing but over-exposure to hot water can dry skin out even more. The intense heat of a hot shower or bath actually breaks down the lipid barriers in the skin, which can lead to a loss of moisture. You're better off with just warm water.
One should be very careful about the soap to be used during winter as soaps can be harsh on the skin as they alter the PH of the skin and make it more alkaline. This could cause dryness & flaking of skin . You should use a soap which has emollients and oils such as dove, pears, oilatum, hidrate. If your skin is really dry, use cetaphil cleansing lotion/ toleriane fluid/ sensibio H20 as they maintain the pH balance of the skin as well as cleanse your skin well. Commercial brand soaps contain synthetic chemicals to make them smell a certain and attractive way. But these synthetic chemicals ('Perfume')/ artificial fragrance producing substances are harsh on the skin and add on to the dryness.
After bath, apply a moisturising lotion on the entire body on a slightly moist skin. Use a heavy moisturising cream (one with heavy lipids such as cocoa or shea butter) for your hands, elbows, knees and feet paying special attention to the exposed parts. It wouldn't be wrong in quoting that "Your moisturizer should be your daily companion".
Sunscreen isn't just for summertime. Winter sun can still damage your skin. Try applying a broad-spectrum sunscreen to your face and your hands (if they're exposed) about 30 minutes before going outside. Reapply frequently if you stay outside a long time.
Use a lip balm or even ghee for your lips. Do not lick your lips as this will further dry your lips. Avoid matte lipsticks. Use a lip gloss instead. Apply a moisturizing lip balm when you are doing the rest of your skin care, make it part of your routine. As well as this, before you go outside apply some Vaseline/petroleum jelly to your lips as this creates a protective barrier between the cold air and your lips, locking in moisture.
Avoid toners & astringents in winter as they are alcohol based & will further dry the skin.
Avoid the air conditioners as well as room heaters for long hours. These will make the skin drier by ripping the moisture away.
If you are developing cracks, you need to take care of your feet daily instead of once in a while pedicures. At bedtime, soak your feet in warm water for a few minutes. You may add a few drops of an oil free cleansing lotion or even salt to the water. Scrub with a pumice stone. Apply a thick moisturising cream. If possible, wear cotton socks all the time. However, wet socks can irritate your skin and cause itching, cracking, sores, or even a flare-up of eczema.
The environment can have some of the most damaging effects on hair in both summer and winter, but in winter it's often worse because people generally don't take as many precautions to protect their hair. From hat hair to static electricity, split ends to dry frizz, when winter weather hits, a bad hair day can last an entire season. Hair tend to get frizzy and dry in winter. Dont use hot water to wash your hair. Use a good conditioner after every shampoo.
Avoid blow drying, ironing, perming, these will cause the hair to become dry and brittle. These hair styling instruments work on the principle of heat, which when used during winters make matters worse. Instead use the cool setting of the dryer which though may take longer to dry but it would retain the moisture. Choose wooden hair brushes or combs instead of plastic. This is to fight the static hair caused by absence of moisture. Wear a scarf or a cap while travelling to protect your hair.
Drink enough water to keep yourself well hydrated. Water is life; besides cleaning your system, it improves the moisture level on your skin keeping it supple and healthy. It is the most reliable treatment for dry skin. Drink up to 8 glasses of water daily to avoid dry skin. You can also make use of natural fluids from juicy fruits for delicious drinks.
Include flax seeds, almonds, walnuts, salmon, mackerals in your diet. These are rich in Omega 3 fatty acids & will help to keep the skin hydrated.
The skin mantra in winter : Moisturise, moisturise, moisturise…and keep your skin supple and smooth.
The writer, Dr. Jaishree Sharad is CEO, Skinfiniti Aesthetic Skin and Laser Clinic, Mumbai; Vice President, The Cosmetic Dermatology Society of India ( CSI )