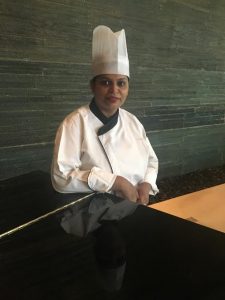 By:- Varda Sharma
To be a good cook you have to have a love for hard work and a love for creating. Indeed chef Sarika Kamble, chef de cuisine, Hyatt Pune, Kalyani Nagar, has these qualities and much more. Recipient of the 'Phoenix Leading Lady Award 2017' which was bestowed upon her recently for her contribution in the field of Culinary Arts on March 3rd, 2017 in Pune, chef Sarika has a proven track record of making great food that will entice diners and leave them wanting more.
Chef Sarika had an inclination towards cooking right from childhood. "Since both my parents worked, it was my responsibility to help mom in the kitchen, reheating food in the afternoon for my sisters when we were back from school etc.," she says.
The interest kept on growing and she started experimenting new dishes at home. "I am a big time foodie & love to eat & try out new cuisines," says chef Sarika with a smile. The praises and accolades she received from the people who ate her dishes encouraged her to take this up as profession.
Chef Sarika's parents encouraged her to pursue her dreams. "My parents came from a very open family background where daughters were always encouraged. We were always taught the importance of education and making careers. So it was not very difficult to choose a field which was different from the regular Medical and Engineering degrees. My family and their support has been my strength," she adds.
Hurdles on the way
However, the journey was not smooth.  A few years back the food industry had not developed so much and the choices of restaurants were limited. Besides, it was considered to be a male domain. However, with hard work and determination, chef Sarika was able to carve a niche for herself. "Gradually, my male colleagues started liking working with me as I was always enthusiastic & willing to learn. I have also been lucky to have worked with the best teams in the industry," she adds.
"Now the industry has grown and changed a lot than what it was earlier. It has become one of the most well known and respectful professions to be in. There are many different things to do and learn," says chef Sarika.
Advise to aspiring youngsters
Like in any profession, there should be a love for it. "It is certainly a great profession to be in as it grooms you in all the aspects. However, it is also one of the most difficult. A lot of commitment, hard work & dedication is required. There is constant learning and always a scope to grow. To nurture this hobby into the profession you have to be creative, think out of the box & be prepared for a new beginning every day," advises chef Sarika.