By: Meena R Prashant
Desserts have the magical power of spreading smile across every face. And here we have a confident Poonam, a resident of Kopeairkhairne, Navi Mumb who has pledged to spread happiness and love in the form of sweet and delicious cakes, cupcakes and much more.
An engineer by profession, Poonam's passion, however, is for baking. What drives her to bake is the wild imagination that it demands and her craving to fulfill it every time
"I really wanted to do engineering and completed it from the College of my liking. However, baking I realized, was my real calling.  "Right from childhood, I just loved cakes and was fascinated by the varieties. I am happy that the love has continued in more intense way now," says Poonam with a smile.
"As a child, I would literally sit in front of the oven and keep watching with awe the different stages of baking- the sudden rise of cake, then turning brown in colour and would  eagerly wait for it to be served on the platter," says Poonam.
She was just 13 when she baked her first cake. "It was a tea-time cake and was loved by all," she recalls.
Back to passion
One day, while watching TV, Poonam accidentally came across the very famous show "Cake Boss". They were making Wedding Cake with fondant (made with sugar). "Fondant was something new to me at that time and as I was a hobby baker, I wanted to try the cake immediately.  For around 2-3 days, I kept searching various cake recipes. Although I didn't do anything with the information collected about fondant but I realised that I was so happy, energetic & enthusiastic during the entire process. This made me realise my true interest," says Poonam.
A complete professional shift
Although, shifting field was not so comfortable, Poonam was determined and decided to don the robe of a baker and not an engineer. "With all the required information about the field and clarity in my mind, I discussed it with my parents about this. They were a bit shocked but convincing them wasn't much difficult," says Poonam. To begin with she enrolled herself in a baking professional course. Today Poonam holds a certification in  Bakery & Confectionery.
A sweet profession        
I feel my work throws more of surprises on me than challenges, and leaves me feeling happy and satisfied. At times, I do find it tough and challenging especially while making tier cakes but "my engineering studies comes handy," says Poonam with a wink.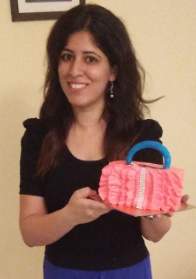 Doing her bit for the society
"I always desire to work for the society and try to do my bit by giving 30 percent of my profit as donation," says Poonam. She plans to open an outlet in Navi Mumbai very soon wherein cakes will be sold on order basis only. Presently, she is handling the business alone from home.
Poonam specialises in customised cakes. To place order, you can either call @ 9594515209 or contact on her facebook page https://www.facebook.com/poonamcakes111 . An array of cakes can be seen there.