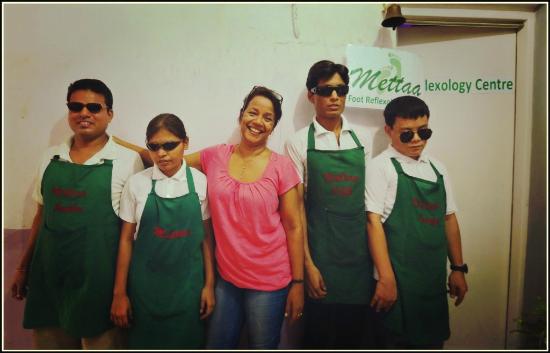 By: Varda Sharma
There is calmness and serenity with light music playing at the backdrop. Lying on the back, a person experiences a total bliss as a pair of experienced hands weaves magic with their thumbs, fingers and hand techniques on 'Reflex points' helping in relaxing the taut muscles. 40 minutes of reflexology session appears a bliss leaving the customers wanting more.
'Metta-Foot Reflexology Centre' at Bandra has become the most sought after spa in Mumbai. Like its name, ('Metta' in Pali means 'Loving Compassion'), the Centre is unique in many ways: the magic that customers experience is offered by therapists who are visually impaired but highly talented. Started by Mrs. Figueiredo in 2008 with just 4 visually impaired talented therapists, the spa today has 12 visually impaired young men and women therapists (4 girls and 8 boys) who use the art of reflexology to relieve stress, reduce stiffness, promote sleep and help in calming the mind.
Mrs. Figueiredo had never imagined that she would open a foot reflexology centre in Mumbai. Right from childhood she desired to become a doctor. However, having lost her father at a young age, it became financially impossible for her to pursue her dream. Nevertheless, she got enrolled in Jaslok Hospital, Mumbai from where she completed her degree in general nursing and worked in the Intensive Care Unit of the Hospital.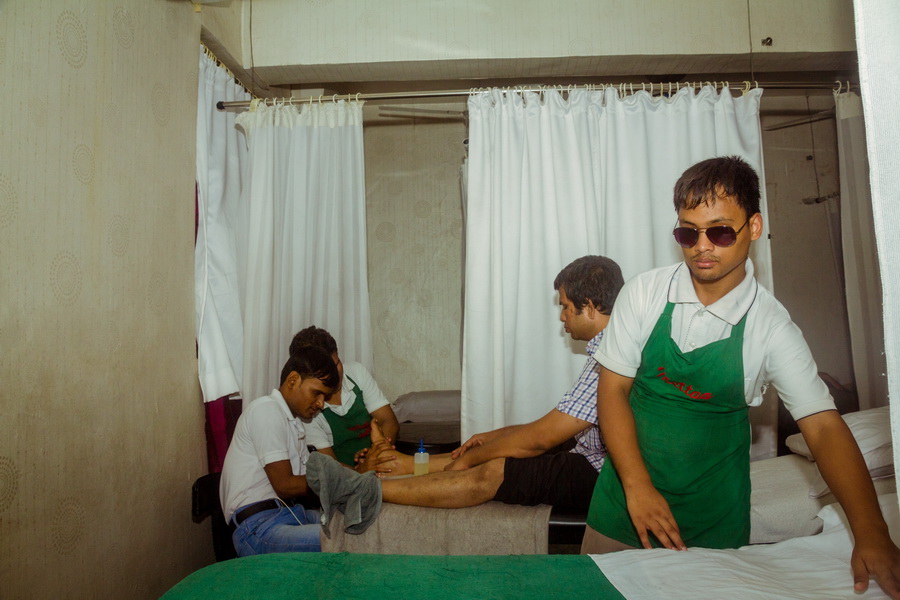 "Being a nurse in ICU, I watched death very closely. It pained me to see the sufferings that a person underwent during the course of treatment. This made me feel the need to learn about alternative medicine and spread awareness on maintaining good health," says Mrs. Figueiredo.
In 1989, she went to Kuwait with an intention of giving Commission on Graduates of Foreign Nursing Schools (CGFNS) examination. "India was not the centre for CGFNS in those days. Hence, I went to Kuwait to give examination," says Mrs. Figueiredo.
However, as luck would have it, there was war and Mrs. Figueiredo had to come back to Mumbai. She then joined J.J. Hospital, Mumbai and pursued her post graduate.
The desire to learn alternative medicines, however, continued and Mrs. Figueiredo joined yoga, reiki and naturopathy courses and became trained instructor in these.
In 2008, she, along with her family, went for a holiday trip to Thailand where she was mesmerized by the foot spa offered there. "I used to feel so relaxed and rejuvenated after taking foot massage and felt that I too should learn this technique," says Mrs. Figueiredo.
She joined 'Chang Mai Hospital of Old Medicine' in Bangkok and learnt reflexology.
After coming back to Mumbai, Mrs. Figueiredo, as a social initiative, started teaching reflexology to the inmates of National Association for Blind, Warli, Mumbai. To her surprise she realized that not only the students picked up the technique faster but were actually very good therapists. On her advise some of them even approached spa centres in the locality for job opportunities but despite talent, they failed to get hired. It was then, Mrs. Figueiredo decided to open her own Foot Reflexology Centre with these exceptionally talented therapists.
With her own funds and from a premise given to her by a philanthropist at Pali village, Mrs. Figueiredo started the spa and within a week, it shot to fame. Since then there has been no looking back. "Today customers wait in queue to get the spa," says Ms. Figueiredo with a smile and a sense of satisfaction.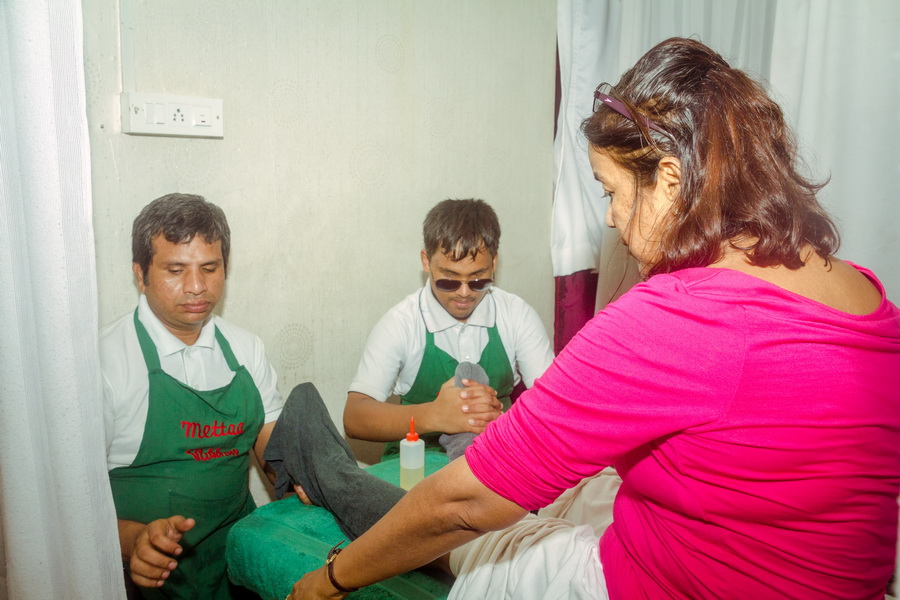 Economic Independence
For the therapists working here 'Metta' is synonymous to economic independence. "We feel so good when the customers praise us and desire to come over and over again. 'Metta' has become a second home for all of us. It not only gives us financial independence but makes us feel that we too can join in the mainstream," says Renuka Yadav, who has been working with her since 3 years.
For Devidas Borsale (36) and Sanjay Thapa (26) too 'Metta' is a boon. "Our parents feel so happy when they see how our customers praise us," they say unanimously. Some of the therapists are also pursuing higher studies while doing part time job here.
Relaxing and rejuvenating experience
For the customers who come here, it is indeed a relaxing experience. Says Vincent (Holland), a regular customer of 'Metta'. "I am a sportsman and have many injuries. Whenever I am in Mumbai, I make it a point to visit here as the spa session here helps in reducing stiffness and improves flexibility," he says. For him the sessions here are purely "magical and wonderful".
For Reshma Raheja too the acupressure treatment is a "bliss". "All the therapists are excellent. I simply enjoy reflexology treatment here and have been coming here regularly since three weeks," she says with a smile.