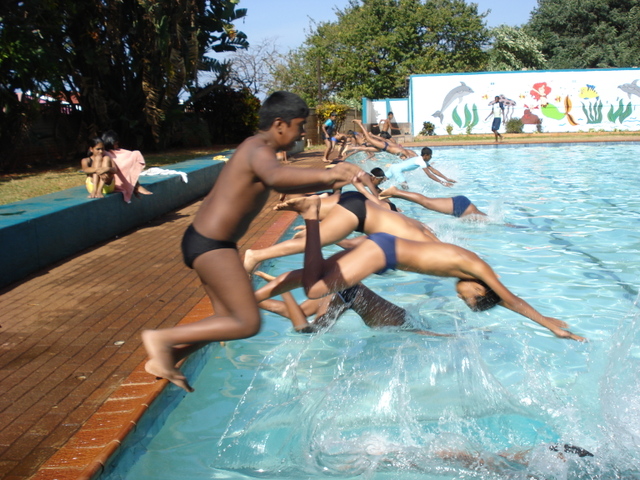 As a respite from the sweltering summers, most children join summer camps which include swimming lessons as well. Swimming is an excellent form of exercise especially in the summers for kids. But, there are various types of infections that can be caused because of the quality of water, excess number of kids within the pool or overexposure to the strong chemicals in the pool.
"It is advisable to only take children who are above 4 years of age for swimming. Before starting swimming sessions one should keep a note of the frequency of exposure to water, emotional maturity, physical limitations and other health concerns related to swimming," says Dr Kavita Gohil, Paediatrician, Zen Hospital.
"There are various health related issues that can occur when children start learning to swim. Most commonly noticed problem among children is a swimmer's ear. This occurs due to elevated outdoor temperatures and prolonged swimming. It leads to increase in the redness of the outer ear, itching sensation or a swollen ear canal. Its symptoms are muffled hearing, full or plugged up feeling in the ear. These can be avoided by using ear plugs, also one should avoid excessive cleaning of the ear canal," added Dr Gohil.
"Secondly, Pool conjunctivitis- to keep the water clean there are many chemicals included in the water within the pool. Any of these can irritate the eye leading to redness in the eyes or eye discharge. Thus, wearing pool goggles shall prevent such eye infections. To soothe such irritation in the eyes, cotton balls soaked in warm water should be used to dab in the eyes. If contracted pool conjunctivitis then one has to avoid any kind of contact with water until it improves," says Dr Gohil.
Irritation is often caused in the skin due to swimming apparels, most often due to the prolonged contact with the genitals or staying in the wet costume for longer periods. Despite various attempts to disinfect the pool, some pathogens do lurk within causing irritation sometimes painful. These disinfectants in the pool can also pose health hazards.
"Some pools are situated indoors and such chlorinated pools can cause higher risk of children developing respiratory illness which includes asthma. If the water within the pool is contaminated then it can lead to water borne diseases. Children with diarrhoea shouldn't swim, swim diapers should be used for children who aren't potty trained. These diapers should be changed regularly and older kids should be taken on bathroom breaks often. Children should be asked to avoid swallowing or getting water in the mouth. Always take a shower before getting into the pool and ensure to wash your hands after a bathroom break when you head back to the pool," said Dr Gohil.

Post swimming it is essential to dry ears well with a wet towel, and while taking a bath make use of a mild soap and shampoo to remove the chemicals from the pool.
It is a must to keep children safe in the pool, invest in proper fitting or float devices. Apply and reapply sunscreen, consumption of plenty of fluids is essential even within the water. This helps prevent dehydration in the summer months. The temperature of water should also be comfortable. As the body temperature drops quickly within water, children often develop cramps or start to shiver in the pool, must get them out of the water immediately.
"Do not spend prolonged periods in the swimming pool, atleast a gap of 2 to 4 hours is essential before swimming especially for a large meal to allow for digestion and 30 minutes to 2 hours for a smaller snack. Sometimes water may exacerbate any skin allergy, a small layer of baby oil over the skin before entering the water may help," added Dr Gohil.