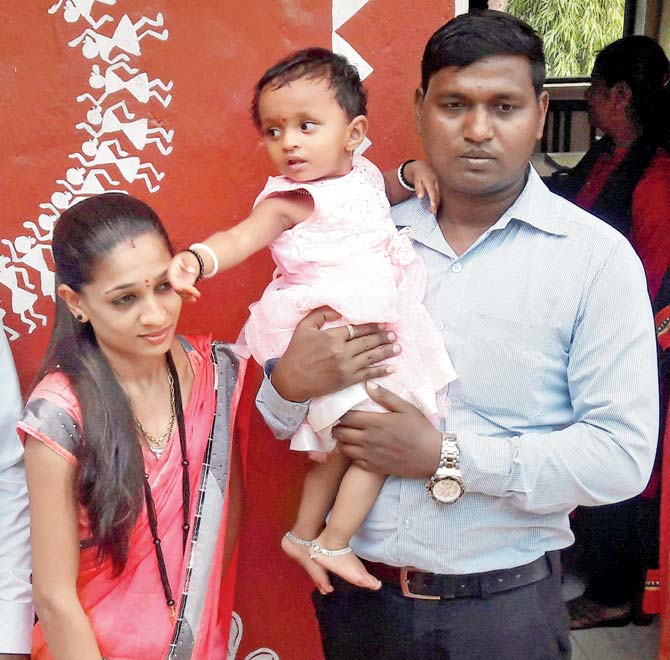 The Navi Mumbai police rescued an 18-month-old girl, who was kidnapped by a 19-year-old, within eight hours. The accused, who had demanded a ransom of Rs 50 lakh, was arrested by the Panvel taluka police.
According to the police, the child, a resident of Khairne gaon, Panvel was abducted between 12.30 am and 3.30 am on Monday. Her grandfather, Harichandra Mhatre, former sarpanch of the village, found the child missing when he could not find her lying besides him. "She usually sleeps next to me; so when I woke up and didn't see her, I knew she was missing," said Harichandra, who stays in a joint family with his four sons. Around 6 am, when the accused made the ransom call, the family realised what had happened.
Navi Mumbai police commissioner Hemant Nagrale said, "The accused had fled with two SIM cards from two handsets belonging to the family. He had made the call from one of those numbers, demanding R50 lakh. The family approached us and registered a complaint at 6.30 am."
The accused, identified as Hamidul Umedali Bensa from West Bengal, had worked for the Mhatres as a labourer for a short while last year.
"Bensa, who was familiar with the layout of their house, said he entered through the open hole of an exhaust fan, which was not installed, and left through from the main door," added Nagrale.
The police made 19 teams for the search operation. "We traced the location of the number from which he had called and found out that he was roaming in the vicinity itself. But as it was a kidnapping case, and we needed to rescue the child safely, we stayed away from the spot and sent one officer in plain clothes to keep an eye on him," said Nagrale.
The police got lucky when a tribal, Bhagesh Waghmare (60), went to search for vegetables in the forest area. Waghmare found the girl covered by a towel and immediately informed the police, and the girl was rescued.
During investigation it was found that  he is in a relationship with a girl in West Bengal, and that his father is unwell and abduction was done with an aim to get quick money.