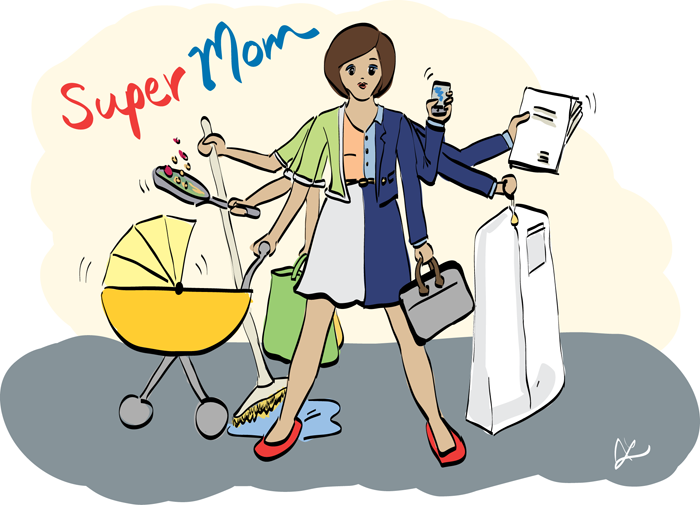 By:- By: Kavita De
Asleep or awake, my mind revolves around my child.
Her poop never felt disgusting and the bawling cries sounded like music to my ears.
Nobody and nothing matters more than her,
And she continues to remain my topmost priority over everything else.
I always happily lose myself playing the perfect mom,
My identity, my needs, my happiness and health, my career, likes  and wishes or dreams…..
Everything lovingly takes a back seat.
Waking up at dawn was never my cup of tea,
And yet I have seen myself winning my competition with the rising sun each morning
The sun could never beat this me called Mom !
Relaxed and rejuvenating weekends have been a  distant dream for more than a decade
They are infact over-time days
And my mom duties keep me crazily running around,
Till my feet decide to give up and need pampering in warm salt water.
I am a mom
When I am happy….I laugh
When I am sad….I laugh harder and louder
Hiding the gloom behind the sound.
Falling sick is a luxury I can never have
And even a small sneeze from my child is like a huge monster I dread to have
I am a mom
So the expensive chocolate in the fridge nearing expiry date has to be eaten up by me soon
Lest my child lays her hands on it
I am a mom….so I am as timid, sweet and harmless as a rabbit,
But you mess up with my child and I can put the most fierce tigress to shame
I have been a simple maiden
Miles away from make-up and jewellery
But a mom of a teenage daughter
Needs to be updated with the latest fashion trends and so….I find myself hunting for trendy stuff for my doll.
I am a mom
So my knowledge can never be restricted to my educational qualifications or professional expertise,
I ought to be jack of all trades – a singer, a dancer, a writer, an artist, a teacher and orator
Standing outside the school or activity classes for hours at stretch is no longer tiring.
I have come a long way and there is a longer path ahead
There's never ending work and I am fully charged to give in my best
Coz I am a mom with super human powers
I care not who loves me and which are the ones to hate,
I am least bothered if people leave me or decide to stay
I am a mom and I have bigger duties and things that need my attention and care
No matter what….for my child I am forever there.
There was a time I didn't want to be a mom
I wasn't sure if I could fit into the role or care
But practice and perseverance has made me do a fairly good job so far
And I hope to do better in future too
And it's nothing but bliss when I am sometimes referred to as THE MOM….Instead of A MOM
and I end up smiling with admiration for my own beautiful creation, when people compliment me saying –
"So you are THE MOM of this lovely daughter ?
Yes. I am the one ! I graduated from being A MOM….to THE MOM…..and gradually moving towards my goal of being SUPER MOM !