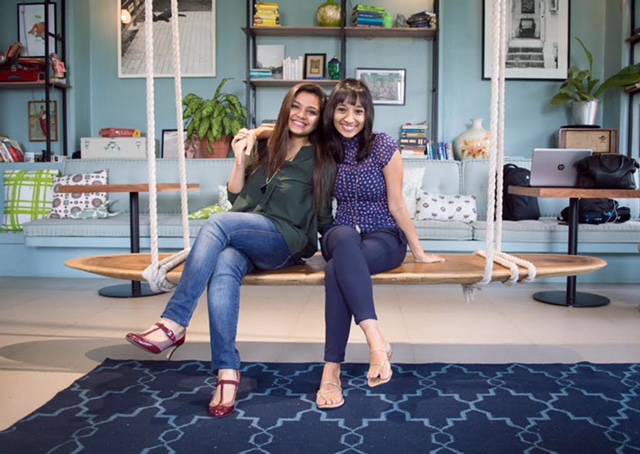 By: Dr. Jayakar Ellis
 Young minds are impressionable and biases developed in childhood often take years to undo. Shirin Johari (design innovator, entrepreneur and advertising creative) learnt this lesson in her 20s while meeting people from various countries through work and travel. As she befriended people from around the world and learnt to un-condition her mind, she could not help but wonder, "Why must children wait to grow up before their stereotypes are questioned, before they discover new worlds, cultures and ways of thinking? On the other hand, foreign travellers always seemed to look out for authentic and immersive experiences. While they could easily access museums and local food joints, they would never have access into an everyday school classroom and see the city through the eyes of children. What if foreign travellers could come into classrooms and exchange stories of their lives and dreams directly with students?"
 Shirin shared her thoughts with her childhood friend, Aarti Chhabria (educationist, a serial entrepreneur and a socially driven individual) and together they decided to bring a global perspective to education and help in raising a generation that is far more compassionate. They founded 'Clap Global' in 2015 with an aim to harmonise the idea of 'Travellers in Classrooms' into the global education and tourism systems as a compelling learning tool and as a celebration of the power of dialogue in bridging different worlds.
 Co-creating an entire curriculum of global perspectives from concept stage, tuning into minds and designing for children of all ages, understanding the mindset of various kinds of teachers, however, was not easy. "Further, growing in an Indian market is challenging as the mind-set of a developing country is tough to introduce to new age education models. A 'secure' future is more valued than one built on passion and innovation," says Shirin.
 "A tough business challenge is getting educators to perceive the longitudinal impact of Clap Talks. It is disheartening to see how un-adaptive the education sector is. While other industries have adapted to changes, the education sector has failed to keep abreast with the changing times," says Aarti.
 The concept
They tested Clap in 2015- 2016 across  SSC, ICSE, IGCSE, CBSE, WALDORF all boards in public, private and tribal school from age 3 -17. A strong Clap Curriculum© based on a 14 point theory of change was created as also www.clapglobal.com & a Clap Kit.
 "Clap is a unique platform for cultural exchange that enables international travellers to visit local school classrooms and have eye-opening conversations with students," says Shirin. Participating in a Clap Talk makes classroom learning more experiential and travel more meaningful.
 Clap Talks™ are curated on a simple digital platform: www.clapglobal.com. Travellers create their profile and share their available dates. Schools create their profile and share their preferred classroom date and time slots. Through simple matching of available dates, Clap curates eye-opening Talks (For a virtual tour check out www.clapglobal.com/takeatour. You can view more stories from Clap Talks onwww.facebook.com/clapglobal).
 Every school that signs up with Clap Global purchases six talks per student at a cost of around ₹1,500 per year. "Plans to expand the revenue model to also allow parents and teachers to buy Clap Talks for their kids are in the pipeline" adds Aarti. The registered school is given a Clap Kit™ complete with conversation aids and flashcards to guide them through a talk. Similarly, travellers are given a presentation template that they can customize with their pictures and stories to help them prep for their Clap Talk™.
 "Our curriculum tools packaged into the kit cover a range of universal topics, such as culture, family, current events, interpersonal relationships, environment, gender, human rights and freedoms, justice, governance and even a Question-Ball game enabling an exciting and meaningful exchange of perspectives. This has been meticulously designed with Curriculum Innovators to raise the cultural and emotional intelligence of all the participants of a Clap Talk," says Shirin.
 Every student also receives their own diary of reflections called Clap Passports to reflect on Clap Talks, the self and being a global citizen. Both the students and the traveller write heart-warming postcards for each other too.
 "Today, only 0.1 % of students can actually afford an international exchange program, which itself allows exposure to only one foreign culture. But if each student in school is exposed to at least 6 Clap Talks in a year, then from the age of 4 to 15, students will gain exposure to over 84 different cultures from across the world," reflects Shirin.
 The Clap Global website is user friendly and extremely easy to use.  Travellers create their profile and share their available dates. Similarly, schools create their profile and share their preferred classroom date and time slots. Through simple matching of available dates, Clap curates eye-opening Talks.
 Currently, the only requirement is that travellers that sign up on the website and create a profile need to be foreign nationals, belonging to a country other than India. There are no registration charges for travellers as of now.
 Funding and future plan
Clap Global was awarded a grant of USD 18,000 from Start up Chile in October 2015, before it was even registered as a company. They raised a Pre Series A of Rs 4.5crore against 33% due in 3 tranches form Round Glass Partners. Since its conception in 2015, Clap has conducted over 655 Clap Talks in 84 schools across 12 cities. With over 1000 travellers, Clap Global has reached out and impacted the lives of more than 19,000 students. The revenue has risen from Rs. 80,000 in 2016-17 to Rs. 40,00,000 in 2018-19. "The aim is to conduct 28000 talks in 2018 in schools across India in tier1, 2, 3 cities with a view to fostering global perspectives, cultural understanding, self awareness, and emotional intelligence in the minds of lakhs of students," says Shirin. There is also a plan to test B2C model, where stay at home moms, could curate Clap Talks in schools nearby for their own group of children on weekends. "We are partnering with Tourism Ministries, tour operators and experience booking platforms for regular inflow of travellers looking for immersive and unique experiences," adds Aarti.
 Need to change perceptions
As women entrepreneurs, there have been hurdles along the way- managing family and job- is one. "My biggest success has been changing the mindset of family to value what I do. And I am grateful that they did it so beautifully," says Aarti. "You may realise you can transform what seems like a challenge into something that works to your advantage. If you feel you lack a certain skill, collaborate with someone who has it. From my experience, a balance of male and female energy in an organisation is wonderful – your output is less biased," adds Shirin.
 The duo also have reservations with the term 'women entrepreneur'. Why is there nothing as Men entrepreneurs? Men actually need the training to equally share responsibility of home & family not just support emotionally. The day we achieve that we will just have "Entrepreneurs", they feel.
"As Jack Ma mentioned at The Economic Forum at Davos, the skills we need for next decades are compassion, empathy basically soft skills, those that keep us superior to machines. Women are very powerful with these skills and are super multitaskers," asserts Aarti.
Snapshot:
Clap Global
Founded: 2015
Founders: Shirin Johari and Aarti Chhabria
Funding: INR 3,10,00,000 against 26% + INR 18,00,000 as a grant from Start up Chile
Location: Mumbai
Website: www.clapglobal.com