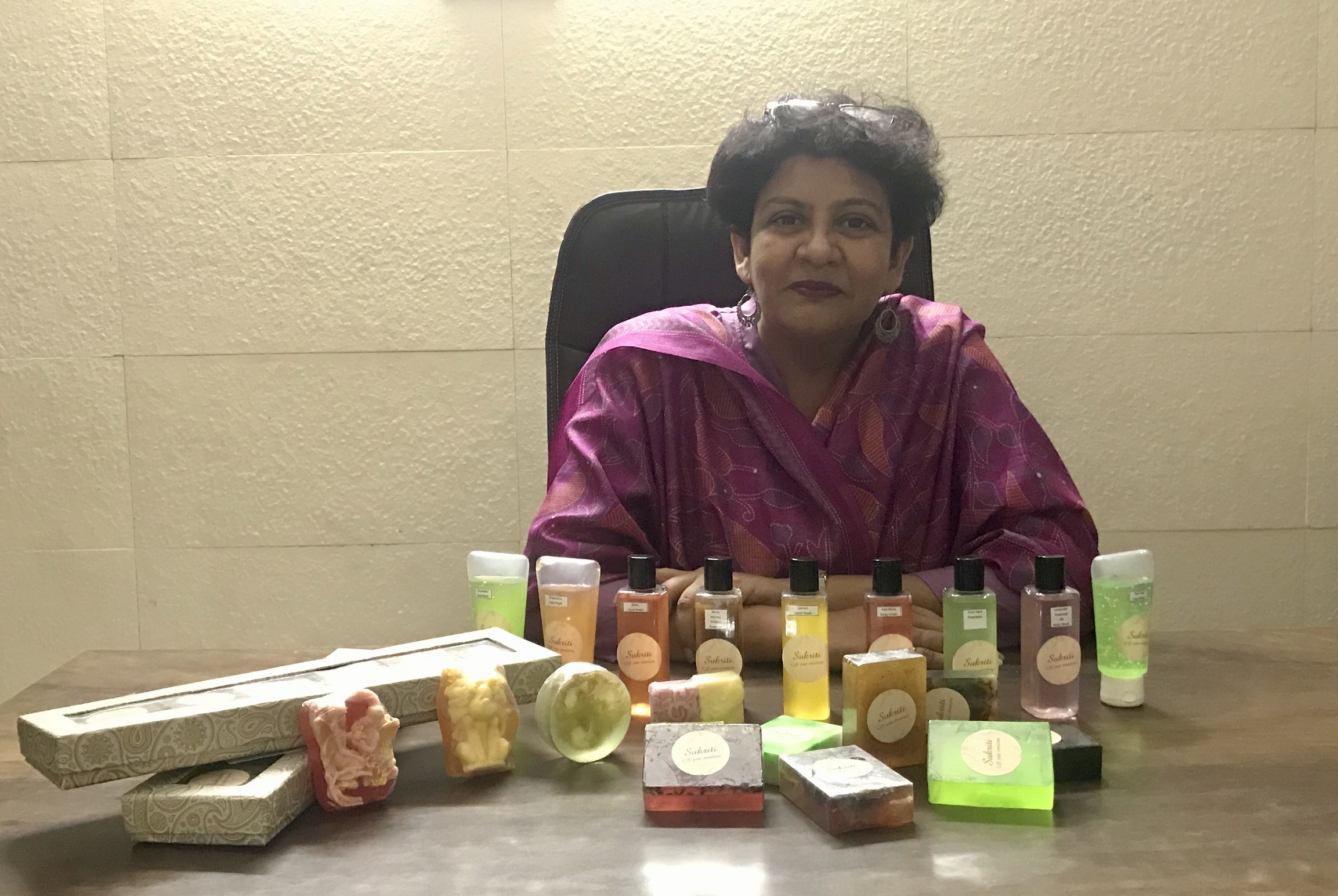 By: Varda Sharma
Life came to a stand still for Meeta Rana (48) three years ago when she lost her husband to a fatal disease.  "I felt completely shattered," says Meeta who now had to shoulder the responsibility of her two children. While she was doing part time job with a US based company, it now became imperative for her to enhance family income and so she started searching for another part-time job. But the dual task of managing home and two jobs at the same time was becoming extremely difficult and hence Meeta decided to start her own venture which would give her the freedom to work from home and also give time to her family.
However, venturing into a new field was not easy. First of all, she had to streamline the business. Being a promoter of herbal handmade body care products herself, the decision to venture into this space came naturally. However, there were several other hurdles: finding raw material manufacturers, managing orders and also marketing the products single handedly. Not the one to give up easily, Meeta in 2017 launched 'Sukriti' offering a complete range of herbal body care products with an investment of Rs. 5000 and with absolutely no staff. "I could not have afforded the salary of any staff, and the work had just begun. So, I worked as the CEO, manager, clerk and even class four employee in my company all by myself," says Meeta with a smile.
Explaining the significance of the name 'Sukriti', Meeta says, 'Su' means beautiful and 'Kriti' means creation. Hence, the name Sukriti means beautiful creation. "This resonates with the vision of my company beautifully and I loved the idea that it is an Indian name," she adds.
An array of exotic body care products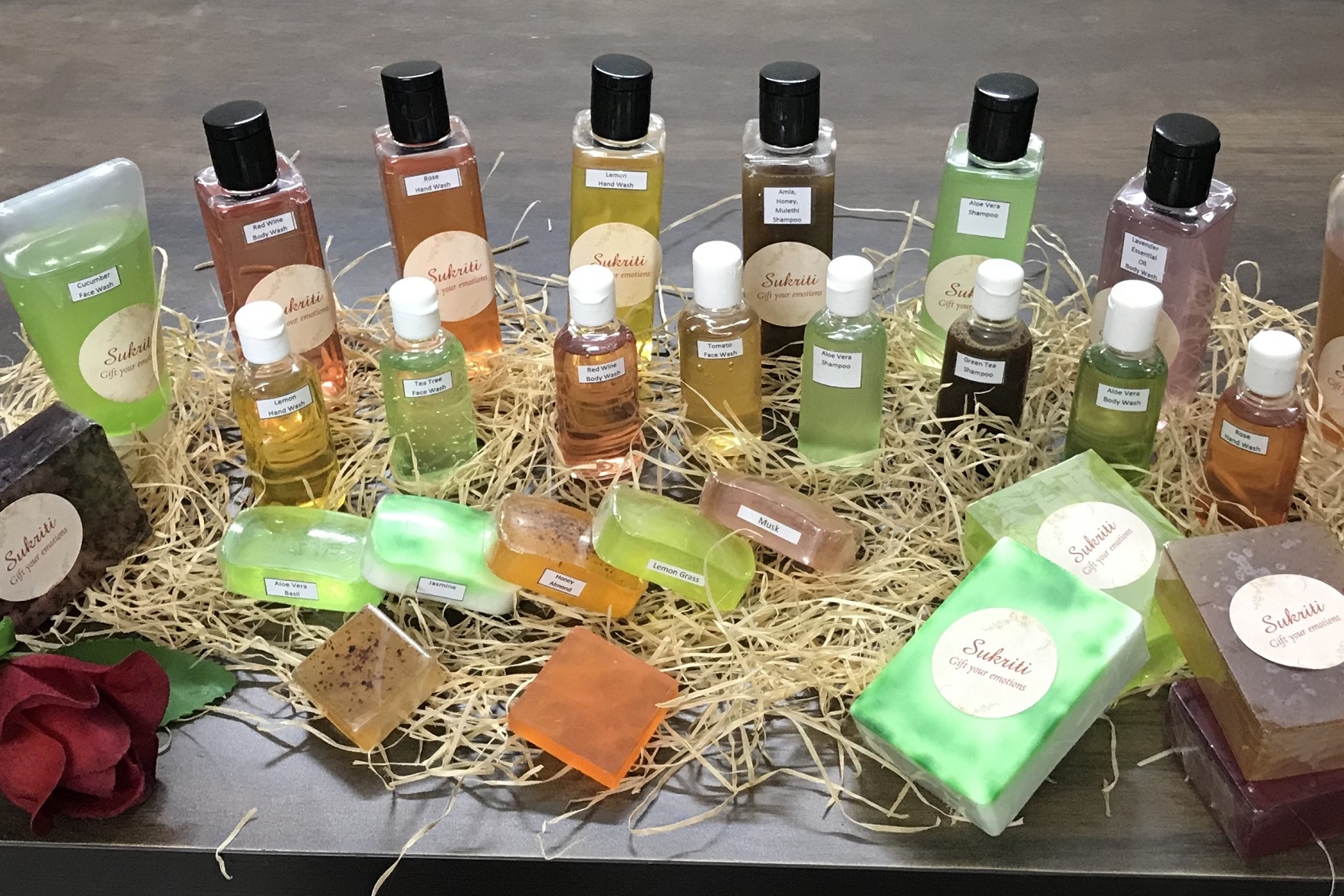 'Sukriti' offers a complete range of body care products: from shampoos, soaps, essential spa oils, massage oils, creams, body wash, hand wash, shaving bars etc. in exotic fragrances. There are aloe vera basil soap, lavender essential oil soap, tea tree essential oil soap, jasmine soap, lemon hand wash, aloe vera turmeric wash etc. "The most sought after products are- Gold and Silver soap bars and face washes which come with authentication certificates," says Meeta. "Gold and Silver infused skin care products are known to calm acne inflammation, reduce skin redness and protect against free radicals that lead to wrinkles and skin damage," she adds. The price range of her products start from Rs. 95/- and goes up to 995/-. "Since no harmful chemicals are used in the manufacturing of the product, the products can be used by all age groups," says Meeta.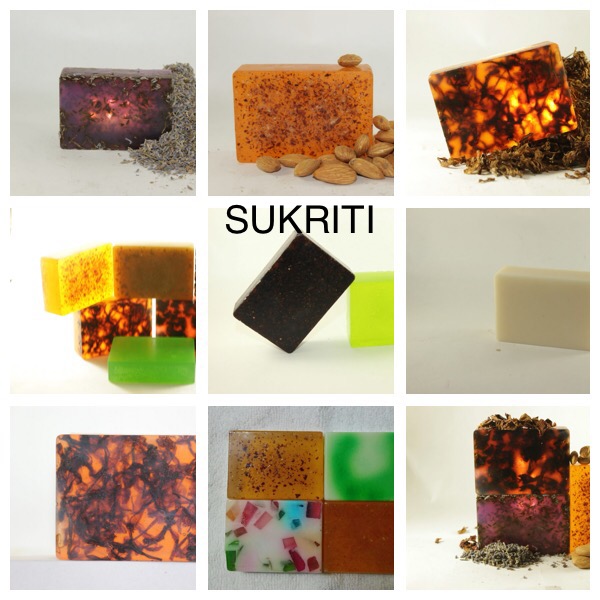 The consumers can buy the products from the Facebook and Instagram handles of Sukriti or can also call her directly on her number and email id. "Usually, I make a Google form which is circulated amongst the customers to choose the products they want to buy," informs Meeta.
In the span of just one year, 'Sukriti' has been able to climb success ladder both in terms of revenue and clientele.  "I am fortunate that big names like Nykaa are interested in doing business with me," says Meeta.
After making a mark in the Indian market, 'Sukriti' is all set to expand its wings globally. "I have already started working towards it and hopefully, in few months, it is likely to be finalized," says Meena who is also planning to add new products in her product portfolio.
 Clients speak
Says Risha Malik, a teacher in a reputed school in South Delhi and residing in Gurgaon, "I have been using Sukriti soaps since last few months and I love their mild fragrance and the fact that these are natural organic products." Her favourite soaps are lavender and lemon grass essential oil and tea tree and red wine body washes. "Sukriti has truly lived upto my expectations and I think I am addicted to their products," she adds.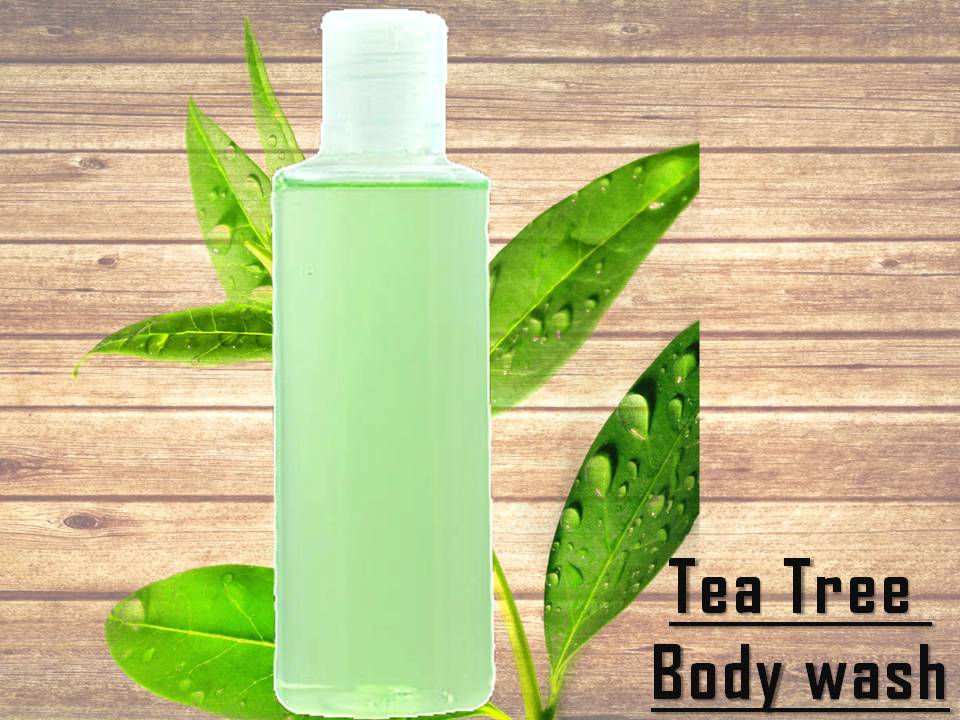 Geeta Govil Sen, Business Head, Ogaan has been using Sukriti's soaps since almost a year. "The entire family just loves the soaps with eucalyptus essential oil and find these very relaxing and soothing," she says adding that she is now looking forward to using other products as well.
With a vision to make every woman feel that she is 'Sukriti' (beautiful creation) created by God, Meeta desires to promote healthcare and body care across generations through the use of handmade and herbal products.
Sukriti
 Founder: Meeta Rana
Founded: 2017
Location: Gurgaon
Facebook: 
https://www.facebook.com/sukriti71/
Contact Number: 9899015719
Email: meetarana71@gmail.com