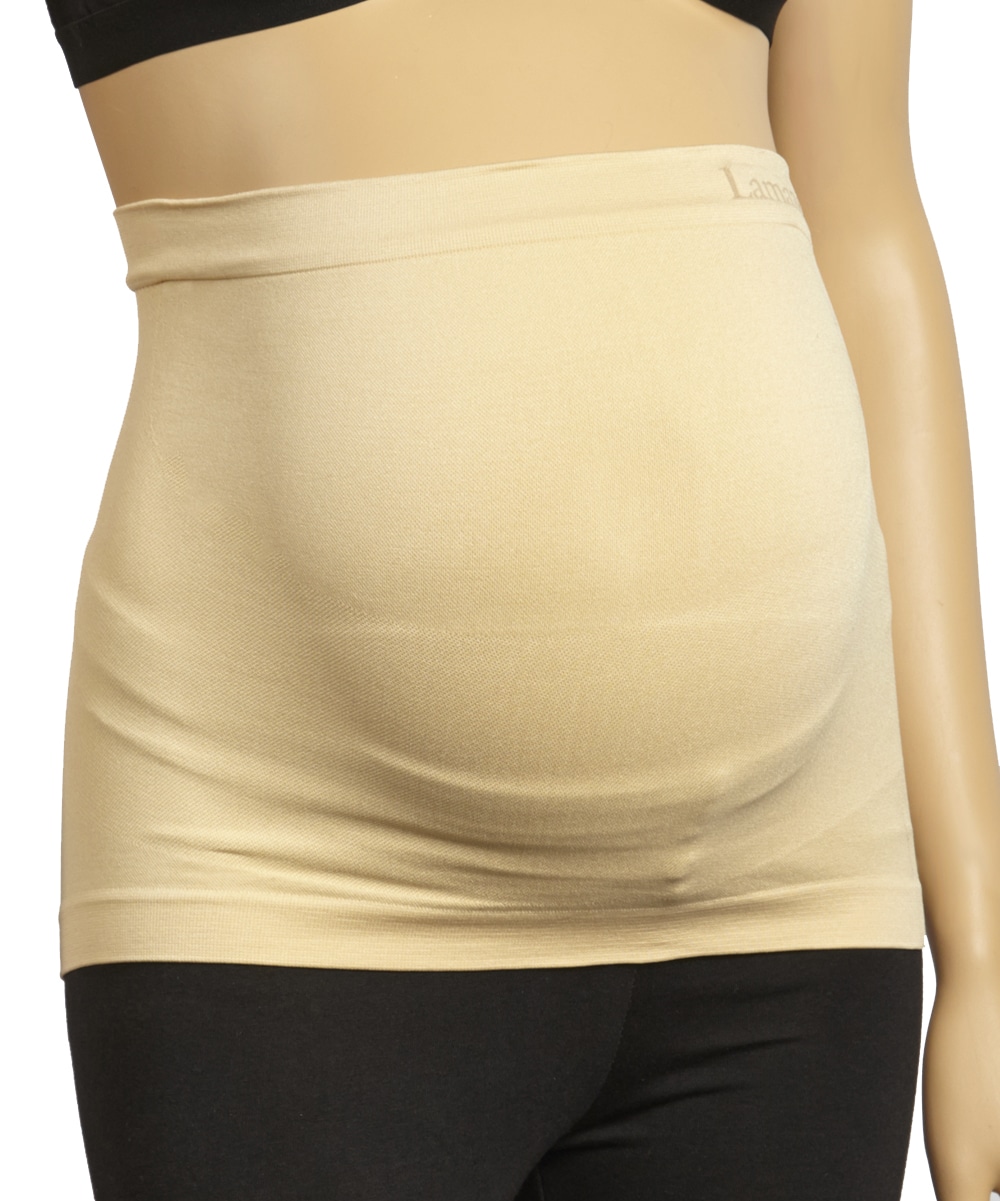 By: Varda Sharma
Electronic devices like- cell phones, microwaves, wi-fi routers, laptops and the Electromagnetic Frequency (EMF) they need to function- are all around us. According to an article published in Medical Daily (dated 28th July, 2012), while exposure to these has an adverse effect on the health of every individual, "EMF exposure during pregnancy could impact the foetal development, including endocrine and metabolic systems, predisposing offspring to higher risk of obesity." Another study (Foetal and Neonatal Effects of EMF published in Bioinitiative 2012) has established that the exposure of the developing foetus and of children to electromagnetic fields (EMF) including both radio frequency radiation (RF) used in new wireless technologies, and to extremely low frequency or power frequency fields (ELF-EMF) is of great health concern because of the possible effects (cancer, neurological effects, developmental disability effects, etc) from the long-term exposure to low-intensity, environmental level fields in daily life.
Prof. K. Prasad, HOD Neurology, AIIMS, New Delhi in the research study published in 2017 has concluded that radiation from cell phones and electronic devices can be absorbed into the body by the tissues nearest to the cell phone antenna, and is a causative factor for Acoustic Neuroma, Glioma and other cancers of the head, ears and neck region. This study determined that pregnant women, babies and adolescents were more vulnerable to the ill-effects of EMF radiation and non-essential use of these devices should be avoided.
Anurag Nihalchandani also found these research data highly disturbing and alarming. "EMF radiation has become an increasingly potent threat ever since cell phones and other electronic devices became a part of our daily life. The quantum of exposure to radio-frequency emitted by these devices has also increased manifold after the introduction of 4G and newer technologies. The medical and scientific community has concluded after years of ongoing research that this form of radiation poses an alarming threat to the human body, especially to pregnant women, babies, adolescents and those with compromised immunity," he says.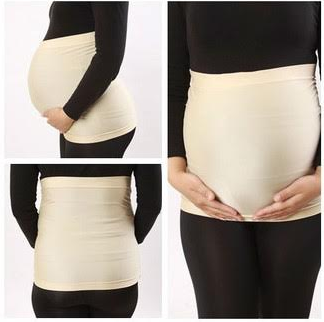 "The worst aspect of EMF and radiation from household devices" says Anurag is that "unlike other forms of pollution, it cannot be seen, heard, smelt or felt in any way. Radiation is composed of invisible rays which are now penetrating the bodies of everyone who is within range. Fighting an enemy which cannot be seen is therefore more challenging, and it is in the interest of the coming generations to safeguard ourselves from this pollution."
Eager to find solution to this grave threat affecting the mankind, especially women who are trying to conceive or are pregnant, Anurag with the help of accredited professionals from the field of medicine, electrical and textile engineering, instrumentation and applied physics started conducting a comprehensive research in Israel under the Bioinitiative project. After successfully testing the product, Pregashield was launched worldwide in 2014.
The primary challenge that Anurag and the team faced was lack of awareness about the dangers of EMF radiation. "X-Rays, CT Scans and MRI are widely known for being unsafe for pregnant women. However, not many professionals are aware that non-ionizing radiation like EMF and radio-waves can also be harmful for the pregnant women and the foetus," he says. Moreover, India, he says, has been traditionally slow in adopting new technologies and products. "Even some medical professionals were not fully aware of the threat that EMF devices posed to the health of their patients," he adds.
A protective shield against EMF radiation
X-ray technicians and Radiologists wear a lead apron so as to minimize their exposure to harmful rays which, although invisible to the eye, can cause considerable damage to the human body over a period of time. Pregashield fabric is based on the same principle of blocking radiation before it can penetrate the dermal tissue.
"Lead is a heavy metal and therefore not suitable for day to day usage. Keeping practical concerns in mind, Pregashield has been developed in such a way that it is both- effective as well as lightweight and innovative," informs Anurag.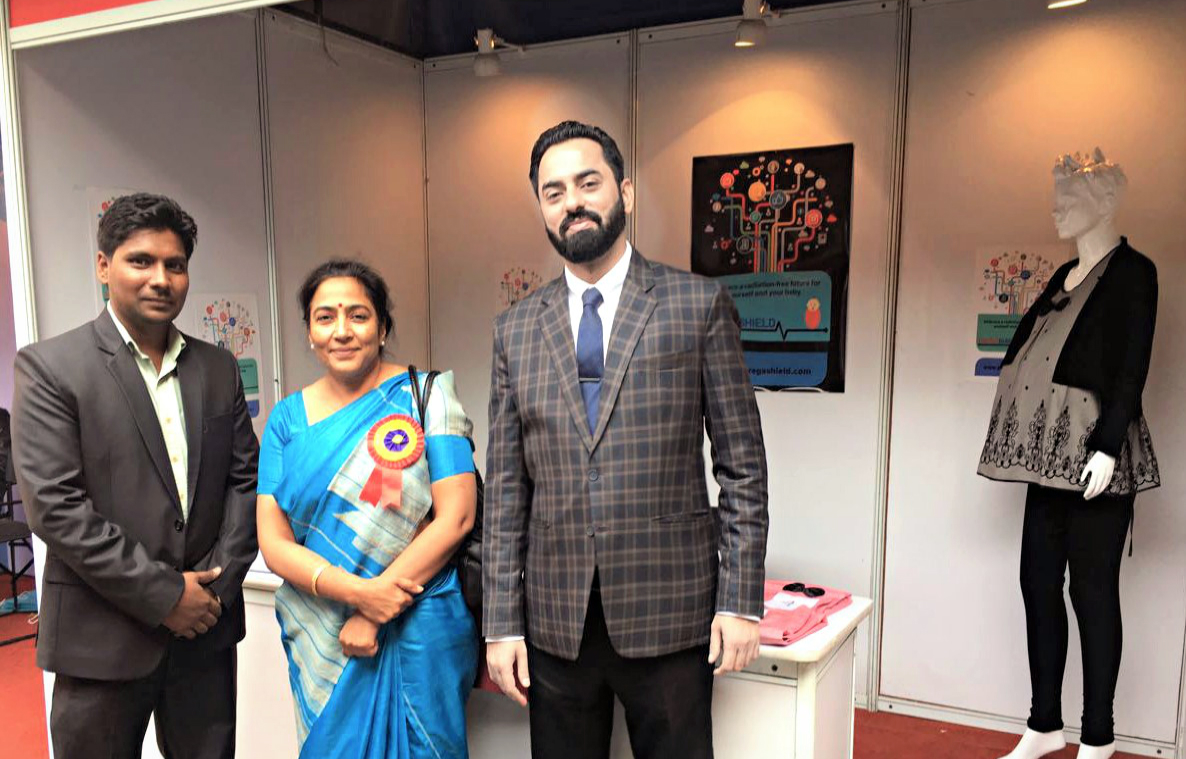 Founder and  Head Product Development, Pregashield, Anurag Nihalchandani (Right) at the Association Of Obstetricians and Gynaecologists of Delhi (AOGD) Conference, New Delhi. Also seen is Dr. Abha Sharma, Secretary, AOGD
Pregashield is a specialized fabric that is made of polymers that have the ability to shield the ambient EMF radiation from penetrating the dermal tissue (skin), thereby safeguarding the user from its harmful effects. Says Anurag, "Once EMF radiation enters the body, it starts to alter the cellular DNA and can impact fertility levels over a period of time as well. Our body is a bio-electrical unit, and EMF interferes with the normal biochemical functions of our body. Pregashield helps in minimizing this exposure."
The product is primarily designed for pregnant women, and for those who are trying to conceive. A stretchable elastane band (universal size 38.73 cms by 38.10 cms) it is worn around the belly "It should ideally be worn whenever someone is using a cell phone, laptop or tablet or is in a wi-fi field. We recommend its usage all the time except while sleeping," says Anurag.  It costs Rs 4505/- in the Indian market and can be purchased by placing order from their website (www.pregashield.com) and Amazon India.
Future plan
Pregashield has been well-received in the Indian market since the last one and half years. "We have worked with lot of doctors and institutions to create awareness about the product and now the clientele for Pregashield has registered a substantial increase. Word of mouth publicity by our satisfied customers has also contributed a lot towards its success," says Anurag.
The team has adopted a customer-centric approach and likes to stay connected with the customers for sharing insights about parenthood, diet and nutrition, and making healthier choices.
Says Dr. Sarika Rachel (40), Assistant Professor, ESIC Medical College and Hospital, Faridabad, "I had two major concerns during my pregnancy-first my college was just next to radiology department and secondly I was quite elderly when I had conceived (I was almost 39). I used Pregashield in the first trimester (from November 2016 till March 2017) when the foetus is being formed and is highly sensitive to exogenous influences." Dr. Sarika feels that while the product is of great use to all the expectant mothers, it is particularly beneficial for those who are in the vicinity of radiation. "While using Pregashield, I felt assured that I was giving the best possible gift to my unborn child," she adds.
Bhavya Talreja (28), a resident of Ashok Vihar, New Delhi bought Pregashield on the advice of her friend who had used it during her pregnancy. "I use cell phone and laptop quite frequently. I was shocked to learn that radiation from these devices could harm my baby," she says. She used Pregashield throughout her pregnancy and found it   be very comfortable and easy to use. Most importantly, she says, it is "highly beneficial as it helps in protecting the child from harmful radiation emitted through electronic devices." Bhavya feels that Pregashield should ideally be used by all the expectant mothers for "safeguarding themselves and their baby from the radio waves."
As regards their future course of action, there is a plan to introduce a wider variety of anti-EMF radiation products in the Indian market, for men, women and children. "We also plan to undertake specialized radiation audits at residential and commercial sites, so as to determine the level of exposure to EMF and implement the remedial measures that can be taken to counter it," adds Anurag.
Currently, they are not looking for investors, but in future they may consider inorganic sources of funding. "Our vision is very dear to us, and if we do come across like-minded investors, we may consider working with them to further our business goals," says Anurag.
Pregashield
Founder: Anurag Nihalchandani
Founded: 2014
Location: New Delhi
website: www.pregashield.com