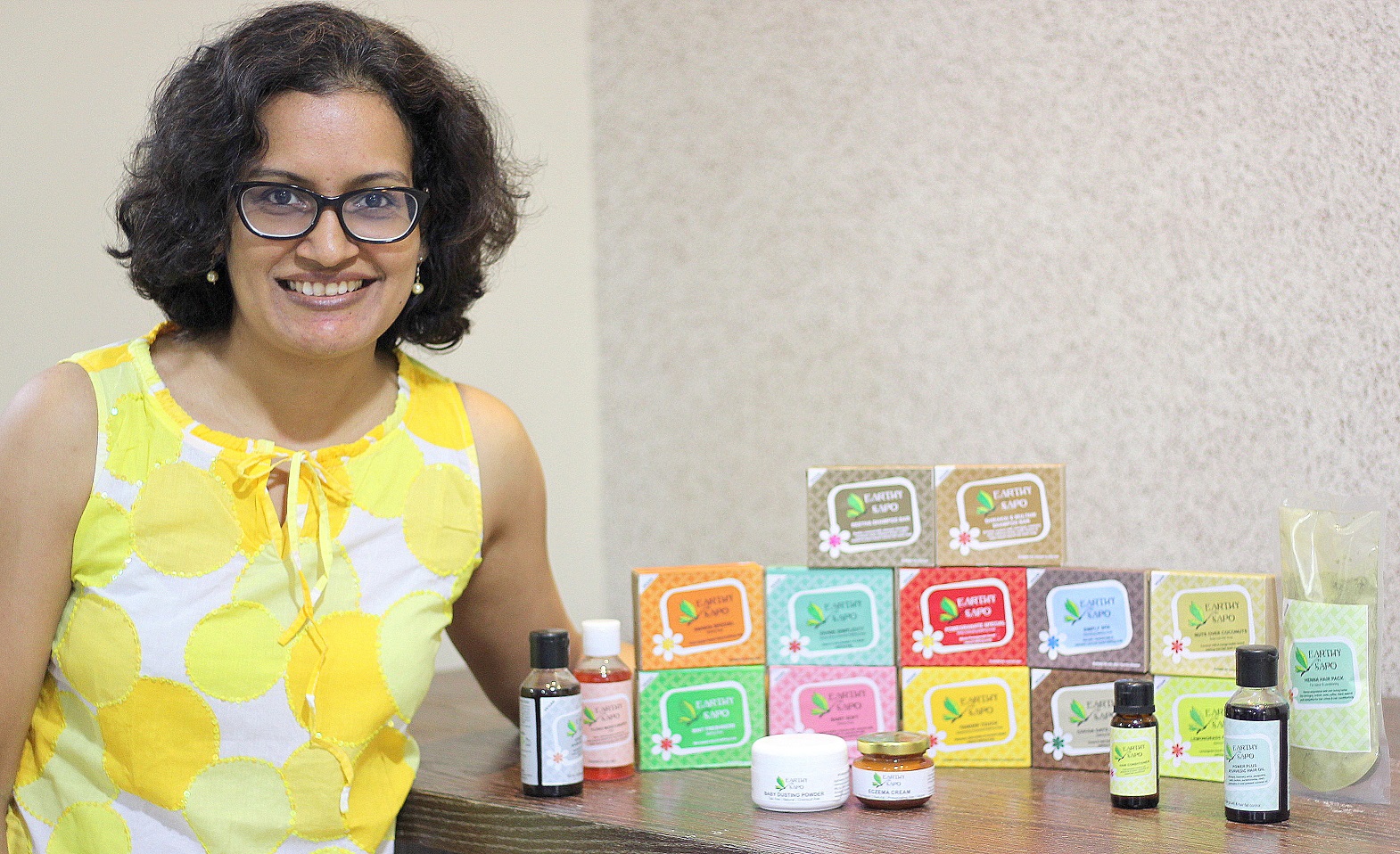 By: Varda Sharma
After completing her Post Graduate Diploma in Business Analytics (2003) with major in Finance from ICFAI Business School (IBS), Hyderabad and Company Secretary from the Institute of Company Secretaries of India, Sheetal Kabra started her career in the corporate sector. A highly dedicated and determined individual, in the span of nine years Sheetal was successful in carving a niche for herself in the corporate world.
Despite being at the top of her career graph, in 2012 Sheetal had to quit her job on account of high risk pregnancy. However, not the person to sit idle, Sheetal started exploring avenues that would keep her both- busy as well as creatively engaged. "Since childhood, I nurtured deep interest in arts and crafts. Pursuing this interest seemed an obvious choice," says Sheetal who founded 'Kalart Creations' in 2012 offering unique handmade home décor items, festive decorations, jewellery etc. Till the birth of her daughter, Seher, arts and crafts was her only passion, which, however, changed when she found that the skin of her new born baby did not react well to the soaps available in the market.
"Even though, I had suffered for several years with skin ailments like severe eczema and acne, never did I realize or understand the importance of natural personal care products," says Sheetal. But now, being a concerned mother and also a lover of handcrafted creations, she decided to venture into a completely new field- learning to make handmade natural soaps.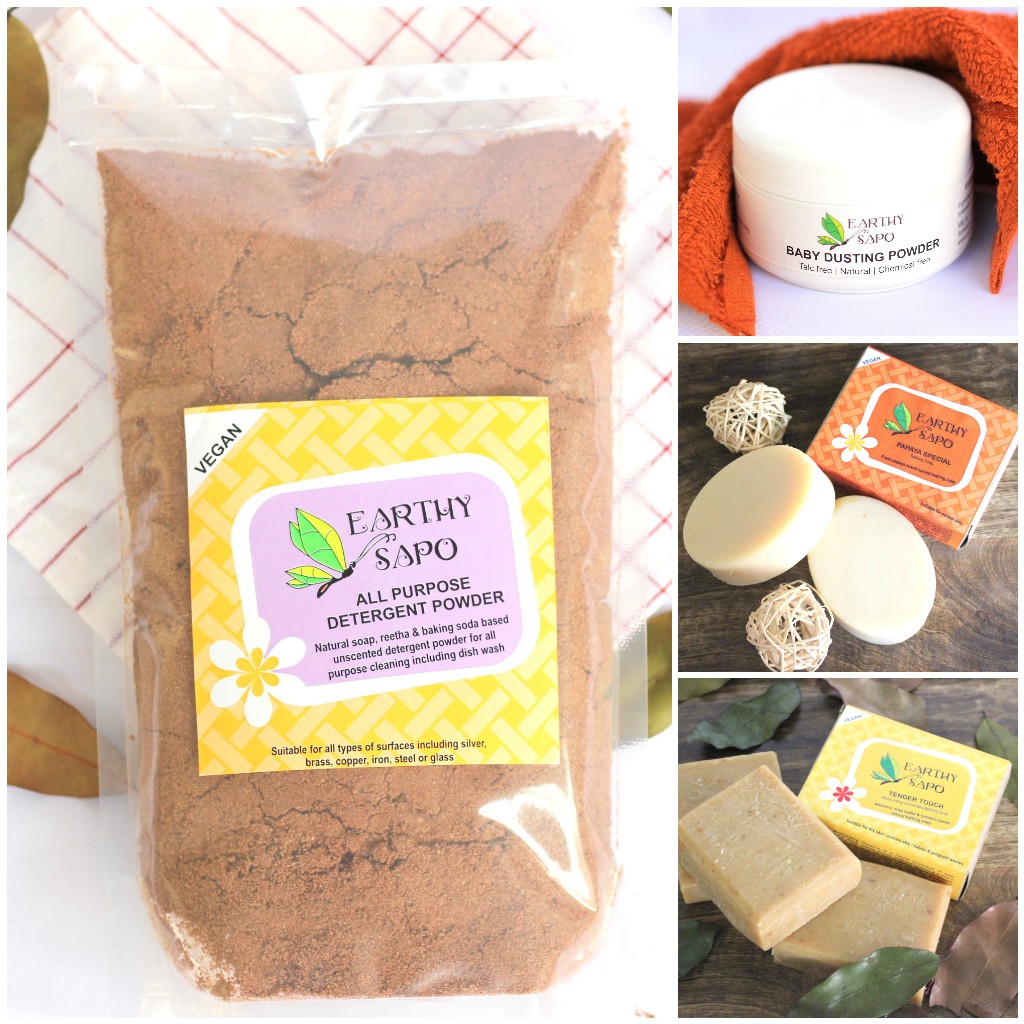 With the first batch of handmade natural soaps itself, Sheetal witnessed positive changes in hers as well as in her daughter's skin. "For years, I had not used soap during winters when my eczema would be at its peak, as the soaps would dry my skin out further and aggravate the eczema. I still cannot shake off the feeling of disbelief and amazement when I used my handmade natural soaps in the winter of 2013," says Sheetal who now understood the significance and superiority of natural personal care products.
Motivated by the results, Sheetal started selling soaps to friends, family and in farmers markets and this laid the seed for "Earthy Sapo" in 2014 offering a wide range of natural, chemical free and preservative free personal & home care products.
The name 'Earthy Sapo' itself, says Sheetal, signifies their product philosophy: Earthy implying from earth or natural & Sapo meaning soaps (Latin word for soap).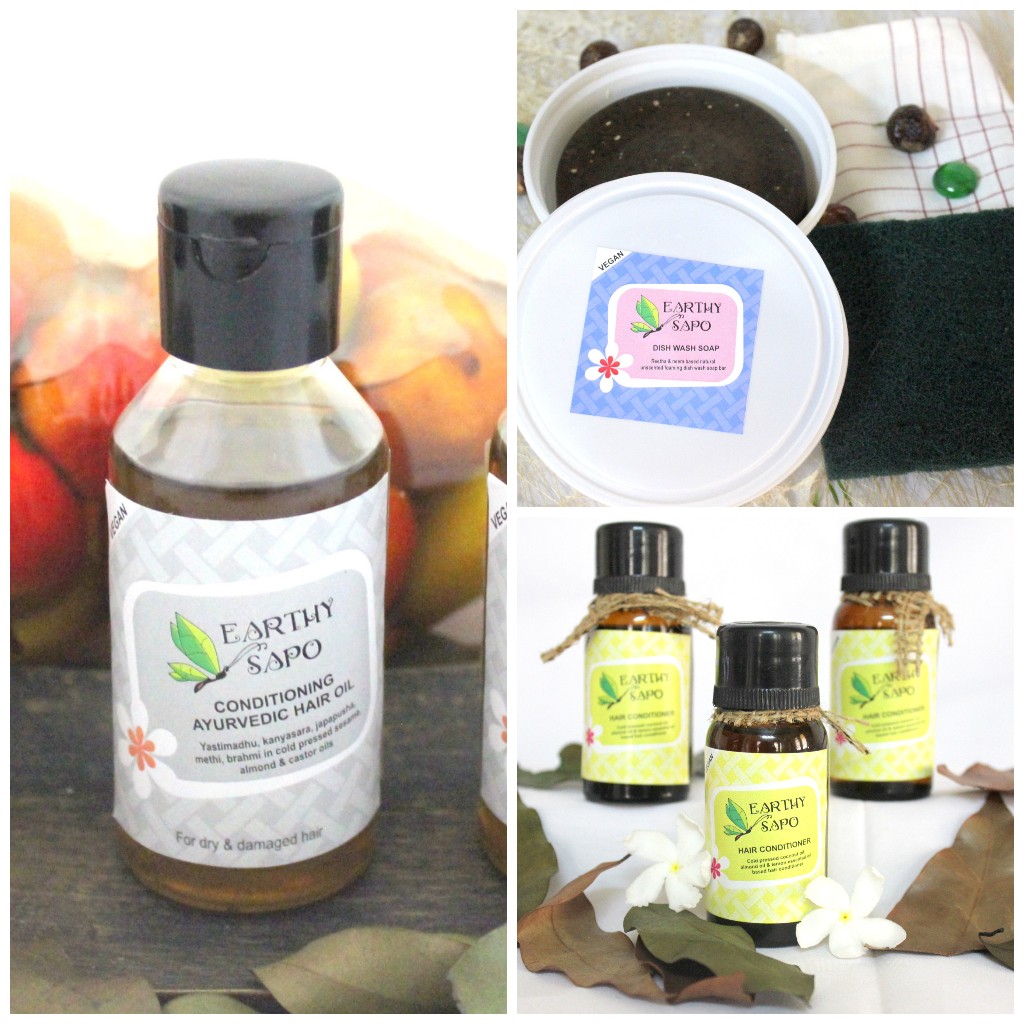 Overcoming challenges
Like most of the micro enterprises, Sheetal too faced hurdles along the way. Purchasing, packaging, logistics, marketing, finance, staff, etc. were some of them. In addition, there was the responsibility of taking care of 15 month toddler. Despite these challenges, her passion, determination and strong support of her family members especially her parents and sisters, helped her in overcoming all these one by one.
For about three years, she was the only employee in her firm. "I did everything from making, packing, selling, delivering, customer support, marketing etc.," recalls Sheetal. Now they have a team of 4 including herself. "And if I include my daughter, then 4 ¼," she says with a laugh.
A bouquet of personal and home care products
Earthy Sapo offers a wide range of natural, chemical free and preservative free personal & home care products ranging from body soaps, hair soaps, oils, moisturizers, powders, packs, laundry soap, dish wash soap etc. "Our main product  line continues to be soaps (body, hair & home)," says Sheetal.
Their products are handcrafted the traditional way- from start to finish- and are free from harmful chemicals, preservatives, surfactants, synthetic ingredients, silicones and synthetic fragrances. "We carry the label "Truly Handcrafted" with lot of pride and respect," she adds.
It takes about 20-40 days for the soaps to be ready to use and 6-8 hours to prepare 1 litre of Ayurvedic oil!
Product range in personal care category:  Available are wide range of bathing soaps, face packs, moisturizers, scrubs, massage oils, eczema cream, dusting powder, shampoo bars (not liquid shampoos), Ayurvedic hair oils, hair conditioner, hair masks, and natural hair colour options. "We do not make liquid soaps, as all our products are preservative free," says Sheetal.  They have an exclusive baby and kids care range too. The price range varies from Rs. 50-500/- . They also, on a selective basis, make customized offerings of soaps or packs.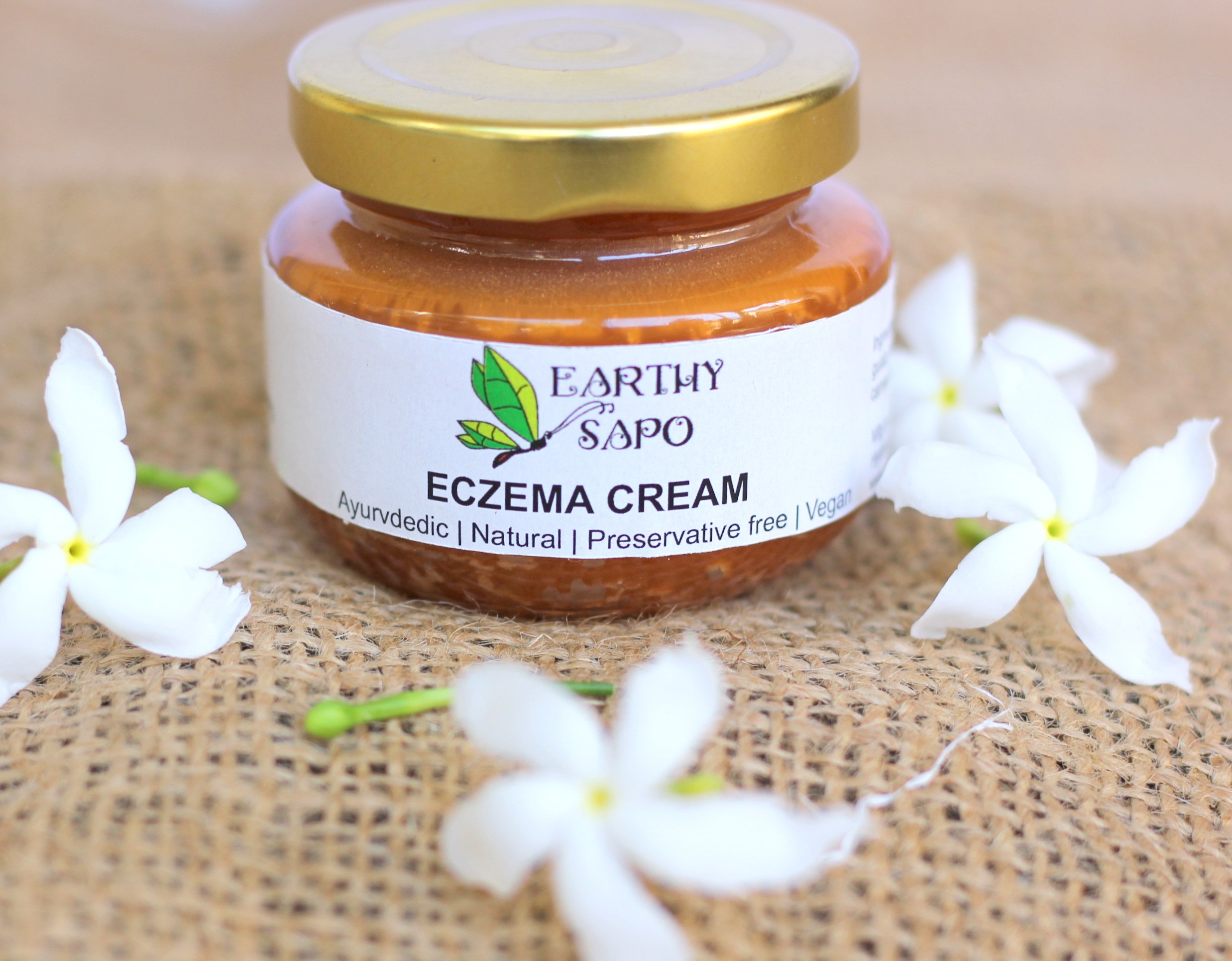 "Our products," emphasises Sheetal "are formulated for our safe and healthy personal care. We believe in nurturing natural beauty. Our products are not for achieving any cosmetic changes." Similarly, she adds, "We do not believe or subscribe to certain social beauty notions like fairness and do not make products which promote such notions either. We hope to enable reconstructing the "social standards of beauty" from cosmetic to natural, from aesthetics to health, from external to skin deep, from temporary to life long, and from beauty care to personal care! Thus, we handcraft only Personal Care Products and not Beauty Products."
Earthy Sapo refrains from indulging in any claim marketing. "We do not make any claim that our products will cure or heal any skin/hair condition as that would be incorrect, unethical or a lie. Skin problems are a manifestation of several internal and external problems like hormonal issues, heredity factors, diet, stress, digestive issues, allergies, pollution, water, chemicals, etc. To claim that an external product will cure the problem without being able to pin point the cause of the problem, would be outright lies. Our products, however, help in managing the condition better and are complimentary to traditional or alternative medicines and help in faster healing. They are safe & nourishing," she firmly points out.
Home Care category: In the home care category, Earthy Sapo offers dish wash soaps, laundry soaps & laundry detergent powder. Price range is between Rs. 100-300/-
Customers can either buy products directly from them through their website www.earthysapo.com or from their store in Hyderabad. They can also purchase from other ecommerce portals – www.amazon.in; www.qtrove.com; www.firstcry.com; www.unfactory.in; www.navvi.in; www.wudbox.in
Happy clientele
Aarti Vir (45), a resident of Journalist Colony, Hyderabad has been using products from Earthy Sapo since almost three years. Aarti was basically searching for skin care products for her daughter who had sensitive skin and dry scalp. She came across Earthy Sapo's natural, chemical free soaps and decided to give these a try. "Since then, we are not only using Earthy Sapo's skin care products but also home care products as well," says Aarti. While she loves almost all the products, her favourite soap, she says is "Nuts over Coconut" which is bath cum hair bar. "We can even smell all the ingredients including the essential oils that are added in every product," she says. Aarti uses Earthy Sapo's hair packs for her daughter once in every week and baby dusting powder for relieving itchiness. "We just love all the products offered by Earthy Sapo and would not mind using toothpaste too if Sheetal starts offering those as well," says Aarti with a laugh.
Rajyalaxmi Pradeep, a resident of Manikonda, Hyderabad has also been using Earthy Sapo's products since almost two years. "Any person who uses these chemical free, hand-crafted products once is unlikely to switch over to other skin care products," she says with conviction. She loves the 'lemongrass' bathing soaps and purchases henna powder, washing powder as well as dish washing bars on a regular basis. "Her products are simply amazing and are truly good for all types of skin," she adds.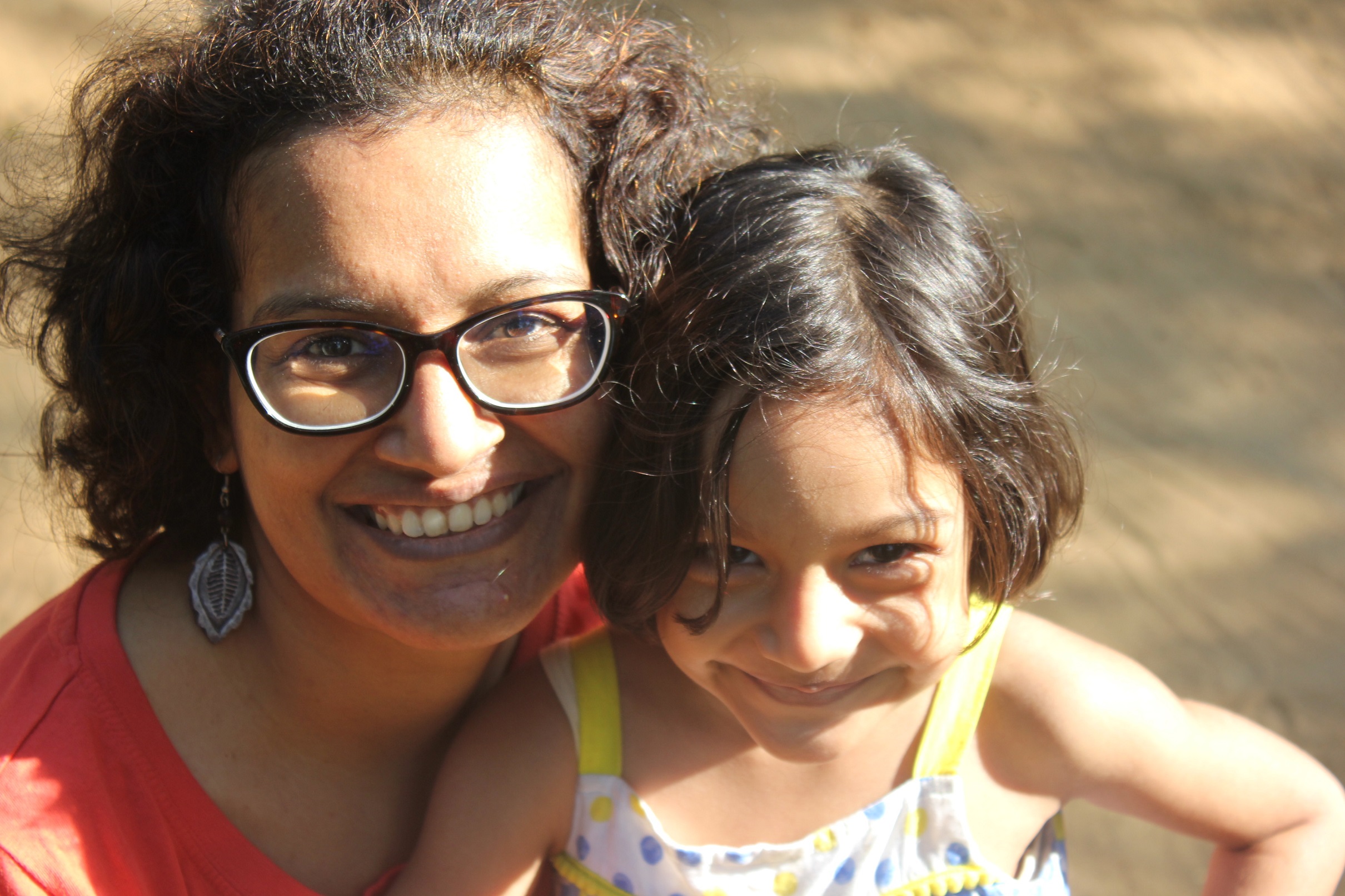 Future plan
With an aim to help customers eliminate chemicals from their personal and home care regime, Sheetal desires her products to be available on various major ecommerce platforms for a wider reach to customers. There is also plan to commence international shipments directly. She is also exploring possibilities of either partnership or tying up with boutique salons or spas which offer only natural and chemical free skin/hair care service. "We are also exploring the possibility of retailing our products through boutique natural stores," says Sheetal adding that they want their customers to "lead a chemical free and holistic lifestyle for a healthier self, society and environment."
Earthy Sapo
Founder: Sheetal Kabra       
Founded: 2014
Location: Hyderabad
Website: www.earthysapo.com
facebook :  www.facebook.com/earthysapo.soaps
Instagram: @earthy_sapo