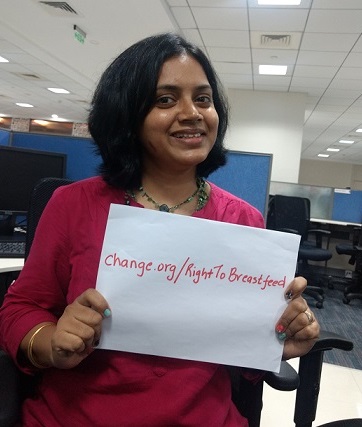 By: Varda Sharma
Jincy Varghese (31), a software engineer and a resident of Panvel, Navi Mumbai had difficulty in breast feeding after giving birth to her child in February, 2017. Moreover, as she had gestational diabetes during pregnancy, her new born baby was kept in the NICU (Neo Natal Intensive Care Unit) for observing his sugar levels. During the time he spent in the NICU, he, says Jincy, was fed formula milk. "I was not informed of this and my consent was not taken by the hospital. If I knew that my baby was being given formula milk, I would have never allowed for that to happen. There was a milk bank in the hospital and my baby could have been fed human milk during the early stages of his life," she says.
Being a first time mother, she did not know that, like her, there are many mothers who face similar feeding issues after child birth. "Neither was I aware nor was I informed about this," says Jincy. However, after joining a facebook group "Breastfeeding Support for Indian Mothers" she realised that what had happened to her is a rampant practice across the country. "Especially when a mother is recovering after a C-section, or when a baby is in the NICU, many hospitals just go ahead and feed the baby formula milk, without informing the mother," she says.
"Our government spends crores of rupees in advertising about the importance of breastfeeding and especially the fact that the thick yellow milk that a lactating mother produces is crucial for the baby's long-term health. But the hospitals, especially the private ones, make tonnes of money because they get discounted formula milk boxes from the pharmaceutical companies that manufacture them," says Jincy.
While she was pondering over this, the administrator of the Facebook group of which she was member, launched a petition in August, 2017 requesting health care centres to stop giving formula milk to new born babies without the consent of the parents.
"It was the right initiative and was started on the right platform where all the members were mothers," says Jincy. However, to her surprise only 1,000 people signed the petition. As Jincy, herself had gone through such an issue in her life, she decided to take up this issue along with change.org and started the signature petition on 22nd September, 2017. Till date 42,640 people have signed thechange.org petition and the number is steadily increasing.
"We want the government to tell all the hospitals to get prior consent of the mother before feeding a newborn formula milk. The hospitals ask for the patient's consent for every small thing. They make you sign so many documents before and after the delivery. And yet the doctors chose to give my baby formula over human milk without my consent! Why?," she asks.
Through the change.org petition, Jincy wants the government to pass a bill making it mandatory for doctors to educate new parents about the benefits of breastfeeding and breast milk and ask for their consent, if at all, formula needs to be given to their baby.
Her earlier fight for Maternity Bill
In October, 2016, Jincy had also championed for the Maternity Bill through change.org. She had got 17,341 signatures requesting the government to pass the Bill with immediate effect. The Bill on Maternity Bill which was first spoken of in December 2015, was passed in the Rajya Sabha in August 2016. Through her petition, she tried to spread awareness on the importance of passing the Bill at the earliest. The Bill was finally signed into law on March 28, 2017 and came into effect on April 1, 2017.