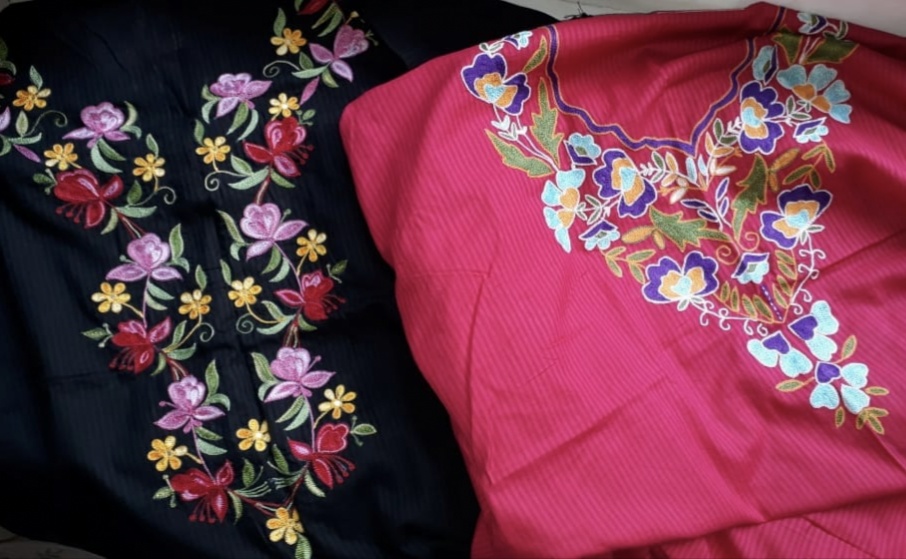 By: Varda Sharma
With the advent of machines, hand embroidery or ethnic hand work, the fashion statement several decades back, has taken a backseat. Although cost-effective which require lower production efforts and can be made relatively faster, machine embroideries still lack that lustre, the quality and the "uniqueness" which comes with hand embroidered outfits.
Jinal Trivedi (35) also finds the art of hand embroidery and hand work, mesmerising and appealing. Every piece that is hand embroidered in different stitches not only make the piece "come alive" but helps in reviving our ancient art, she stresses. And rightly so, whether it is the dupattas or the chaniya cholis or the stoles and the kurtis made under her brand name 'Peach Studioz'- every piece is unique and exquisite. It is difficult to believe that the intricate and the colourful motifs, which look like paintings, are actually done by human hands after hours of intensive labour.
"Nothing is made by machine at Peach Studioz. Every step is done by hand," says Jinal who either embroiders herself or gets these done through her 'kaarigars' in Gujarat. "My emphasis is always on neatness and the intricacy of design," she adds.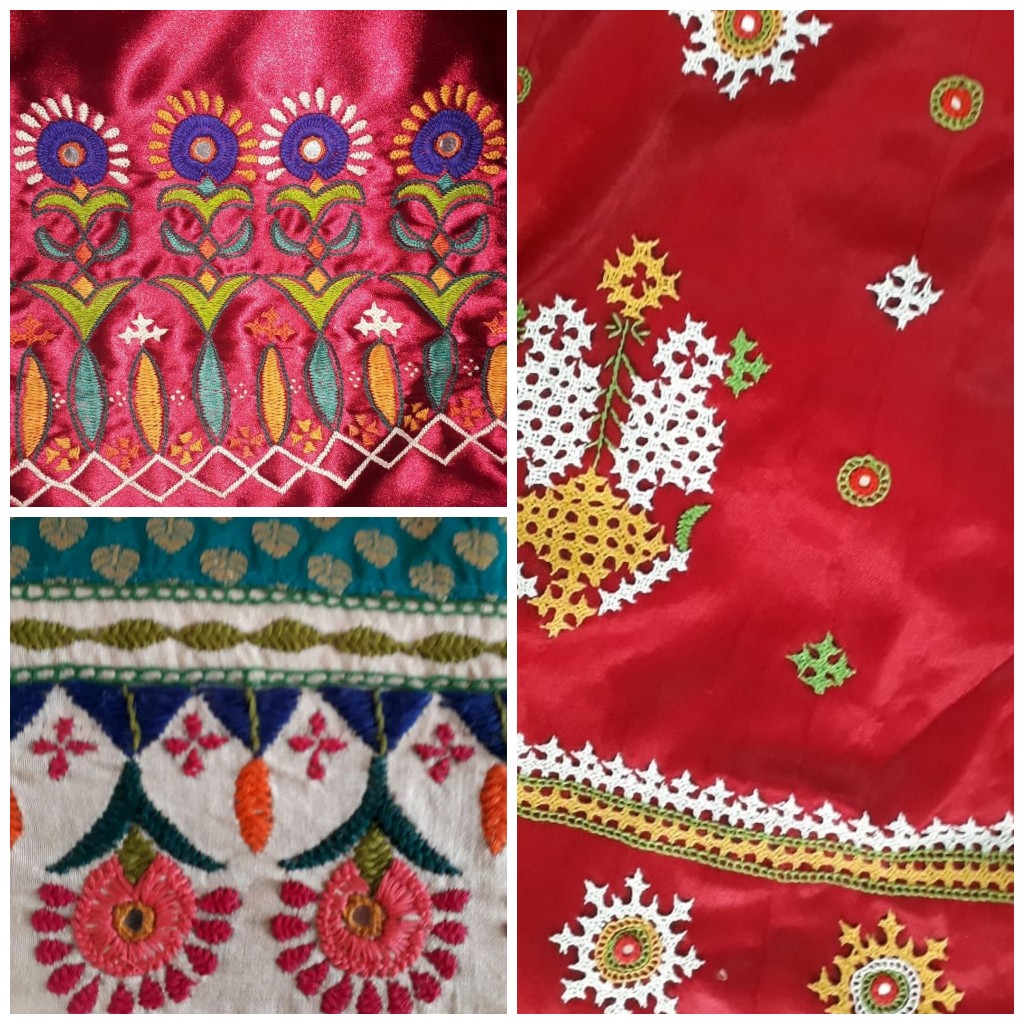 The journey
Jinal's interest in textiles and fashion designing started from a very young age. Although she hails from the illustrious family of marble traders at Abu Road near Mt. Abu (Rajasthan), Jinal was always inclined towards art and craft. "Vibrant colours, fabric, designs always fascinated me," she says and took active role in craft classes. As a child, even till date for that matter, ethnic jewellery especially earrings, and lipsticks of various shades, fascinate her.
After pursuing her Xth from Mt. Abu, Jinal went to Pune from where she completed her XIIth. She then came to Mumbai to pursue her graduation from J.D. Institute of Fashion Designing (2006). She started working as intern with D.I. Associates, a fashion house and an associate concern of The Simplex Co. Ltd.
In 2014, she along with Mr. Ambar Nath, who has an experience of 22 years in every field of garment industry, launched 'Peach Studioz' with an aim to popularise ethnic wear with hand work among all sections of society and at the same time help in reviving the dying art of hand embroidery and hand work.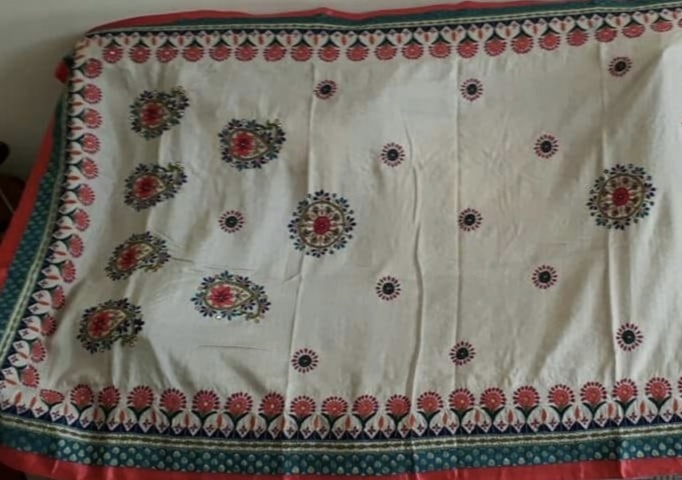 Bouquet of products for women
'Peach Studioz' currently offers hand embroidered or hand work outfits for women. The designs and the colour combination can be customised as per the desire of the clients or the clients can choose from the detailed album of designs created by Jinal herself, who knows around 250 stitches herself and is trying to learn more. The stitches too can be customised as per the choice. The fabric offered is usually cotton or cotton silk, pure silk etc. "The fabric that we use for our intricate hand works avoids puckering and shrinkage and gives perfect fit and fall," says Jinal. Depending upon the intricacy of the design, embroidery, thread etc. the price and the duration of delivery varies.
"It usually takes 15-20 days to do a simple embroidery on a kurti," says Jinal. Intricate embroideries can take even six months. To maintain strict quality control, Jinal herself supervises the 'kaarigars' based in Gujarat and monitors the work.
Ethnic wear like chaniya cholis with hand work or embroidery, stoles, dupattas, kurtis are the most in demand at 'Peach Studioz'.
The clients can access her either through her facebook page or through whatsapp (mentioned below).
Minal Chauhan, a resident of Abu road near Mt. Abu, has purchased dupatta and kurti from 'Peach Studioz'. She finds the "stitches, colour combination of threads, Kutchi hand work etc. too exquisite and simply outstanding". "The work is so neat and beautiful and the designs so elegant, that one simply cannot buy just one piece only," she adds.
Bhavna Trivedi is also full of praises for Jinal's work. She has bought several hand embroidered outfits from 'Peach Studioz' and finds each one of those "unique" and "stunning". "The choice of colour, threads, design, neatness etc. are beyond words," she stresses.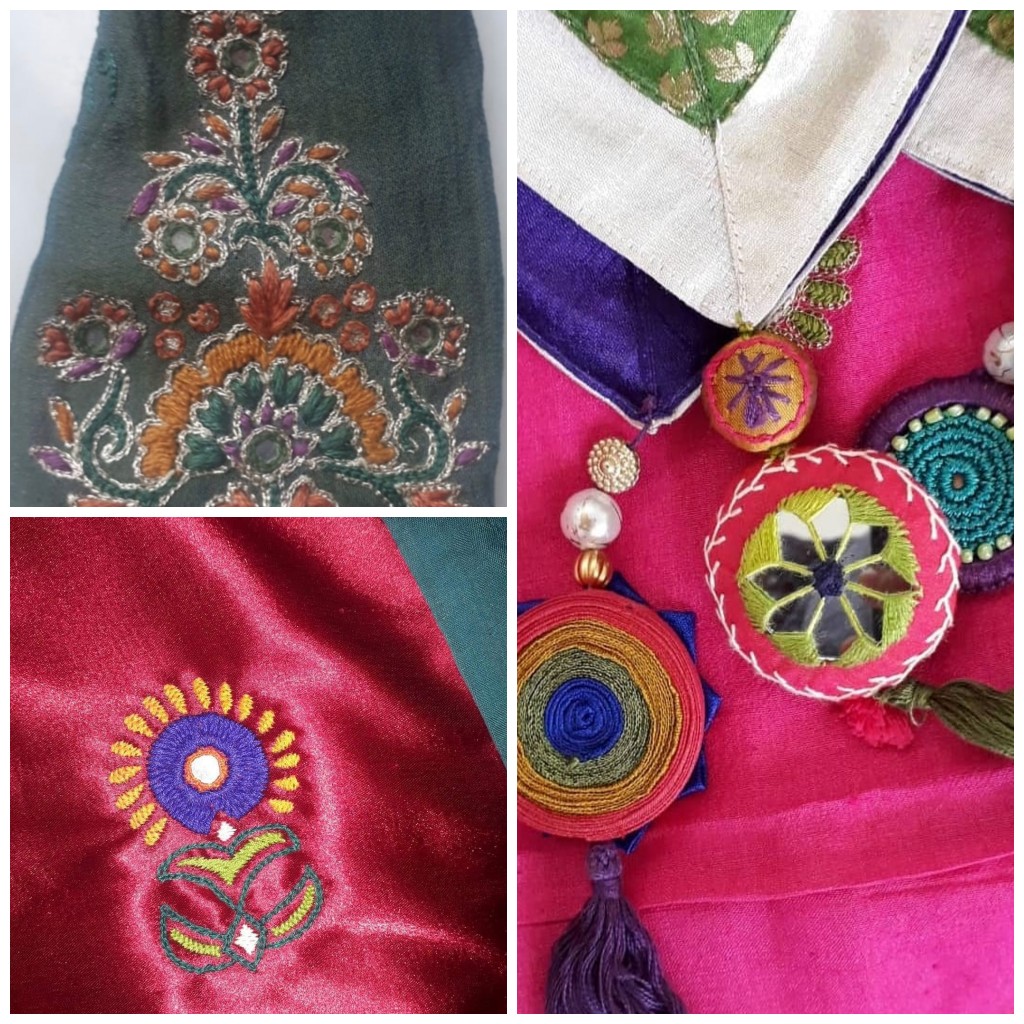 In the pipeline
Very soon, Jinal is planning to introduce ethnic jewellery as well. Also in the pipeline is footwear section for women. "Gradually, we plan to introduce hand embroidered and hand work outfits for kids as well. Men's wear will be introduced at a later stage," she adds.
"My aim is to make 'Peach Studioz' a one stop destination for women by introducing all the sections including make-up, hair dos etc. in addition to outfits. Women who wish to attend a party, for instance, would have to just come to 'Peach Studioz' and everything from outfit, footwear to make up etc. would be taken care by us," she says.
Jinal is all bent upon reviving and popularising the ancient art of hand embroidery and hand work and more broadly in promoting Indian textile and artisans. "I desire every woman to have atleast one hand embroidered outfit in her closet," says Jinal with a smile.
Peach Studioz
Founder: Jinal Trivedi and Ambar Nath
Founded: 2014
Location:
Abu Road near Mt. Abu (Rajasthan) and Patna
Facebook:
www.facebook.com/Peach-Studioz
Whatsapp: 8094710400/8809654432
Email: nathambar@gmail.com/
peachstudioz@gmail.com