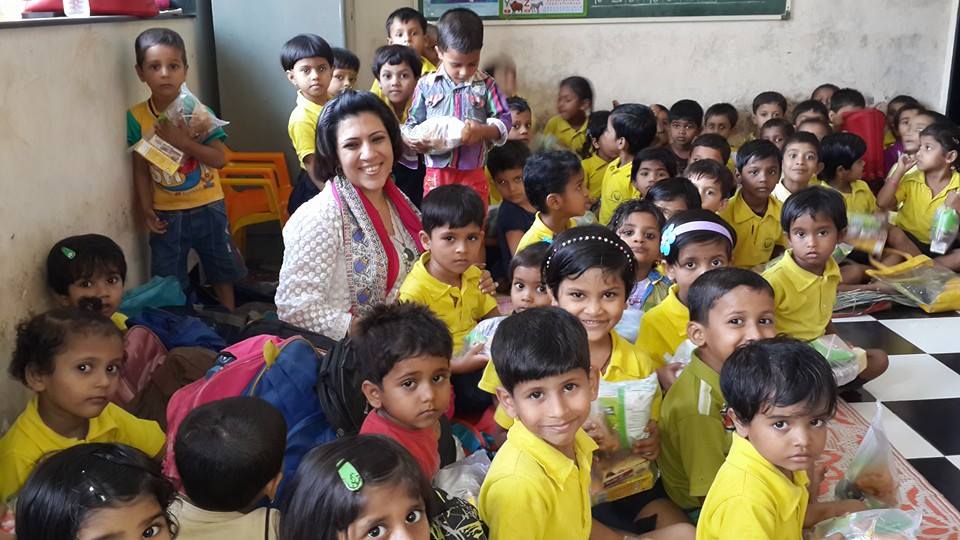 By: StreeNews Network
As head of the Alumni association in school, Roshani Shenazz Nadirshah always found it disturbing to see how bleakly the teachers are paid in most of the schools. "It is so unfortunate, that the teachers who have made us capable and strong, worthy, successful and financially secure and have given us a stand in society, with a great future to look forward to, continue to work with meagre salaries and insufficient retirement earnings," says Roshani.
In 2013 upon the sad demise of one of her favourite teachers, Mrs. Geeta Bolar, Roshani decided to do something for the teachers and humanity at large and founded 'Meher Roshani Foundation' (MRF) a not for profit in 2013 with that purpose. "The Foundation aims to primarily focus to help the two generations of our times: There is the generation that has moulded us into who we are- Our Teachers, Our Elders.  And the children, who are the future of our country, world and planet; who we can help mould to become their True Self as a universal citizen," says Roshani.
Sparkling Angels
Says Roshani, "Our government processes are too tedious and expensive even to do genuine good work. So, when I shared the thought of starting a Foundation many of my friends dissuaded me from doing so as the cost of registration, fees, tax applications etc. is too high." With no money at hand, Roshani decided to create her own website through a free hosting site and began the work with activities like distribution of grains, blankets, food, books, stationary, uniforms, shoes and other utility items on a regular basis to orphanages, municipal schools, slum kids and so on.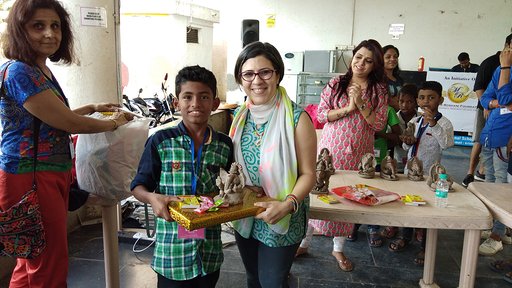 "I started involving friends, family and spiritual workshop students and clients propelling them to understand that charity was not just money. It was time, talent, skill, volunteering and much more," she says and very soon, she had a core group of 'Sparkling Angels' who formed a team. "The interesting part is that even the kids of my Angels are involved in volunteering as I encourage them to engage with equality and respect for the lesser fortunate and playing and enjoying with them, while helping and volunteering at our events," says Roshani adding that even her "rickshaw chacha and house helpers also contribute and assist for the cause in whatever ways they can."
Activities conducted
Meher Roshani Foundation conducts various activities on a need-based scenario. "I realised that there are many grass-root organizations who are doing great work but do not have the means to be heard or seen and on the other hand, I know of many great human beings who want to do genuine soulful service but are unaware as where to contribute. MRF is the perfect marriage bureau and event planner and executor for these two categories," stresses Roshani. Some key activities conducted are: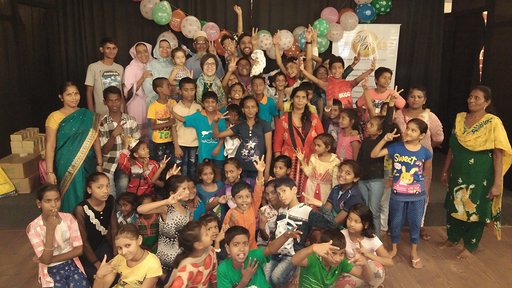 Regular food drives, blanket and other utility distribution for pavement dwellers;
Stationary, grains and other utility distribution to orphanages, under-privilege boarding schools, some catholic organizations, etc.
Distribution of grains and other utilities in villages like Meherabad.
Medical Camps, Education and Vocational camps for Hutment clusters (Bastis) and for municipal / under privilege schools etc.
Medical and Educational Scholarships
Summer camps and other events for children from different other NGOs, Special children schools etc.
Pledge Your Occasion: Patrons are invited to share their joys of birthdays, anniversaries and other happy occasions of life with the NGOs connected with children, ladies, elderly groups etc. "The entire event is organized by us. The number of children, food items etc. is decided as per the budget of the patron," says Roshani.
Vocational programmes and events like painting or sewing, carpentry etc. "This year we conducted eco Ganesha workshops on the occasion of Teachers Day for 50 lesser fortunate kids, teens and ladies at Whistling Woods, thanks to the constant support of Meghna Ghai Puri, President, Whistling Woods International," says Roshani.
"As a spiritual professional, I involve my time and expertise with other NGOs or groups on behalf of MRF to do counselling, spiritual workshops, trauma healing and management, Humanity Reform / Inclusion and Diversity programmes and others," she informs.
Funding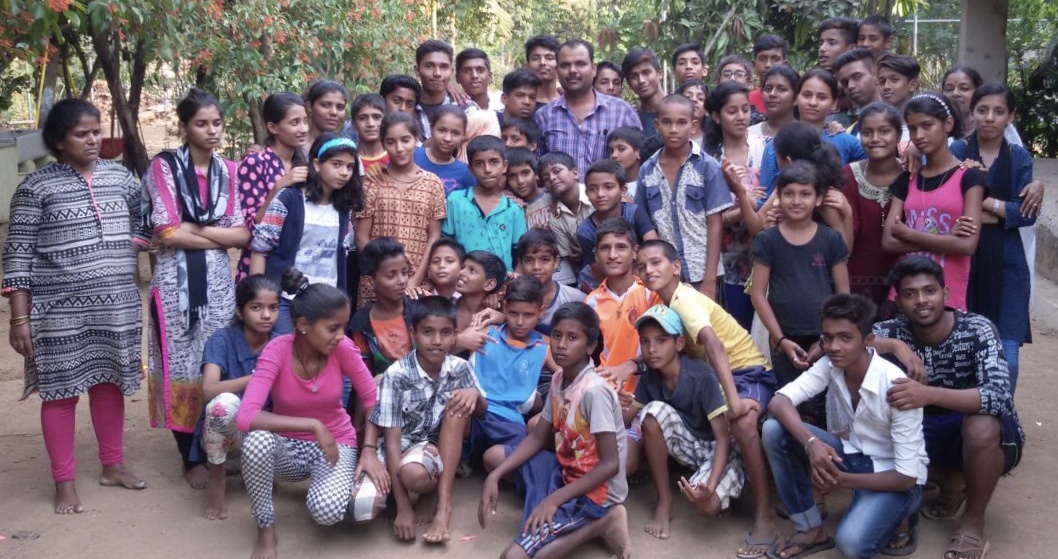 "My Sparkling Angels core group along with friends, family, well-wishers and other philanthropists currently donate in cash or kind or lend services, locations, contacts etc. thus living by the philosophy of moving beyond simple charity and doing what they can small or big," says Roshani. Sometimes friends and patrons who have talent also make things and donate for fund raising. For three years, MRF also made spiritual calendars with Weekly Angel Messages and Affirmations. "To support our education sponsorships, Bollywood actor, Tusshar Kapoor and his mother, Mrs. Shobha Kapoor came forth and made us create a consignment of a Calendar with Balaji Telefilms forthcoming releases combined with the Angelic Messages and Affirmations for 52 weeks. It was a great hit as when people bought from us, it was not just contributing to a good cause but also giving them a life changing tool with healing messages and affirmations for the full year," says Roshani with a smile.
Future plan
There is a plan to organise more medical camps and sponsorships for end to end solutions through a consortium of Corporates, Hospitals, Pharma Companies and medical professionals. "We also plan to organise programmes for Humanity Reform through my personal professional skillset contribution via group seminars, workshops, talks and awareness events on ISSR (Individual Socio-Spiritual Responsibility), Unity in Diversity, Inclusion, Behavioural Reform, Trauma Reform, Life Wellbeing, and others," says Roshani. Also in the pipeline are educational sponsorships, teaching forums and camps through a consortium of corporates, Educational Institutions and Trusts.
"Medical for me stands as a priority even before education and the reason being, when the body mind and spirit is unhealthy or depleted what education can you give, what food or things can you donate to keep their stomachs filled? Thus as we start getting funds and form our CSR Consortiums a focus on Medical facilitation for Teachers, and lesser fortunate young or old – are going to be enforced," adds Roshani. "Our Mission is to facilitate the creation of an overall healthy society. We plan to create environments in Corporates, schools and institutions, where we can impart human potential enhancement and leadership empowerment, practical spirituality and mindfulness training for corporates, teachers and children to build and strengthen not just their IQ but also their EQ (emotional quotient) and SQ (spiritual quotient), so that they can live life in a responsive manner, to be the universal citizens of the society they wish to have around them."
Meher Roshani Foundation
Founder: Roshani Shenazz Nadirshah
Founded: 2013
Location: Mumbai
Website: www.meherroshanifoundation.org
Facebook: www.facebook.com/MeherRoshaniFoundation
Twitter: @MeherRoshani