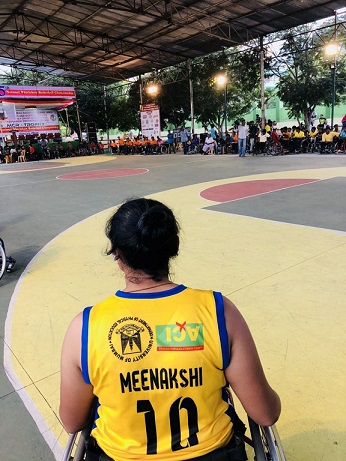 By: Streenews Network
It is 7 a.m. and the ground at Vashi, Navi Mumbai is already reverberating with the thumping sounds of the basketball. Oblivious of the scorching heat and the dry weather, Meenakshi Jadhav (30) is busy practicing her favourite sport- Basketball and is trying hard to improvise on her shoots with every aim. It may sound nothing extraordinary as players do practice hard to reach their goals. However, what differentiates Meenakshi from other sportspersons is the grit and determination with which she nurtures her dream of representing her country in Basketball in Para Olympics. A national player who has already represented India in an International event, Meenakshi was a normal girl until May, 2010 when a tragedy struck and her life came to a standstill.
Recalling the fateful day, Meenakshi says, "It was 1st of May, 2010 and my classes for 12th standard had commenced. My cousins had come to spend vacations in my house in Shinde Nagar, Satara. We were climbing a tree and suddenly I lost grip and fell down. All I remember was a shooting pain in my legs and my cry for help."
Her parents were not at home that day. Her cousins approached a primary school nearby and they took her to a hospital in the vicinity. Immediately, doctors swung into action and she was taken into operation theatre. Little did she know that the fall would change her life forever. "I recall my anxious parents asking the doctors when I would be able to walk," she says. However, even after 21 days post-surgery, her legs remained lifeless. "My spinal cord was completely damaged due to the severe impact of the fall and I became completely paralyzed below the waist," she says in a painful tone.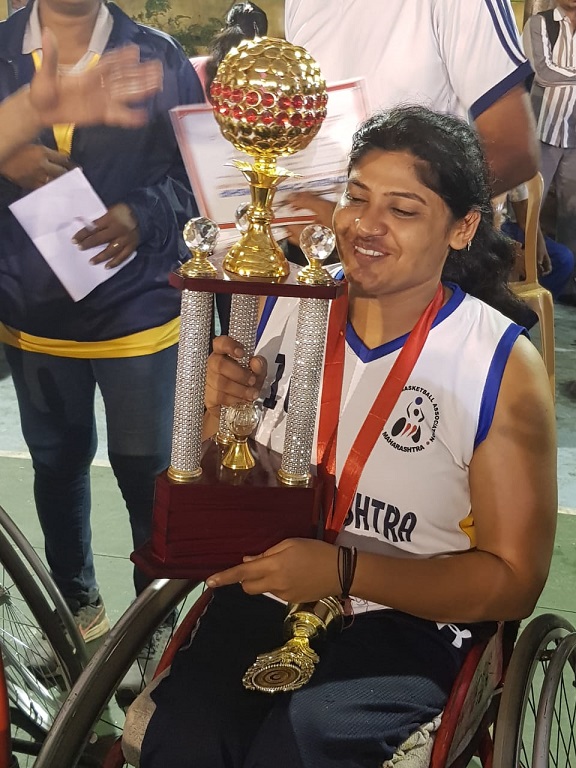 The tough phase
Two years, between 2010 to 2012 life was nothing less than a hell for Meenakshi. A person who was always on go, was now confined to bed and was in the state of depression. "Amongst the five sisters and brothers, I was the hyperactive person and would always love to run. I wanted good stamina so that I could get selected in police force- all this just got shattered and I was completely broken," she says. "It was the worst phase of my life and had it not been the constant support of my family and friends, I would not have been able to overcome my depression," says Meenakshi who started undertaking regress physiotherapy.
Good Samaritan
They say God comes in human form to help and this is exactly what happened in Meenakshi's life. She met a physiotherapist from Navi Mumbai, Dr. Dhruv Mehta in 2014, who advised her to come to Navi Mumbai and stay in 'Sharan', An old age Home and a paracentre, for better treatment and facilities. "My family was concerned and did not want me to go, but I took a bold decision and decided to step out of my home town for the first time in my life," she adds.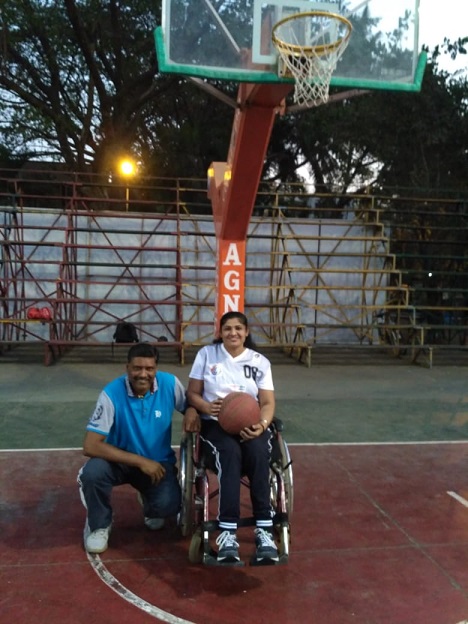 Meenakshi with her coach Mr. Digamber Mali
Recalling her first day at 'Sharan' she says, "I had never seen a person being affected so much after a fall from the tree and I had felt I was the only unfortunate person who was wheelchair-bound, until I came to 'Sharan' and saw people like me leading a happy life. I realized what I had missed for so many days. They would play throw ball and I would watch them from afar."
Gradually, Meenakshi started her new journey and started learning the new sport. She was soon selected in the Throwball team and was the only girl participant. "It was a friendly match and my team won," she says happily and this became the turning point in her life.
In 2016-17 Kartiki Patel, Indian Captain (Wheelchair Basketball Women's) visited 'Sharan' in search of talent for the Wheelchair Basketball Women's team in Maharashtra. She spotted Meenakshi and asked her to start practicing Basketball. "I had no clue about the game. All I knew was Throwball. I was given 5 days to learn the sport," says Meenakshi who decided to take up the challenge. "I started practicing day and night and on the sixth day, I was a member of the team," she says in a confident tone. "The lost Meenakshi was nowback and since then there has been no looking back," she says with a smile.
Praises galore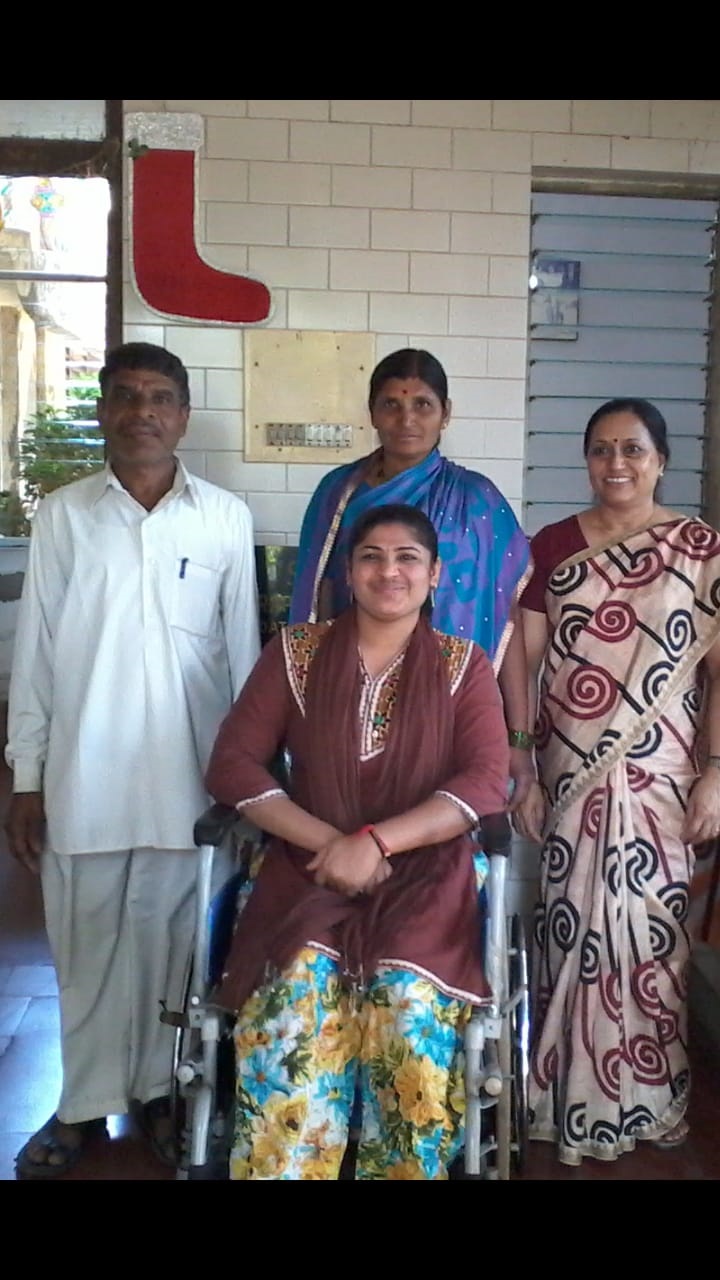 Meenakshi with her parents
From a shy girl next door to shooting star, Meenakshi's growth chart gradually started moving northwards. Apart from winning national games, she was soon placed in the International team representing India. Praising her hard work and dedication for the game, Mr. Antony Das Pereira, secretary Wheelchair Basketball Association of Maharashtra says, "She is an asset most for the Maharashtra team and an inspiration for all the women."
Mr. Digamber Mali, her coach has nicknamed her as "Shooting Star" who "will go to places and make India proud".
Future plans
Meenakshi now aims to represent India in the Para Olympics and also wishes to participate in Athletics as well. "I have many aims. And I am thankful that my family, Sharan members and the association is supporting me so much. However, I want to be financially independent."
Finances are a constraint and pose hurdles in the realisation of her dreams. She is currently looking for sponsors to support her to get better wheelchair. "This will help me immensely," says Meenakshi.