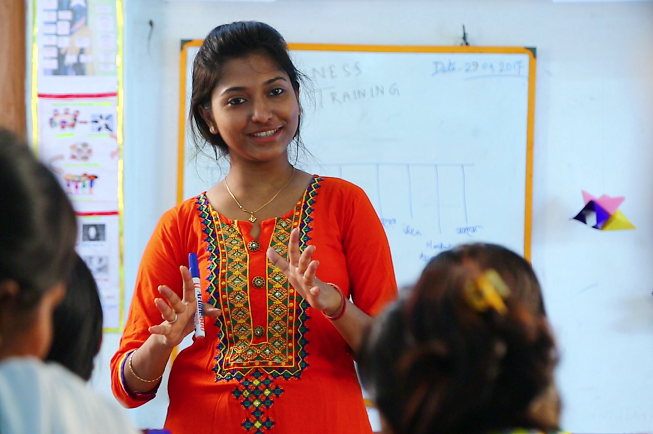 By: Meena R. Prashant
Subhasree Raptan (25) is like any other young girl- full of life, chirpy, always humming her favourite song. However, what makes this girl different is her penchant for social work and her determination to fight against human trafficking, violence and slavery in rural, marginalized communities in Canning, South 24 Parganas district in West Bengal, one of the human trafficking hubs in the state.
started her fight against human trafficking when she was just 19- year-old.  She was disturbed to hear the story of a 14-year-old girl who was pushed into sex trafficking by her brother-in-law. "She had a baby too," says Subhasree. While the girl's mother-in-law threatened Subhasree with dire consequences, she continued her struggle and succeeded in helping the minor.
Since then, Subhasree, as a coordinator of Goranbose Gram Bikash Kendra (GGBK), a non-profit organisation, founded by her father (Nihar Ranjan Raptan), has been sensitising women and children on trafficking and is helping police to track down people who have gone missing and helps in rehabilitating trafficking survivors.
"My father is my role model who started this organisation, as a young guy, dedicated his life, with people from natural disaster affected, unsafe migration prone, vulnerable areas of Sundarban delta area. Now we work across different districts of West Bengal, different states of India in network with different social organizations, Survivors, government officials and others. Also we deal cases in Bangladesh, Nepal in networking," informs Subhasree.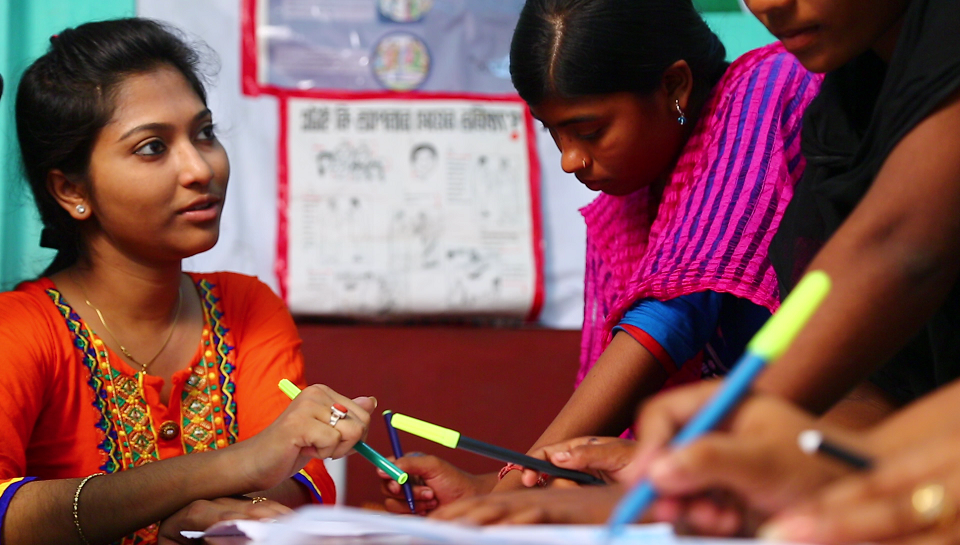 M.A. in English literature, Subhasree took a training in combating human trafficking from TISS, Mumbai and on prevention of Trafficking from NIPCCD, Assam. She also took special training on facilitating community based rehabilitation of survivors and how to work with victims of violence and sexual violence, case management. She also has training from International Youth Centre, Delhi on Resource Mobilization, Sustainable Development Goals and special training on Programme Management, Disaster Risk Reduction.
"To work for social cause is in my genes," says Subhashree with a smile. "My entire family has been working, in different capacity, to solve issues related to people who are neglected and deprived," informs Subhasree. However, her friends didn't expect her to join social work. "They felt I would join government administrative service. But when they see on news and other social media platforms, stories of children, women who have been rescued, rehabilitated, they encourage me and motivate me to continue my work," she says.
Facing challenges
The journey has not been smooth for Subhasree who has been threatened a number of times by the victim's own family members. However, threats have not deterred Subhasree from her goal. "There are many challenges which one needs to overcome while doing work," she says. Another challenge is to help the person come back into the mainstream society. "She may face stigma, social ostracism and even depression. Worse, family members make her believe that no one will marry her. She may even be pressured to marry her rapist, to avoid a legal battle over trafficking that could bring shame to the family," says Subhasree adding that there have been several instances where the rescued survivor committed suicide, as she was unable to bear the trauma."
Goranbose Gram Bikash Kendra (GGBK) is a pioneer organisation that combats human trafficking, slavery and violence specially of children and women. "We work towards prevention, protection, rescue, rehabilitation and facilitate community based rehabilitation of survivors. Also, we intervene in climate change and natural disaster management issues at Sundarban area," informs Subhasree. GGBK mentors survivors' collective, namely Bandhan Mukti where there are 450 survivors who now work as human rights defenders of others like them. They support other survivors through peer outreach, do advocacy for their rights, help other Survivors to get linked with government schemes and mainstream school drop outs and also work with police, administration, judiciary, media and policy advocacy.
Survivor leaders are now accepted within the system. Bandhan Mukti is taking leadership in West Bengal police's initiative namely Swayangsiddha. "Swayangsiddha is West Bengal police's programme to combat human trafficking, child marriage and all other related issues. It has been praised by the Chief Minister of West Bengal, awarded by U.S. Consulate, Kolkata. Now the initiative is getting replicated across West Bengal and in the process of replication at different states of India," informs Subhasree.