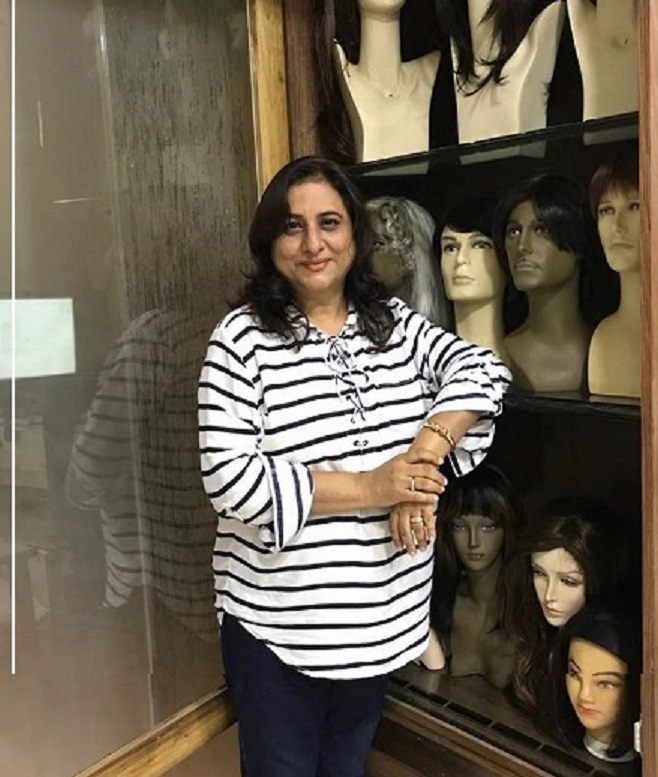 By: StreeNews Network
"You donate money, blood and organs to be charitable. Now donate hair for deserving patients and earn their blessings" reads the banner outside Neelam's Beauty & Medicare (NB&MC)'s salon at Andheri. This is exactly what Neelam Gehani (50) has been doing since last ten years. She has been conducting hair donation drives as well as spreading awareness to donate hair for making wigs for Cancer and Alopecia patients.
"We are associated with all major hospitals in Mumbai like TATA Memorial Hospital, Hinduja Hospital and many Oncocare units as well as with NGO 'V Care Foundation', where we try to encourage patients to donate hair before the start of their treatment/chemotherapy to enable us to make wigs from their own hair," says Neelam.
A software engineer by profession, Neelam gave up her job as a Project Manager with TCS and Patni Computers in 2003 when she became pregnant. She started NB&MC in 2005 with an aim to keep herself occupied. However, there was an inherent desire to work for the society.
The decision to venture into the field of making wigs for cancer patients came in around 2007 when she had a visitor to her salon searching for a wig after undergoing chemotherapy.
"At that time, I did not even know that due to chemotherapy patients lose hair and was surprised to know that such patients, though ultimately get cured of cancer, do lose their entire hair. This causes them great mental agony as they are unable to move out and tend to have psychological problems," says Neelam.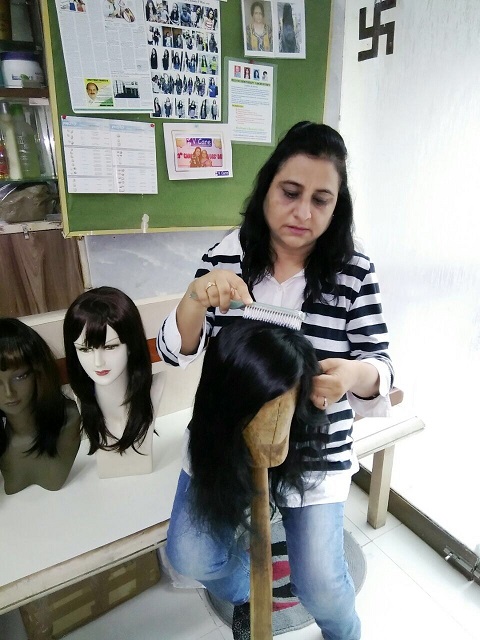 Unable to refuse her, Neelam asked the lady to come back in few days. After going back home that day, she started researching on the internet and could get some sources and suppliers for hair and hair product. True to her word, the lady was given a wig, but that started the chain of thought process.
"I can never forget the joyful smile on her face as I handed over the wig to that lady," recalls Neelam.
However, during the research, she found that the wigs made of real hair were highly costly and unaffordable to many. "I felt I could make these wigs cost effective by cutting cost in raw material and thus came up with the idea of donating hair," adds Neelam.
"If a person donates her hair or a friend or relative donates hair for that person and sufficient enough to make a wig, only making charges are taken," says Neelam.
Moreover, "Having wigs made from own hair or from the hair of friends and relatives actually increases the comfort levels of the patients."
In addition, NB&MC also provides synthetic wigs for the patients. For those who cannot afford, synthetic wigs are given free of cost. "Till date NB&MC has given around 250 synthetic wigs free of cost either directly by us or through NGOs," says Neelam.
However, for all the patients, hair styling is done free of cost. "We carry out maintenance, repair, straightening, colouring, shampooing, styling etc of wigs," she adds.
Latex Breast Prosthesis
Neelam also learnt that females who suffer from breast cancer are required to undergo mastectomy to prevent spread of cancer. Many of them look for some substitutes to appear normal. This led her to do some more research as to who could provide artificial and comfortable breast prosthesis at reasonable prices so that NB&MC can fulfill the requirements of the cancer patients under one roof.s
"For the post mastectomy patients, who do not opt for Silicone Breast Prosthesis, NB&MC provides latex Breast Prosthesis. These are usually not commonly available. We not only provide these at subsidized rates but also give the option of pocket/holding bras," says Neelam.
Hair donation drive gains momentum
Over the years, Neelam's hair donation drive has started gaining momentum and people have started coming to her salon to donate hair voluntarily.
"It is my desire that more and more people come to know about this initiative to enable me get an opportunity to help several," says Neelam who is also looking for Corporate Social Responsibility (CSR) funds for her initiative.
Neelam's Beauty and Medi Care" (NB&MC)
Address: Shop no. 6, Skydeck Building, Oberoi Complex, SAB TV Lane, Near Laxmi Industrial Estate, Andheri (W)
Website: www.wigoodeal.com"
Contact: 9920477521/022 62363778