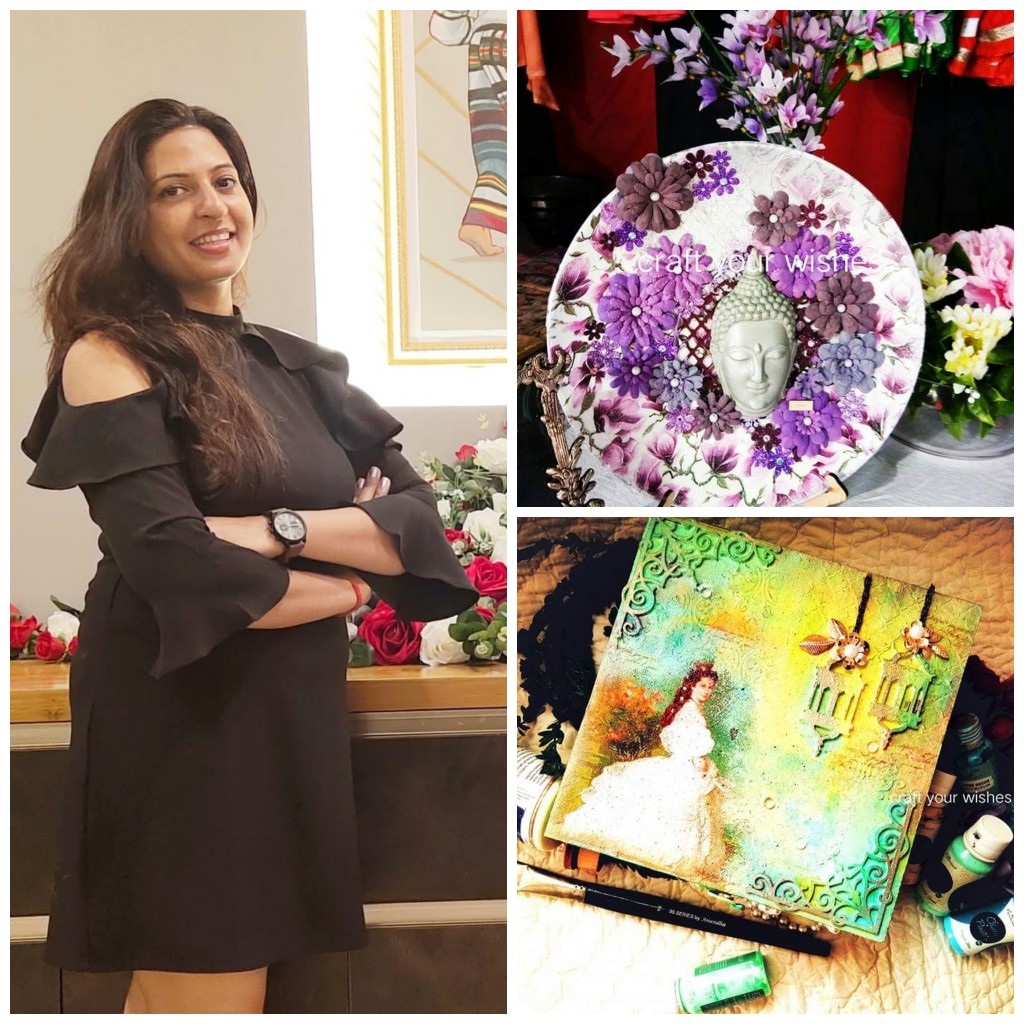 By: StreeNews Network
Decoupage or the art of decorating an object by gluing coloured paper cut-outs onto it in combination with special paint effects, is not a very popular art form in India. Although an enthusiast of art and craft work right from childhood, Preeti Yadav, too, did not know that she would venture into this unconventional profession and will help people realise their dreams of decorating their homes through her artistic artefacts created by using this beautiful art form.
The journey
Born and brought up in Etawah (Uttar Pradesh), India, Preeti always wanted to take up teaching and pursued M.A. (Meerut University) and later M.Ed. "I was quite good in arts and craft right from the young age and won several prizes," says Preeti who even won prize at District level in poster making competition. However, this was just a hobby. Her real passion was teaching. She would have continued teaching in the government school in Etawah, but got married to an army officer in 2011 and had to shift to Binnaguri, West Bengal, where her husband was posted then. There too she continued with her teaching profession and was a popular teacher in both the schools (Kendriya Vidyalaya and Army Pre-Primary school) where she taught. In 2014, she was blessed with a son. "Being a visually challenged child, he needed my full attention," says Preeti who gave up her teaching profession and donned her new role with grace. Not the one to sit down idly, Preeti decided to take up her hobby more seriously now and started making small handmade home décor artefacts.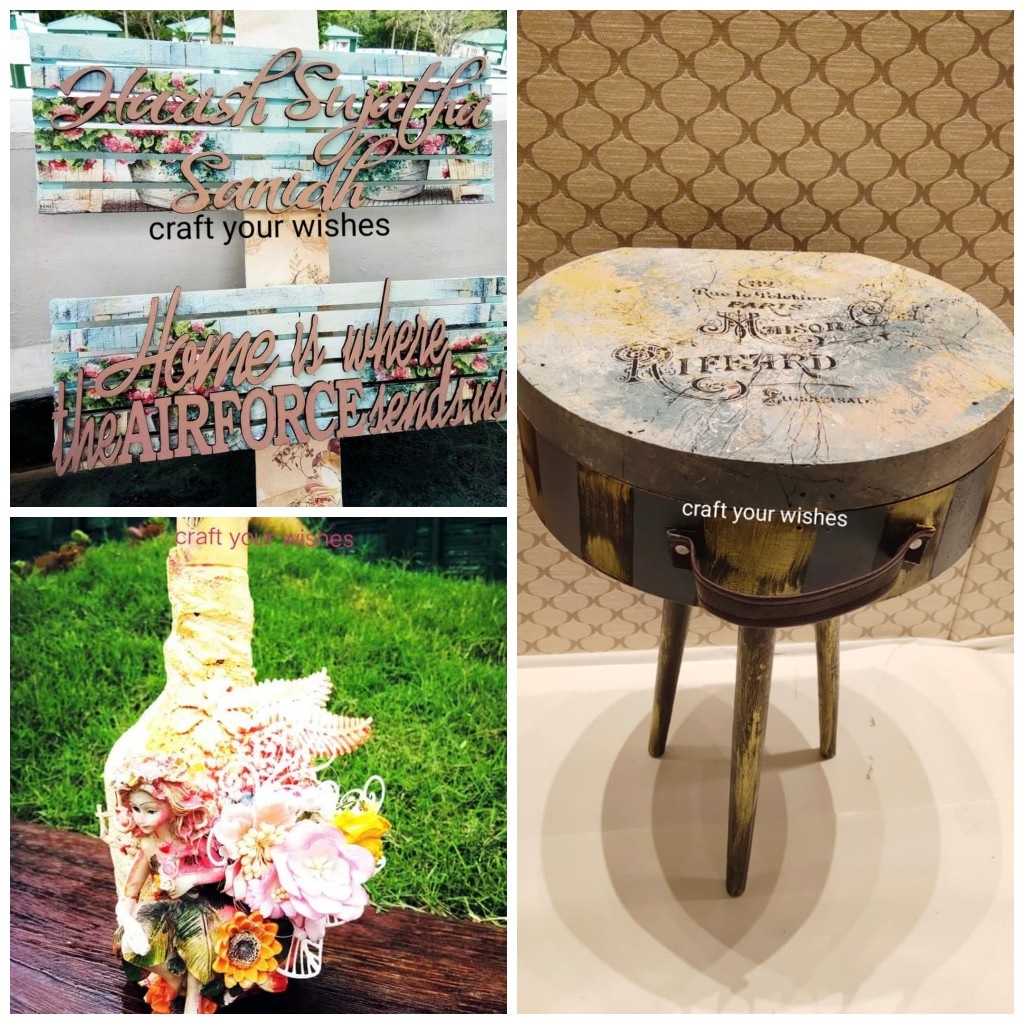 Turning point
When her child was just a few months old, Srinagar, where they were posted in 2014 was struck by devastating flood. "My house was completely submerged in water for 8 days," recalls Preeti. All the valuables that included precious memories were completely destroyed. Heartbroken, Preeti decided to renovate all the damaged goods, one by one. "Whatever I made, I started posting the pictures on social media," she says. To her surprise, not only her creativity was highly lauded by everyone who saw the pictures, orders for the same started pouring in. "This was the turning point," says Preeti who decided to become an entrepreneur and on 4th June, 2015 started her venture, which was first named "Day Dreamer" but was later changed to "Craft Your Wishes". "While talking to my clients, I realised that each one has a wish or a desire pertaining to the décor of their homes," says Preeti and hence "I named my venture accordingly to enable my clients get their wishes fulfilled through us," she says with a smile.
To give more finesse to her craft, Preeti also enrolled herself in a number of certified courses- Sifa Decoupage, Thailand, Cadence Innovative Design Academy, Turkey- to name a few.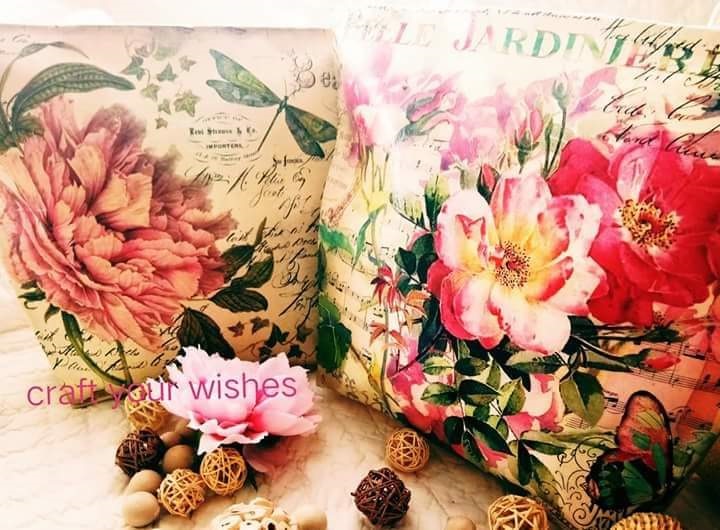 One can get handmade nameboards, wall plates, customised birthday and anniversary gifts, home utility and décor items like cushion covers, letter box, chopping boards, side tables, lamp shades etc. Preeti fusions her art on various medium including wood, plastic, metal etc. Orders can be placed by visiting her facebook and Instagram page (mentioned below).
The path, however, was not smooth. To make people be au fait with the concept of decoupage art and make them understand the difference between handmade and machine-made items, is the biggest challenge, says Preeti. "However, those who understand creativity and realise the hard work, heart and soul that goes in designing a product, really appreciate it," she says. Preeti tries to make unique designs for every client by understanding their requirements. "Right from making the design to choosing the raw material and colour, I pay lot of attention to every small detail, no matter how big or small the order is," she adds.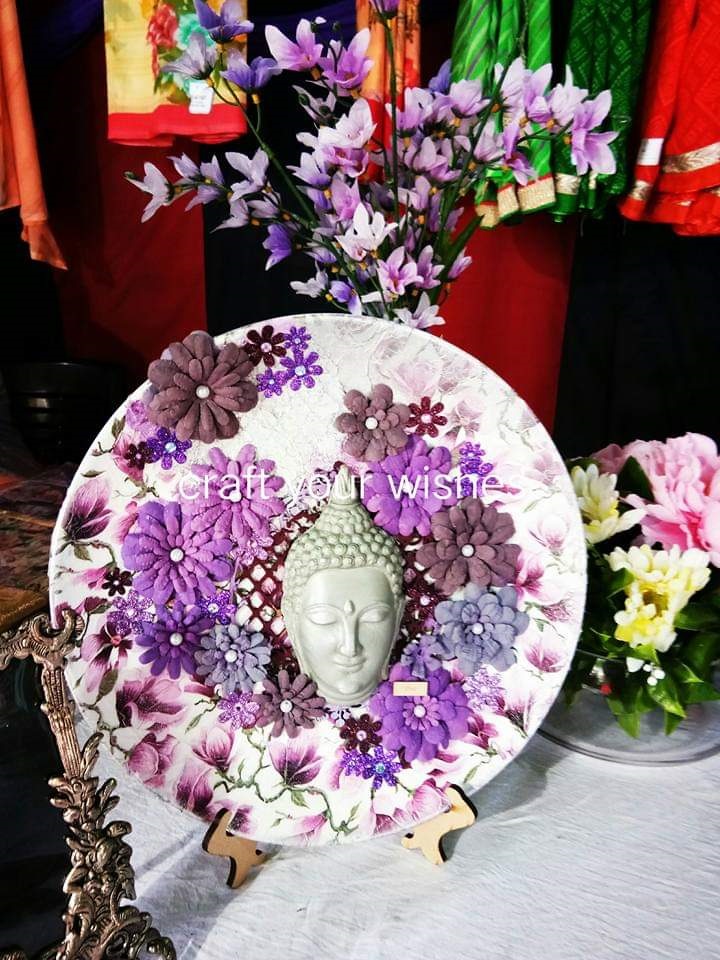 Another hurdle that Preeti faces, is getting raw materials, as they are mostly posted in the interiors and in small cities. "Customer satisfaction is my motto and for that even if I have to travel long distance, I do it gladly," she adds.
Preeti's decoupage artefacts are getting wide scale recognition and she is now getting orders from Delhi, Dehradun, Chennai and Pune. "We are making decoupage wooden furnitures as well," she says and is planning to open a studio of her decoupage artefacts in Pune very soon.
Through 'Craft Your Wishes' Preeti not only desires to popularise decoupage art form, but also wants to send message to all the women, especially those who are mothers of special children, not to give up hopes. "If we want to keep our family happy, we have to first keep ourselves happy and content and the best way to do so is by boosting our creativity," says Preeti who is willing to conduct classes and train women who wish to learn this artform.
Craft Your Wishes
Founder: Preeti Yadav
Founded: 2015
Location: Pune
Facebook:
https://www.facebook.com/craftyourwishes.preetiyadav/
Instagram: preetiyadav.craftyourwishes
Youtube:
https://www.youtube.com/channel/UChR56FK6_g_zB4vm_R81CQA
Whatsapp number: 9634375748
About Decoupage
The word decoupage, according to Wikipedia, comes from Middle French "decouper", meaning to cut out or cut from something. The origin of decoupage is thought to be East Siberian tomb art. Nomadic tribes used cut out felts to decorate the tombs of their deceased. From Siberia, the practice came to China, and by the 12th century, cut out paper was being used to decorate lanterns, windows, boxes and other objects. In the 17th century, Italy, especially Venice, was at the forefront of trade with the Far East and it is generally thought that it is through these trade links that the cut out paper decorations made their way into Europe. Decoupage art has a past history of more than four centuries old and was very popular in France, Siberia, Venice and China which later spread across the globe. The first woman decouper was Mary Delany.