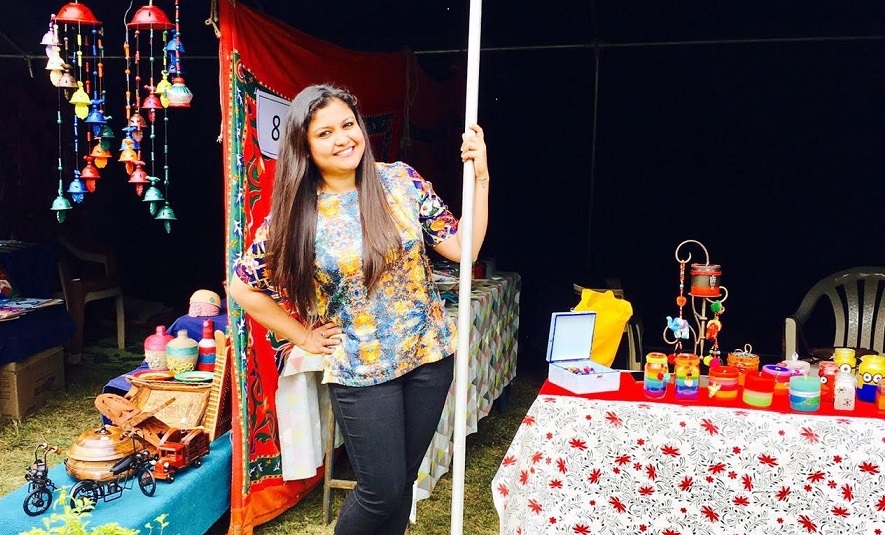 By: StreeNews
While Swati Dabral was interested in art and craft right from childhood, she never thought she would convert her hobby into her own venture. After completing her MBA from Army Institute of Management and Technology (Greater Noida), she joined corporate sector but continued to pursue her passion whenever she got opportunity. "I feel one should not only be working and have a job, one should be occupied with whatever interests them. I always liked being creative and make something different and whenever I got opportunity, even while I am travelling, I try to create anything," says Swati.
Encouraged by her family members, friends and companions, two and half years back, Swati, who was in Wellington, Ooty then, made few candles and even put up a stall for that. To her surprise, candles were sold out within no time and there was demand for that. The family shifted to Delhi and Swati started showcasing her products in exhibitions and finally in 2017 founded own venture "Blooming Blues' in handcrafted products in 2017.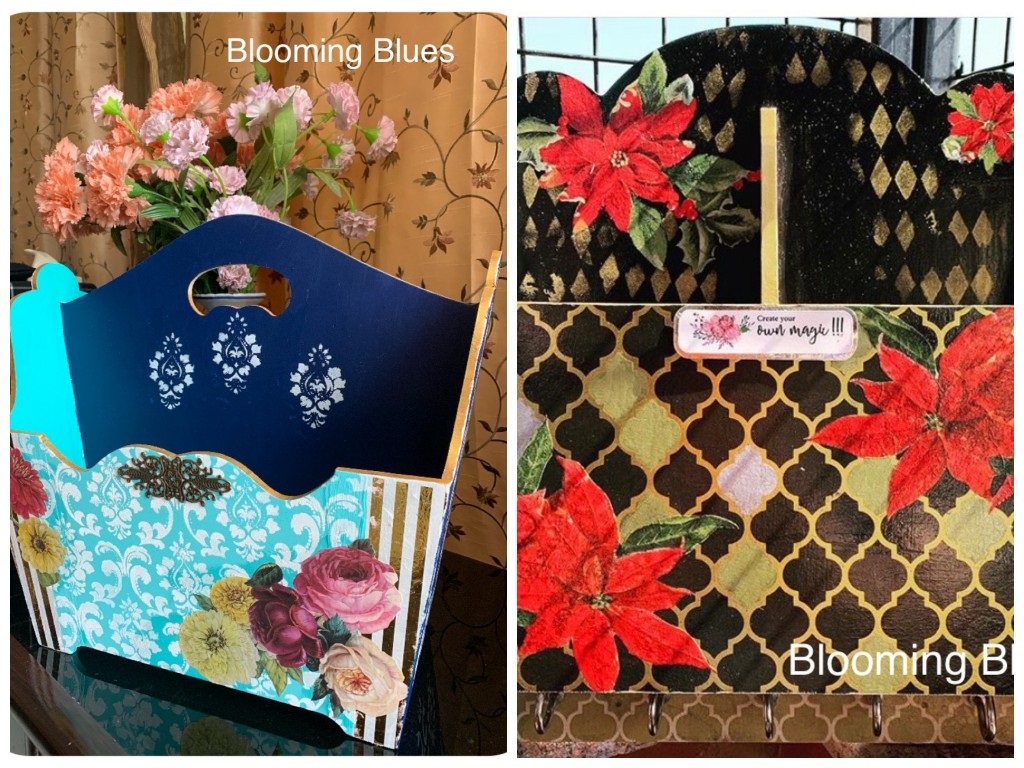 Handcrafted products with love
"I always try to bring something different and new for my customers. Our products are based on what the customers like as they can customise whatever they require. We have a huge variety of prints to choose from," says Swati. One can find countless variety of home decor and home utility products. On the offer are variety of home essentials like cake stand, cushion covers, wall plates, magazine holders, inspirational wall décor, jewellery boxes, nameplates, side tables, kids room decor, organisers and basic utility items that are required on a day to day routine. "There are some things which are made on random order or designs just to give the best to our customers," she adds.
Customers can order either through Whatsapp, or through her Facebook and Instagram page (mentioned below).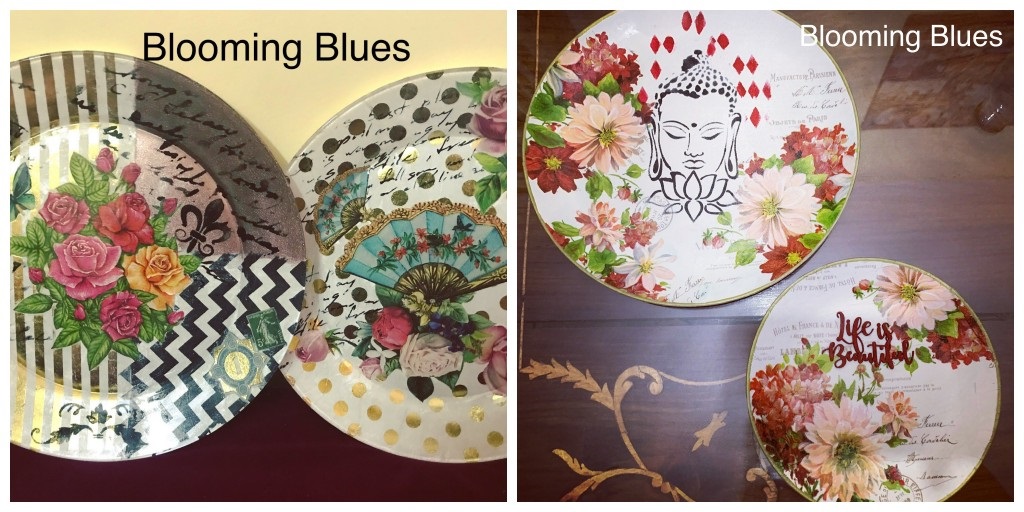 And what makes 'Blooming Blues' different, is "the quality, prints and most importantly the price that I offer. I do not charge anything extra or exorbitant for my products. My collection is priced according to my efforts that are behind in the making. I give the best quality material in all my products and I keep updating my prints to offer lucrative styles and designs to the customers. I keep it simple and yet make beautiful," says Swati with a smile.
To hone her skills further, Swati has been enrolling herself in a number of certificate courses. She has done certified Decoupage courses from Cadence art and hobby paints and Sculpture painting course from Evgenia Ermilova. "I have done few courses before to learn more and I will still be at a learning phase to offer best," she stresses.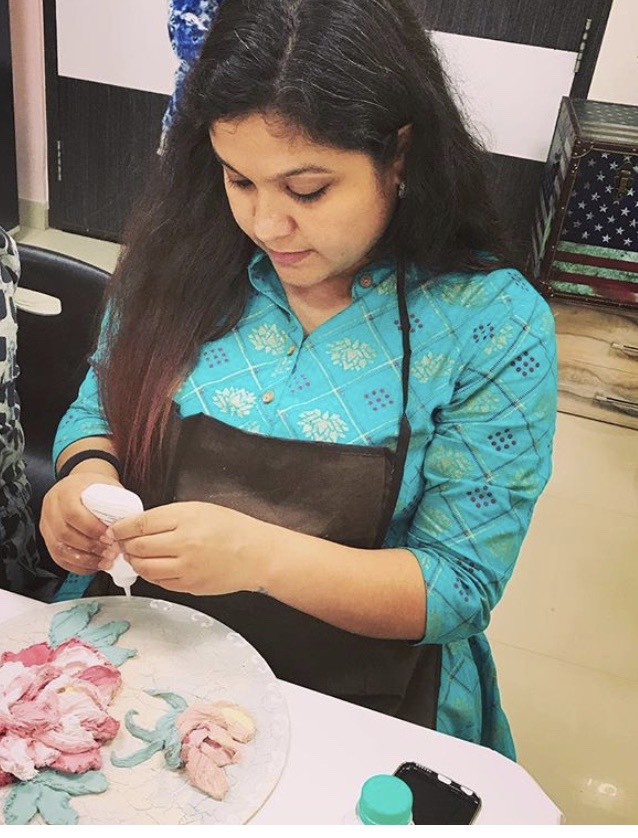 Presently, a doting mother of an 11-month-old baby boy, Swati wants to capture all the beautiful memories of his childhood. Nevertheless, she still finds out time for her craft work and manage things accordingly. "I do not want to rush into things. I want to give time to my child and to work simultaneously. I plan to learn more and hopefully through that I will be able to reach out to more people/ customers," says Swati who strongly believes that her hard work, designs and quality will make her customers understand the effort that goes behind creating handmade items. "I will let my actions and my work speak for the prosperous future of my venture," says Swati with conviction.
Blooming Blues
Founder: Swati Dabral
Founded: 2017
Location: New Delhi
Facebook: 
https://m.facebook.com/Blooming-Blues-198638257312243/
Instagram: bloomingbluess