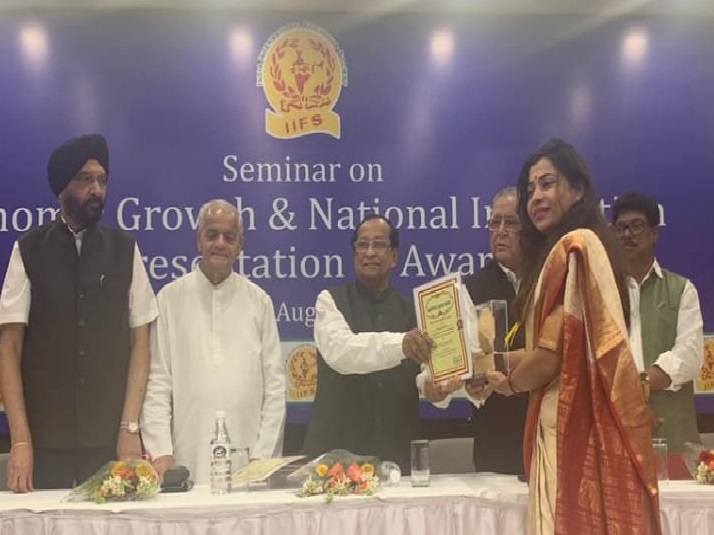 Shweta Shalini, a spokesperson for the Bharatiya Janata Party and an Advisor to Chief Minister of Maharashtra was honored with the prestigious 'Rashtriya Gaurav' or 'National Pride' award at India International Centre in Delhi recently. Lt. General Nirbhay Sharma, former Governor of Mizoram and Arunachal Pradesh and former Governor of Tripura and Chhattisgarh Lt. Gen. K. M. Seth gave away the awards.
With this achievement, Shweta Shalini joins the list of other luminaries like Justice P N Bhagwati, Air Chief Marshal N C Suri, Sunil Dutt among others who have received this award. In the recent years, the award has been granted to prominent elected representatives to recognise the excellence in the field of politics which brings in Good Governance.
Shalini, a mechanical engineer, is the young dynamic Uttar Bharatiya leader in BJP-Maharashtra who hails from Bihar, married to Ayodhya (Uttar Pradesh) and brings together wide range of skillsets for the BJP with her corporate and entrepreneurial background.
She is the Executive Director of the Maharashtra Village Social Transformation Foundation, which aims at transforming 1000 backward villages in Maharashtra. The Foundation which is an initiative of Government of Maharashtra and chaired by Chief Minister of Maharashtra has corporate tycoons like Ratan Tata, Mukesh Ambani and Anand Mahindra as part of the governing council. It is testimony to the huge success of Shweta Shalini as Executive Director that over the years, other states like Andhra Pradesh, Jharkhand and Assam have started emulating this model of development credited to Devendra Fadnavis.
She is part of the World Hindu Economic Forum and plays a key role as committee member which has close ideological affinity with the Sangh Parivar while being an economic forum for the Hindus worldwide. She is the Founding President of the Uttar Bharatiya Yuva Parivartan Manch which works for the upliftment, skilling and cultural exchange programmes for the Uttar Bharatiya youth in Mumbai.
In the Modi era where performance based accountable politics is the order of the day, this award further cements her position as a performer who can deliver.
The 'Rashtriya Gaurav Award' is bestowed to a few extraordinary Indian citizens who have specialised in various fields such as education, politics and social work, fine arts, industry and science and technology, in lieu of the yeoman services rendered with excellence in their respective fields.