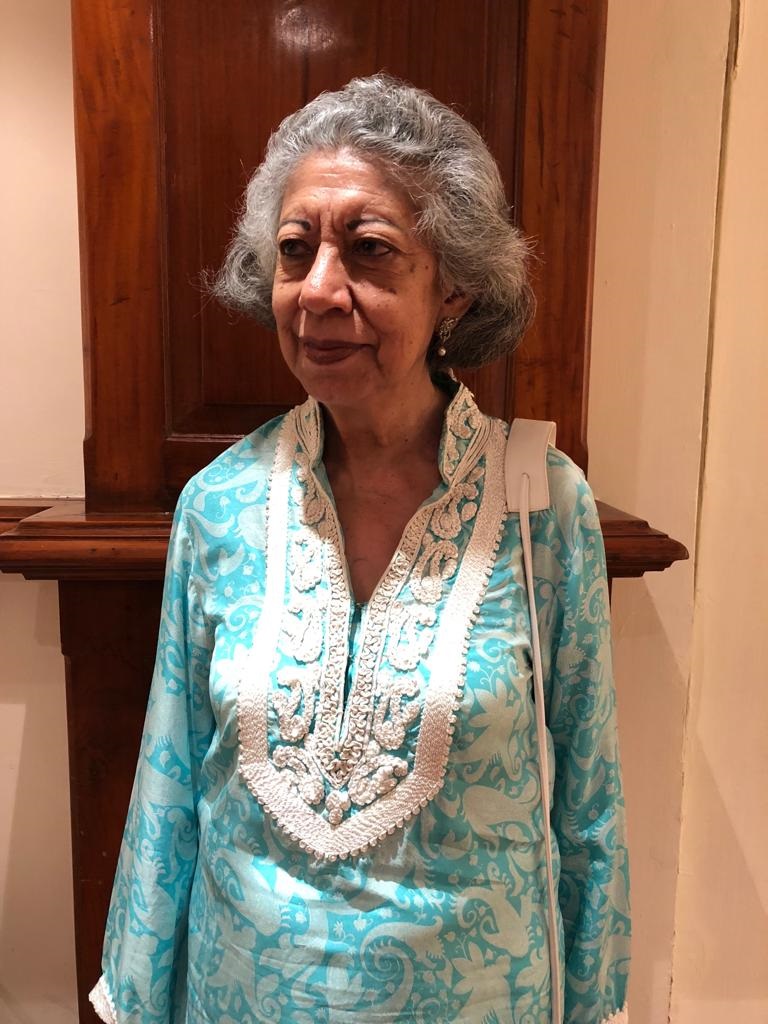 Prof. Vispi Balaporia (78) scripted history recently when she was recently appointed President of Asiatic Society of Mumbai. In its history of 215 years, this is for the first time, Asiatic Society, Mumbai has appointed a woman. Prof. Balaporia, visiting faculty at Mumbai's Jai Hind College, an institution where she was earlier Vice-Principal and Head of the Department of English, will now head the institution that is a treasure house of some rare artefacts and over 3,000 ancient manuscripts in Persian, Sanskrit and Prakrit. There were three contestants for the post of its president, including Prof. Balaporia, former Supreme Court judge Sujata Manohar and former principal of Siddharth College, Dr Surendra Dhaktode. Ms. Manohar, however, withdrew her nomination at the last minute. During the election last week, Prof. Balaporia won by securing 163 votes, while Dr. Dhaktode got 107 votes.
In tete a tete with Varda Sharma, Prof. Balaporia, who is the daughter of Shavax Lal, former secretary to the country's first President Dr Rajendra Prasad, spoke about the challenges and her vision for the Society. Here are the excerpts of the interview:
Streenews: By becoming first woman President of Asiatic Society, you have scripted history. How does it feel?
Prof. Balaporia: It feels great, particularly as it has been making headlines in the news coverage. But this acclaim is also indicative of the fact that we still live in a male dominated society. It is looked upon as an achievement, simply because I am a woman! Having said that, I do have a sense of having accomplished something that had not happened in the 215-year old Asiatic Society.
Streenews: Hitherto considered to be male bastion, do you see challenges before you?
Prof. Balaporia: Yes, I certainly do. Some men still feel uncomfortable to see a woman taking charge. But I am confident that I can deal with that, provided I have the support of the other women in the Managing Committee. Generally speaking, one has seen many instances of women failing to support women.
Streenews: As the President what changes would you like to bring in the working of Asiatic Society or in other spheres?
Prof. Balaporia: I see my first task to be one of ensuring that ongoing projects are completed, instead of bringing in revolutionary changes. I believe in bringing in change gradually, and ensuring that the Managing Committee works as a well-coordinated team, so as to achieve our goals.
Streenews: What is your vision for the Society?
Prof. Balaporia: To ensure that it is given recognition as an Institute of National Importance by the Government of India. And to throw it open to researchers and scholars worldwide.
Streenews: In your opinion are the women coming forward to occupy important seats in the Society?
Prof. Balaporia: The women have been occupying important positions for many years now. For example, in the past few decades there have been more women than men who have held the post of Hon. Secretary, as well as that of Vice-Presidents.
Streenews: You have an illustrious background. You are the daughter of Shavax Lal, former secretary to the country's first President Dr Rajendra Prasad. How inspiring has this been in your journey? Did this fact help you to stand out boldly at a time when women were still confined to their homes?
Prof. Balaporia: Absolutely! My parents had three daughters, no son. We were brought up to be independent, well educated, principled in every way. From our early days we were told that, as adults, we had to stand on our own feet, and earn our own living. But, at the same time, we did enjoy many comforts, even some luxuries, much love, but no pampering!