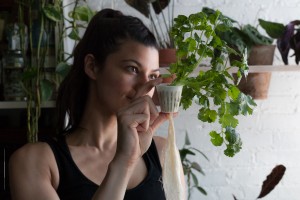 Photo courtesy: Summer Rayne Oakes
Rayne Oakes is a well known model from New York, wellness writer and an activist, who not only has an eco name but nurtures a deep love for nature and environment. Her 1,200 sq feet apartment in Brooklyn, New York, has nearly around 700 plants of more than 150 species, which clearly reflects Oakes' love for greenery and her concern for Mother Nature. In an exclusive email interview with StreeNews, Ms. Oakes tells about her passion and her future plans.
StreeNews: You are an environmentalist and your apartment has been termed as 'greenest apartment' in New York City. Were you an environmentalist right from childhood? Who inspired you towards nature?
Ms. Oakes: I was a kid of Nature. I always had a natural curiosity for the world around me and I suppose that never left! My parents helped foster that in me—both directly and indirectly. I grew up on a beautiful plot of land in Northeastern Pennsylvania and my mother and father had the most beautiful gardens…flower, vegetable and orchard. I also foraged in the forest when I was young and learned quite a bit about herbs. So you can say it is "in me".
StreeNews: How many plants do you have in your apartment? How do you manage these as you are extremely busy with so many assignments?
Ms. Oakes: Currently around 700. I nearly doubled my plant collection in three years' time. You can say it is sort of an obsession. I always have contingency programme, like, if I leave for a long period of time, I have a gardener up the street that can come and take care of my plants. But otherwise, I have started to automate my system. I have a sub-irrigated green wall, and a lot of self-watering systems as well. Plus I recently invested in a 150-foot hose in the house to make it easier to water. I find watering, and taking care of my plants is very much like a moving meditation.
StreeNews: Do you find it difficult to nurture plants in an apartment?
Ms. Oakes: You are always constrained in an apartment because it has walls, so you are separating a plant from its environment. In many cases, you want to try to mimic the environment that the plant natively grows in, so for instance, some plants prefer high humidity because they are rainforest plants or want a sunny, dry environment because they are cacti; or if you take the Monstera, a popular home plant here in the states, they are epiphytic, which means they grow on other plants in their environment. I am now currently training mine to crawl up a post in my home, so it is more true to its native growth structure. I think it makes for a happier plant.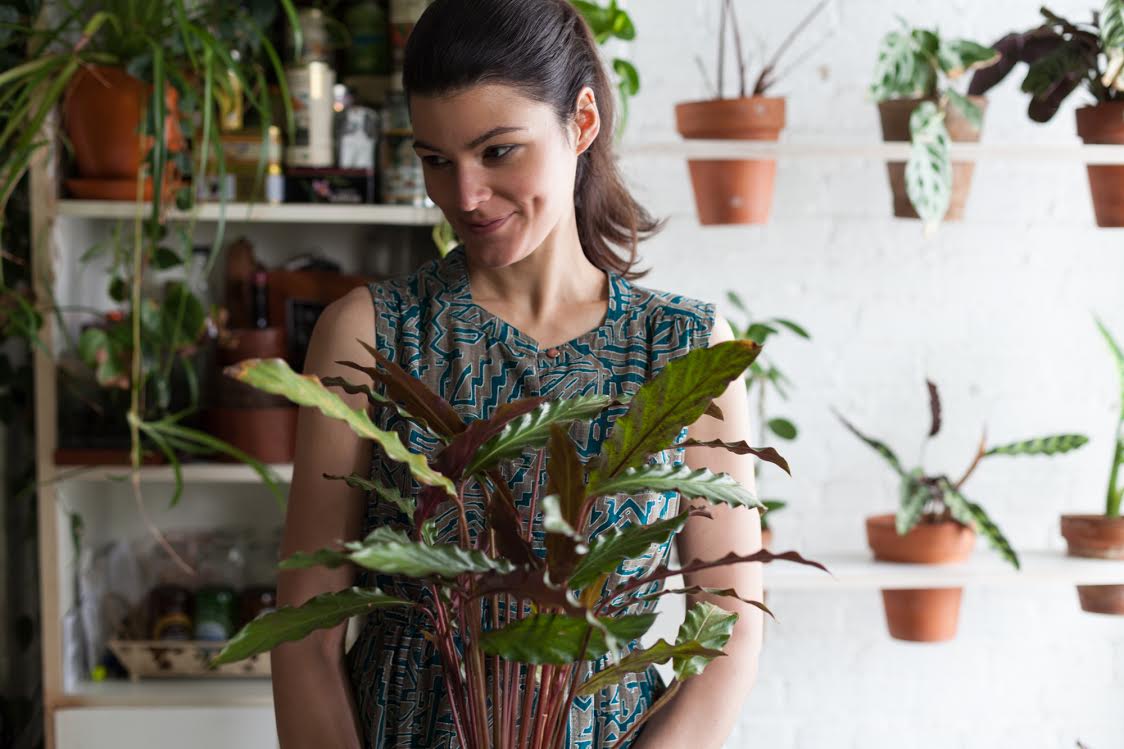 Photo courtesy: Summer Rayne Oakes
StreeNews: You also promote sustainable design. Please explain this and how can we promote this on an individual basis?
Ms. Oakes: I love focusing attention to things that we do on a daily basis. Every morning, most of us wake up, shower, get dressed and eat. It is a routine, but in those routines, we are making everyday choices that can improve our lives and other people's lives. I find those are the touch-points that we can change for the better. Clothing—what we wear—is particularly important—and powerful. Firstly, all clothes are handmade; what I mean by that is that they are picked, spun, made, touched by someone, and we want to make sure those people were treated and paid fairly. Secondly, what we wear has a great influence over people's perception of us, so it relates directly to our identity. What would we want our clothes to say about us?
When I came out with my fist book, Style, Naturally, I began dreaming up an idea to help more designers and brands source more responsibly. I began some early research with about 100 designers in the industry and found that the majority of them spend up to 85% of their time sourcing materials—not designing. That was shocking to me! Designers had a desire to source better, more responsible materials and fabrics, but didn't know where to start. That's how my second company, Source4Style (now called Le Souk) developed. I was able to convince my business partner at the time, Benita, to leave her job and help me build the company. I even ran it out of my home for about 18 months, which was exhausting, but it's now a great resource for designers to turn to in order to sample and source.
StreeNews: What are eco friendly, sustainable fabrics? How has been the response for the same?
Ms. Oakes: Eco-friendly fabrics can't easily be defined because they can be many things—from hand-woven khadi cottons, to organic cotton twills, to recycled PET fabrics, to fabrics that are locally-produced and sourced. We'd often guide designers to determine what "sustainability" meant for their brand and to source appropriately to those guidelines.
StreeNews: How did you become interested in sustainability?
Ms. Oakes: I love nature and being out in nature. If we were not constrained by economic chains, then I would probably just be living closer to the land. The idea of something being "sustainable" in an economically-driven world is not realistic because it is not in accordance to natural laws, but it gives us something to strive for, that is more in line to where we need to go, and also gives us an opportunity to meet people where they are at. I particularly like focusing on industries that are close to us—like clothing, food, shelter—because It gives us a way to make changes in our everyday lives.
Photo courtesy: Summer Rayne Oakes
StreeNews: How did you become a model? Has modeling helped you in championing your cause?
Ms. Oakes: I began to model back in 2002 because I wanted to connect my environmental work (I am an environmental scientist/entomologist by training) to an industry that I thought at the time had no relationship to the environment, and modeling was a way in. I made a commitment to myself that if I were to pursue modeling, I would have it match my values. That's how I got stuck with the moniker of "The Eco-Model", which Grist first anointed me. I was worried at first, because I thought no one would take me seriously with a nickname like that (laughing), but I think that's how most people know me, so it stuck! Long story short, it took a while, but that began to open up quite a few doors—and I have been able to work with a number of awesome brands—from independents to major players like Payless and Modo eyewear—to creatively direct collections, help source more sustainably, and begin offering a new approach to business.
StreeNews: What are your future plans? Do you wish to start your enterprise on a global scale? How about in India?
Ms. Oakes: I don't plan too far in advance—maybe one, two years maximum. So I'm not quite sure what my future holds; if you asked me 10 years ago if I would be where I am today, I would have never predicted it, so there is no sense in me wondering. I know I'm happiest when working on my own projects. And I know I want to spend more time with an initiative that I'm getting more involved with in the Amazon. In regards to expanding to India—Le Souk already works with a number of Indian textile makers. On the other work front: perhaps. It depends where there is interest, and of course, I would want to make sure the work I do is culturally-appropriate and culturally-sensitive.