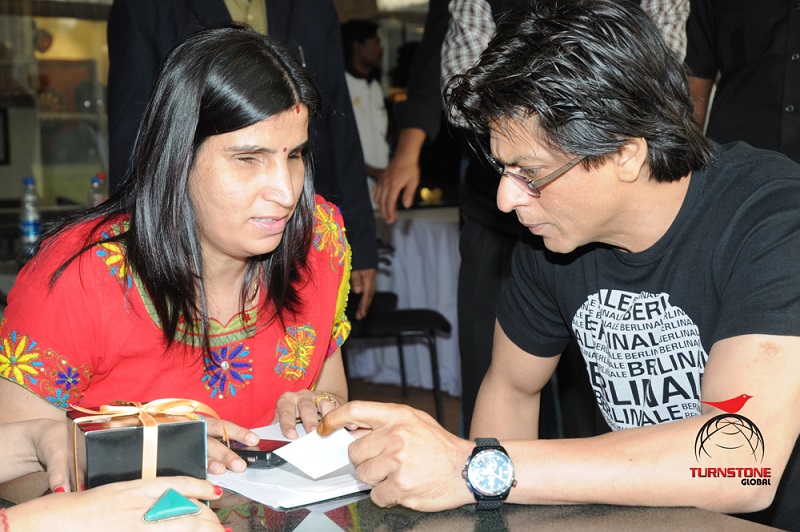 By: Varda Sharma
Dr. Kanchan Gaba, a resident of Kolkatta, was just a child in the primary school when she lost her eye sight due to some illness. Although completely shocked and baffled with this sudden turn of event, she and the parents, were determined not to give up and enrolled her in Calcutta Blind School.
With her sheer determination, Dr. Gaba not only completed her schooling with outstanding marks but secured first position among the differently abled in the Board Examination. She completed her higher education from Lady Brabourne College, one of the most prestigious colleges in Kolkata and was chosen for the National Scholarship Award.
After completing LLB, LLM, she enrolled herself for Ph.D programme (2008) in the University of Calcutta and wrote her thesis on  'World Trade Organization, its Legal and Economic Implication in the Indian perspective'.
Working towards providing holistic development
Through her own personal experience, Dr. Gaba realized the various challenges that people with different abilities undergo in the society. She restarted 'Turnstone Global', a not for profit organization in 2004 in Kolkata with an aim to work for the people with visual impairment.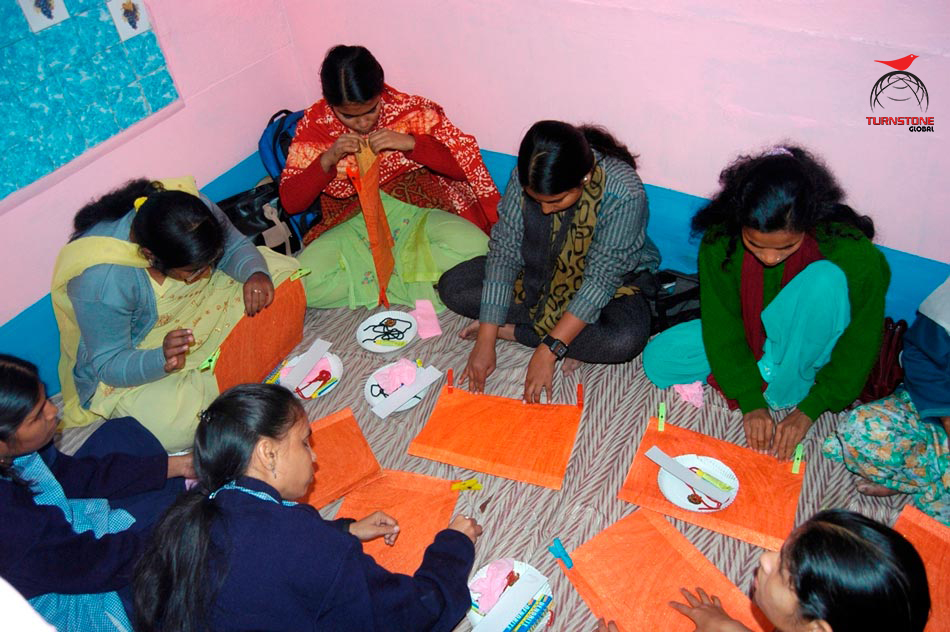 "However, I soon realized that in addition to suffering from visual impairment, the same person may suffer from multiple disabilities. To address development needs of such people, it is essential to provide the much-needed support to them in other types of disability they suffer from," says Dr. Gaba and thus in addition to visual impairment, the Organisation soon started working with the people suffering from other types of disability as well. Over the period of time, 'Turnstone Global' further expanded its horizon to include programmes on economic empowerment, health care, community development etc.
Various activities
Education: Turnstone Global has a dedicated wing for education. They conduct:
Remedial Coaching centres at Basanti Colony, Kolkata & Belabahal, Purulia, West Bengal for slum children and rural students respectively.
Formal middle school at Satghoria, Malda for the marginalised below poverty line students' up to age group 10.
Formal middle school at Belabahal, Purulia for the marginalised below poverty line students' up to age group 10.
Residential training on competitive examination and extra-curricular classes at Matigara, Siliguri, West Bengal.
NGO Management classes to train the future generation targeted to the +2 passed out students from district level in both residential and non- residential format.
Scholarships for the students who are poor but meritorious to pursue their higher education. A special division to assist the specially enabled students with readers and writers along with the scholarships are being offered.
Providing large print books of all subjects (according to syllabus of Ministry of School Education) to the Government Schools to assist the low vision students across West Bengal with the active participation of Sarva Shiksha Mission, West Bengal. Also ensuring the mechanism of Sarva Shiksha Mission for the students to attend the schools in active manner through proper psychological counselling and to support the students in special need to arrange the devices of hearing impaired and visually challenged. At the same time, providing the legal and administrative guidelines to gain the social support system to the students of special need.
Production and distribution of Braille and audio books in Kolkata for the visually challenged.
Establishment of Braille press in Agartala, Tripura.
Development and testing of standardized assistive devices and development of new software of the ease of persons with disability.
Free hostel facility at Siliguri for blind students undergoing higher education.
Turnstone Global creates digital literacy under National Digital Literacy Mission in Mizoram.
Physically Challenged corner at Birchandra State Library, Agartala.
Braille Audio Digital Library at Calcutta University.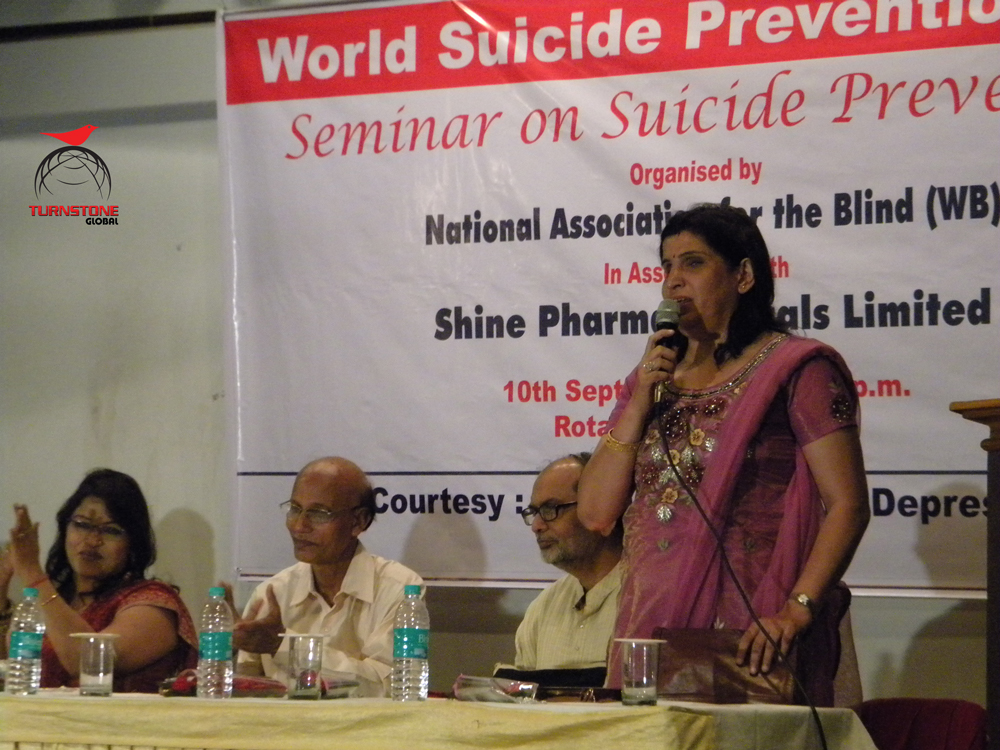 Health: Following are the interventions made by the organization in the health sector:
Eradication of preventable Blindness.
Provide treatment facilities to the underprivileged for diseases like AIDS, Renal Failure, etc.
Giving doses of vitamin A and Albendazole to all children below five years.
Treating hearing impairment and providing hearing aids.
Conducting eye screening camps, general and orthopaedic camps.
Running subsidized rate hospital at Chowhatta, Birbhum, West Bengal.
Spreading awareness on infectious diseases such as HIV and Dengue.
Corporate camps assess basic health such as diabetes, blood pressure, BMI etc. apart from general health we also do eye camps, physiotherapy camp etc.
School camps to assess basic health throughout the year.
In addition, the Organisation conducts child, adolescent and maternal health programmes spreading awareness on nutritious diet, safe sex practices, early detection of disability etc.
The Organisation also extends 24×7 health care services to the enior citizens who are not being able to reach health- care centres due to their age and lack of manpower.
"Turnstone Global has established a unit for rehabilitation psychotherapy or behaviour modification, psychological counselling for psychosocial disabilities for children and adults, vision therapy, physiotherapy etc.," says Dr. Gaba and also runs de-addiction centre.
Skill Development: The Organisation runs 22 skill development centres in affiliation to various agencies such as STVT (Short Term Vocational Training), under West Bengal State Council of Technical Education; Nehru Yava Kendra under Ministry of Skill Development, Government of India. Various skills such as Computer fundamentals, travel & tourism, beauty & wellness, retail management etc.
Training in handicrafts such as paper, jute, water hyacinth, clay etc. are also being provided. So far, the Organisation has trained more than 6000 students in the above mentioned sectors.
Placement cell: Till date they have placed more than 3800 students in various big corporates and midlevel companies.
Sanitation: Turnstone Global has constructed 1800 individual household washrooms in Bengal and Punjab with the help of government and corporate sectors.
Women Empowerment and Self Help Groups: The Organisation tries to empower women through workshops, seminars, rallies etc and has created 26 Self Help Groups for the promotion of their livelihood generation.
Turnstone Global has recently started its wing of microfinance to support urban women for their livelihood.
Since inception, their activities have spread to almost all districts of West Bengal and other States of eastern India including states of Assam, Tripura, Mizoram, Sikkim and Arunachal Pradesh in the east and the state of Punjab in North. In West Bengal alone, the Organisation works in over 600 villages under 31 Gram Panchayats in 16 districts.
 Future plan
Turnstone Global is in the process of constructing a Multi-Speciality Hospital in Birbhum. Also in the pipeline is an old age home for the disabled in Siliguri; Knowledge centre for the disabled at Tripura.
"We aim to provide skill training to around 10 million students in the next 10 years," says Dr. Gaba.
"Our organization believes that the empowerment of the persons and availability
of opportunities for such empowerment is the best help that we can do. From being a service delivery organization to one that impacts policy and practice, we have come a long way and hope to continue doing the work that has been bringing smile on the faces of the deprived and those around them," she adds.
Turnstone Global
Founder: Dr. Kanchan Gaba
Founded: 2004
Location: Kolkata
Website: www.turnstoneglobal.org