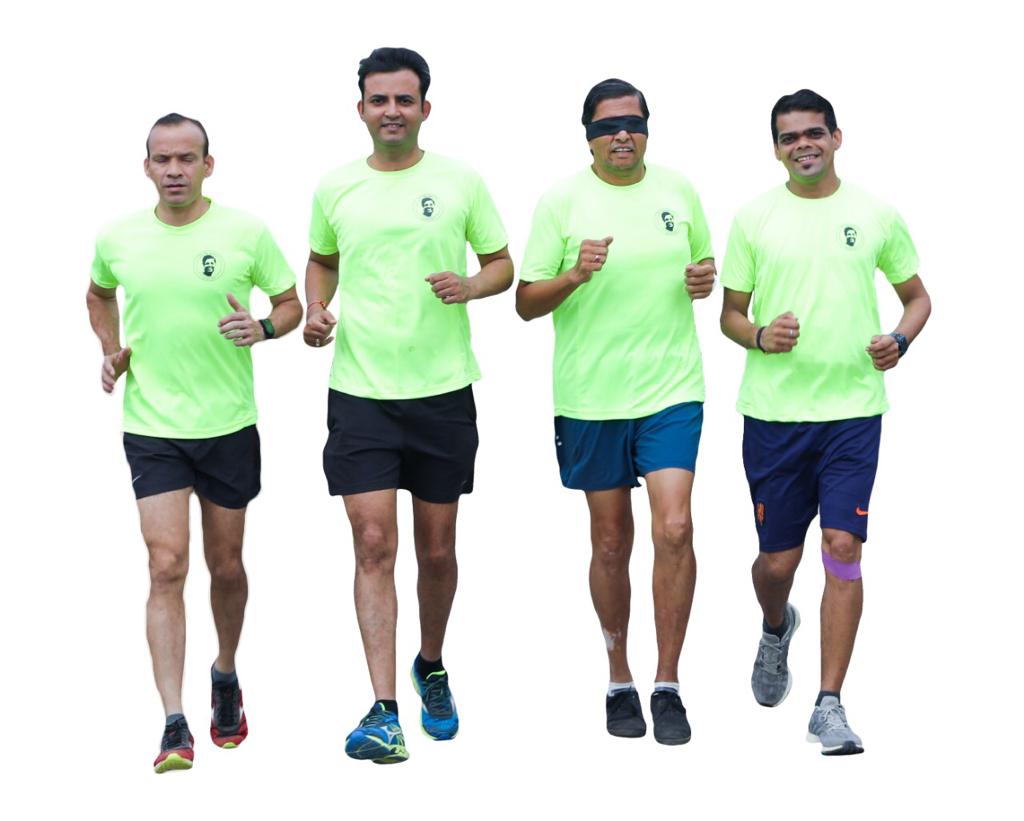 Ever wondered how life would be for the visually impaired? A world of unrelenting darkness! Every year thousands of people are losing their vision due to various factors – but fortunately many of them have a second shot at regaining it, thanks to the cutting-edge corneal transplant procedures. However, cornea availability is very low as eye donation is just a fraction of our requirement.
What we take for granted, is a dream for many visually challenged people. To promote eye donation in particular and organ donation in general, four citizens will be running 89.1 km covering 89 Heritage and Historic sites of Mumbai on February 23 and 24, 2019. The run will be flagged off at 3 pm on February 23,2019 at Gateway of India. One of them, Rtn. Roop Betala will run blind folded while other three pacers -Mr. Manoj Soni, Advocate Amar Bhatt, Mr. Dipesh Gindra- will run along with him. This is done as part of Rotary District 3141 initiative.
"The eye donation scene in India is very grim. If statistics are to be believed, of the 45 million visually impaired people across the world, 15 million live in India. The sad fact is that 75% of these cases are of preventable blindness, but due to acute shortage of donors, most of the cases either go untreated or inadequately treated. A meager 25000 corneas are collected for transplants against the annual demand of 2, 50,000. Lack of awareness among general public, traditional believes coupled with infrastructural barriers make this noble act an uphill battle. The myths associated with eye donation are still holding back many from contributing to the cause. Most people in India are aware of eye donation; they don't know the exact procedure to go about it. If the run generates curiosity about eye donation among citizens, the objective is achieved. We can convert this curiosity to know to commitment to donate," says Rtn. Betala.
Aravind Narvekar, Deputy Director and Head of Department of National Association for the Blind says: "This is a very noble initiative. For every one person who comes to our institution to learn a skill and become independent, there are ten out there who do not come over. They either do not know about this organization or they do not have the confidence to approach us. If there is anything that can reduce the number of visually impaired people or their plight, we will be happy to do that".
"Marathons inspire the youth and if we have to garner the support of youth for any cause, we need to first do what appeals to them. Eye donation is a cause that I feel very strongly about. If the youth begin to realize it importance and understand how easy and hassle-free the procedure is, they will encourage and support their parents to donate their eyes and they will set an example by doing it themselves. I have worked tirelessly and practiced regularly for hours for this run. I look forward to the youth of the country to support this," adds Rtn. Betala.
Route:
The Run will start on 23rd February 2019 at 3.00 pm from Gateway of India and reach The Renaissance Convention Centre, Powai on 24th Morning around 11.00 am, where Rotary District (3141) conference will be going on.