By: StreeNews Network 
While working towards sustainability, Savitha Rao (B.Sc, Chemistry and MMS (Marketing), Mumbai University) realized that a lot of people either had a sense of apathy or powerlessness towards issues outside their immediate life. "I believe that each one of us can make a difference and together we can bring positive change," she says.
"As a nation of 1.30 billion, we face many challenges – social, civic, economic, environment. These cannot be solved by governments and civic bodies alone. We need every citizen to participate," says Savitha who launched a campaign "India Kuch Kar" in 2012. The goal was to inspire citizens to get involved in civic issues. "The key focus area was cleanliness in public spaces. This was in 2012-13 before #SwachhBharat", she informs. The campaign got a lot of traction and the ideas from "India Kuch Kar" were even shared by Prime Minister, Shri Narendra Modi in his #MannKiBaat. It was then featured in the #MannKiBaat book. Savitha was also invited in August, 2016 to visit Delhi for an event and met PM Modi. The meeting sowed the seed for #IndiaPositive in her.
"For a lot of Indians the stress of daily life, long commutes, managing responsibilities at home and work leave them with very little time making it difficult to volunteer in a structured way. Due to this giving or doing good becomes an occasional event," she says. However, she asserts, any individual- whether student, home maker, working professional, senior citizen- can contribute positively in making a better and a "New India". All one needs is themselves and the intention to be of service, she adds.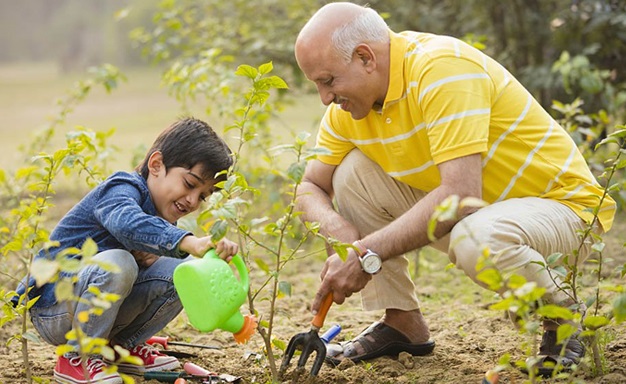 Savitha started practicing it herself. She was moved by the responses she would see in the people she had the privilege to contribute to. "I felt that if more people join in, we can really make a very positive impact. Giving and Doing are powerful antidotes to helplessness. It connects a person to their inner strength. When the children grow up watching their parents consciously doing something positive for India, they automatically follow their footsteps. What a legacy that will be!," says Savitha who formally launched #IndiaPositive movement in 2018.
Simple and doable initiatives
#IndiaPositive concept is very simple and doable initiative and can be done by any citizen. "Do one #IndiaPositive action a week. Every week. Once done (if inclined) share on social media with the #IndiaPositive. Goal is not to brag but to inspire your family and friends to join in," says Savitha adding that they "request people to only share their actions done (and not ideas). Because ideas can be 100, action may be zero. Hence the emphasis is on sharing action."
Citing an example, Savitha says, "An average urban household, that uses polybags to store vegetables in the refrigerator, uses around 800-1000 plastic bags in a year. A suburb of 1 lakh homes will therefore use and dispose 8-10 crore polybags that will either choke land or pollute water and air. So, a simple #IndiaPositive action of citizens choosing to eliminate plastic bags from their homes, can lead to radically cleaner and safer cities with better air quality for all."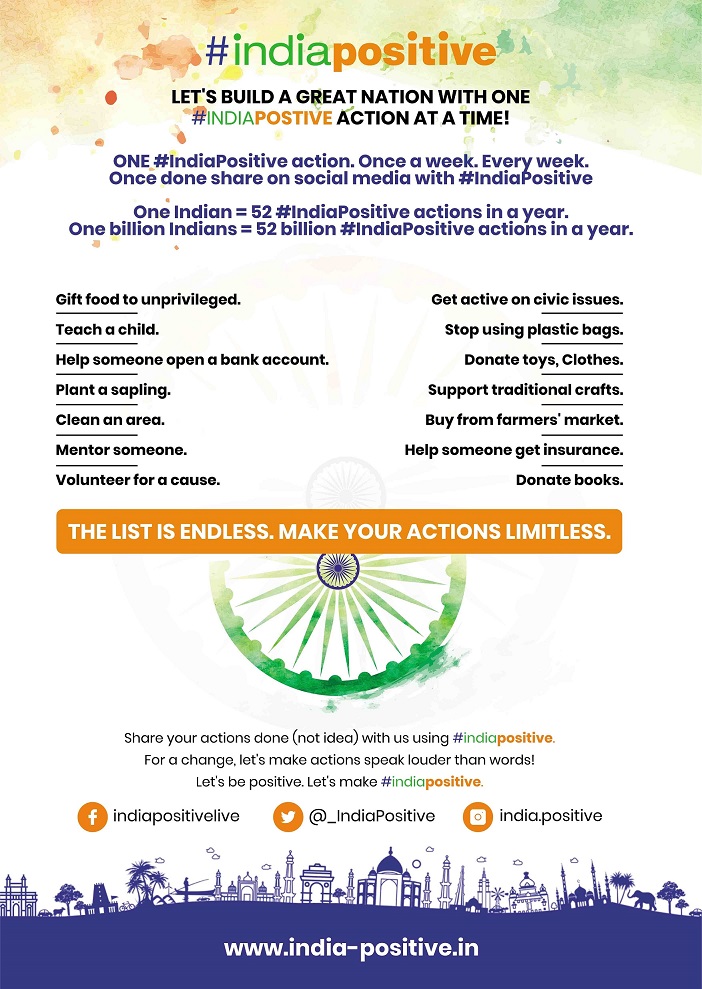 Every individual can give – time, expertise or resources – financial or material. "Most of us can give all the three, but at least one of these is possible by every citizen," says Savitha. Some people may be able to give financial support to a cause; some may be able to volunteer time; some may use their expertise to help others example career counseling of students, helping someone to get insurance or start investing. "At the very least most people would be able to donate objects (that are in good condition) to someone who needs it. Simple, doable ways in which we can contribute to the nation," she asserts.
Inspirational stories
A group of working women, for instance, have been packing extra rotis and subzi while preparing their dabba. These are given to the children who live near the railway station. "Imagine the joy for the children getting healthy, nutritious, home cooked food given with love."
Two senior citizens living in Lavasa make tea and place it in a thermos flask along with cups and box of biscuits in their garden. Anyone working in the area is welcome to come and enjoy the chai and biscuits. It saves them money and they feel valued as a member of the community.
Says Savitha, "Last year I had a green stole I wanted to give. I could not find any young girl in my commute from home to office. There is an old lady who sits outside a temple. I asked her if she would like to take the stole. She immediately accepted it with joy. As I was leaving from there she called me and wore the stole on her head. Then she explained that she recently had a cataract surgery. The doctor had asked her to stay away from sunlight. But as she sits with a cow outside a temple she did not really have the luxury of picking a spot in the shade and had to sit next to the temple entrance." Needless to say, Savitha was deeply moved. She had never imagined that something she just wanted to give away would mean so much to someone.
"Since childhood I have always seen my parents being helpful to people. That has had a deep impact on me. In my extended family my cousins are based in different parts of India and the world. We started a tradition of gifting an #IndiaPositive action as a birthday gift. On my birthday one cousin gifted 3 months' school fees to her cook's daughter. Another cousin in Muscat took 2 Indian labourers out for lunch. Since then he has become like a local guardian to them. So #IndiaPositive is not limited to the geographical boundaries of India," says Savitha with a smile.
How to join hands
To become a part of this initiative, all one has to do is start doing any #IndiaPositive action once in a week for every week and post this on social media with #IndiaPositive. The initiative can be: planting a sapling, donating books/toys; supporting traditional crafts; buying from farmer's market; helping someone opening a bank account; volunteering for a cause; cleaning an area etc.
One Indian= 52 #IndiaPositive actions in a year;
One billion Indians=52 #IndiaPositive actions in a year.
"We want to involve every section of society to be #IndiaPositive. We are exploring very creative ways to inspire and help fellow citizens stay on course to be #IndiaPositive," says Savitha who is in the process of writing a book.
She recently connected with Deepa Malik – the inspiring athlete who is the first Indian woman to earn a medal at the Paralympic Games. Deepa has won 58 national and 23 international medals. A recipient of the Padma Shri and Arjuna Award, she has entered the Limca Book of World Records four times. "Deepa Malik instinctively loved the concept of #IndiaPositive and has started sharing it with fellow citizens," informs Savitha.
"My vision is to make #IndiaPositive a way of life in India. When a critical mass of Indians start to be #IndiaPositive we will become a nation that is truly 'Saare Jahan se Accha'," says Savitha proudly who through the platform of StreeNews wants to invite every reader to join in the #IndiaPositive Movement.
#IndiaPositive
Founder: Savitha Rao
Founded: 2018
Location: Mumbai 
Website: http://india-positive.in/
Facebook:  https://www.facebook.com/Indiapositivelive/
Twitter : @_IndiaPositive 
Instagram : india.positive