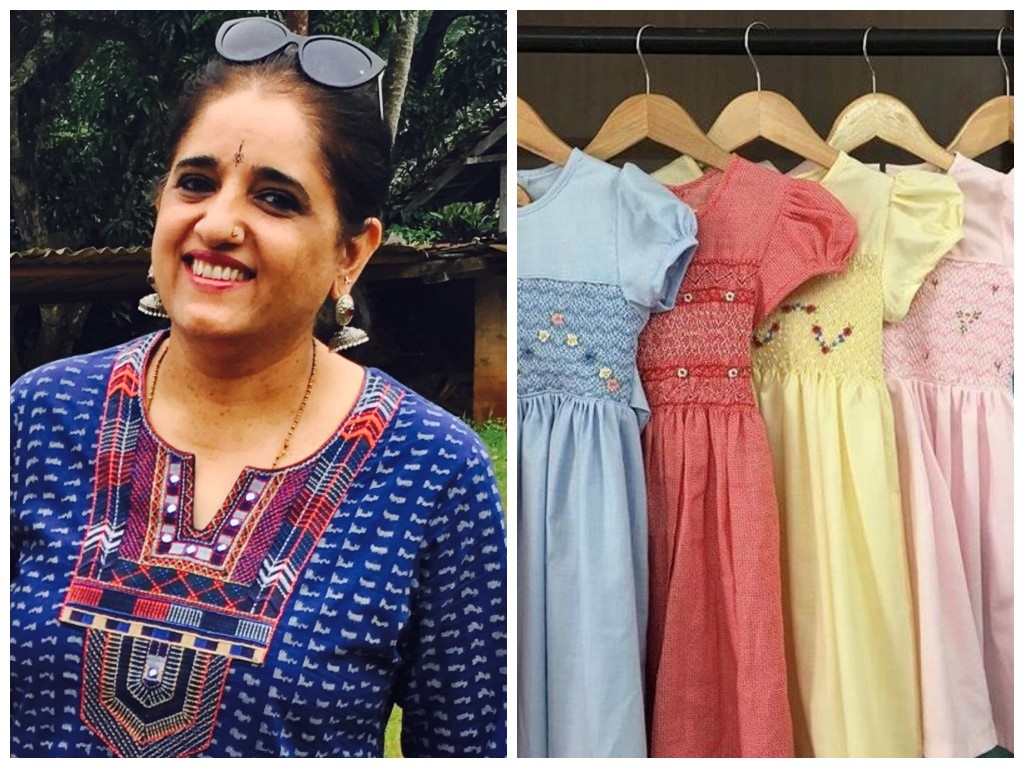 By: StreeNews Network
While the markets are flooded with variety of dresses for your little princess, it is the beautiful hand-smocked cotton dresses which continue to be the favourite choice till date. Bangalore based Kavitha Bharathi Devaiah through her venture 'Silver Lace Smocking' is not only trying to keep the tradition of smocking alive but her beautiful hand smocked frocks (0-8 years) in lovely pastels or floral prints can make any little diva stand out from the crowd.
Although Kavitha was inclined towards stitching and hand embroideries right from young age- inherited from her mother who was a good seamstress- she had never thought she would start a venture in this field. "I went to Convent School and always won prizes in needle work, but this was just a hobby," she says. While pursuing her Graduation (B.A.) from Mount Carmel, Bangalore, Kavitha got married. She was just 19 years of age. Her first daughter was born when she was 21 and second was born six years later in 1997. "My family duties kept me busy and there was no time to pursue my hobby," says Kavitha. As her husband had transferrable job, the family kept moving to different cities in South India. Things, however, changed in 2000 when they moved back to Bangalore. "My daughters went to school from 7.30 a.m. till 4 p.m. and I had lots of time for myself," she recalls.

Love for smocking
It was during this period, Kavitha decided to take her hobby seriously and started reading books on smocking. "I was greatly inspired by Martha Campbell Pullen, a great entrepreneur, and decided to start my own venture," says Kavitha who even joined short tailoring courses. Finally, with one tailor, Kavitha launched 'Silver Lace Smocking' in 2002 and with this began her journey as an entrepreneur. "I was surprised with the enormous response I got from my neighbours, friends and family members who encouraged me to scale higher," she says and started participating in various exhibitions.
However, the journey, as most entrepreneurs would agree, was not so easy. Finding skilled labourers was the biggest hurdle. Another challenge was to make people understand and value her craft. "People who really know about smocking simply love my dresses," says Kavitha whose dresses are now being shipped pan-India. She currently has 4 tailors and 3 girls who do smocking and make around 3-4 dresses every day. As regards investment in this venture, Kavitha says with a smile, "I have put in my heart, soul, my time and energy."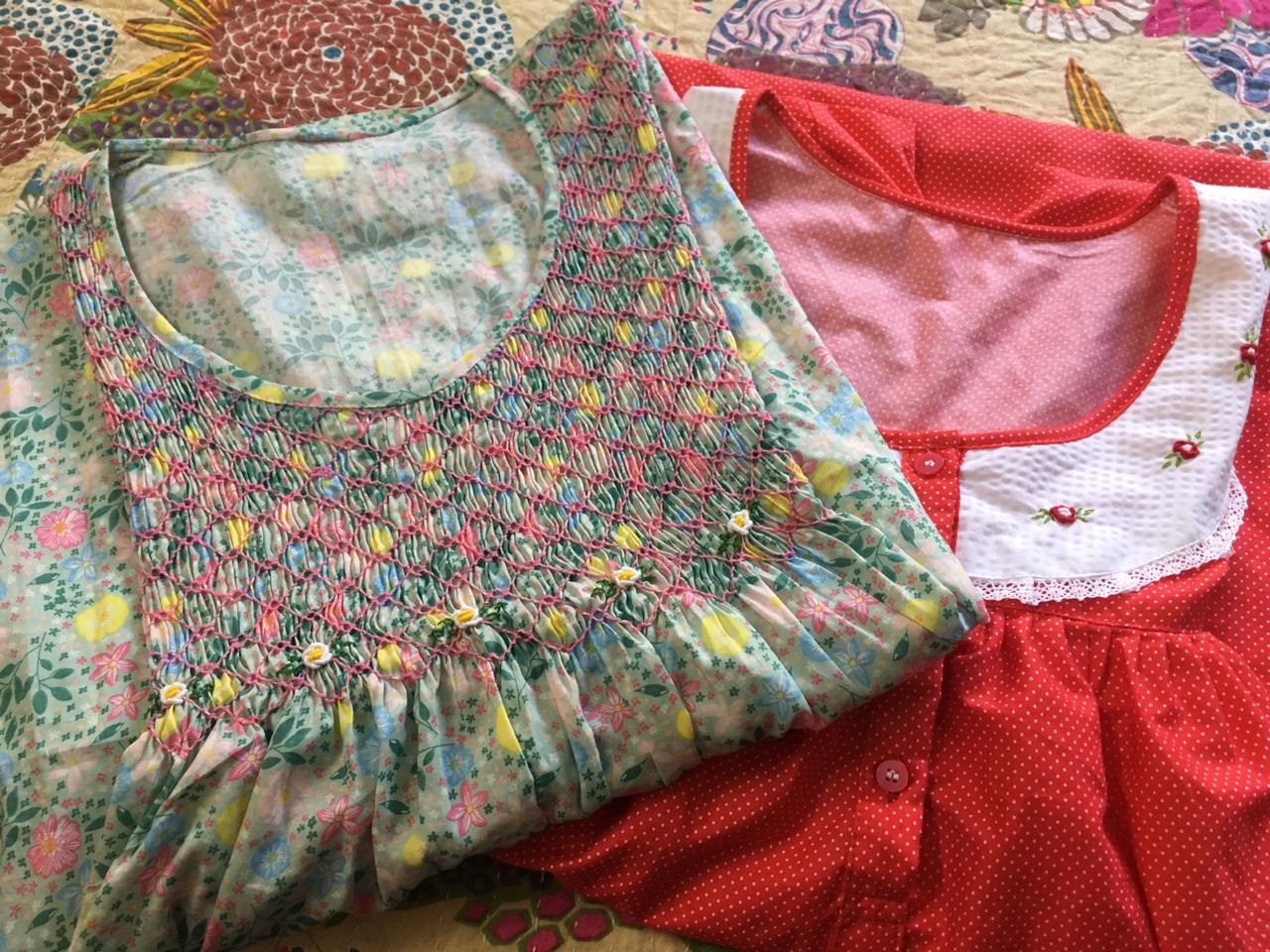 Beautiful classic dresses and nighties
Kavitha makes dresses and outfits for new borns and little girls up to the age of eight. The outfits are mostly in cotton (unless desired on other cloth by the client) and come in beautiful pastel colours with soft layers that fall beautifully and strewn with small roses in bullion knot stitch in between with just the right amount of frill and delicate smocking in pleasing colours. Some dresses have neat Peter Pan collars for added style and pretty bows to give extra touch of class to the outfits. As the cloth is cotton, it is perfect for the child's soft and sensitive skin. She even customises dresses. And the prices are not too bad either. Cotton frocks for toddlers upto 6 months start at about Rs. 650 and Rs. 900 upwards for 8-9 year olds.
She has also started making hand smocked cotton nighties, which too are selling like hot cakes. Nighties range from Rs. 900-1800.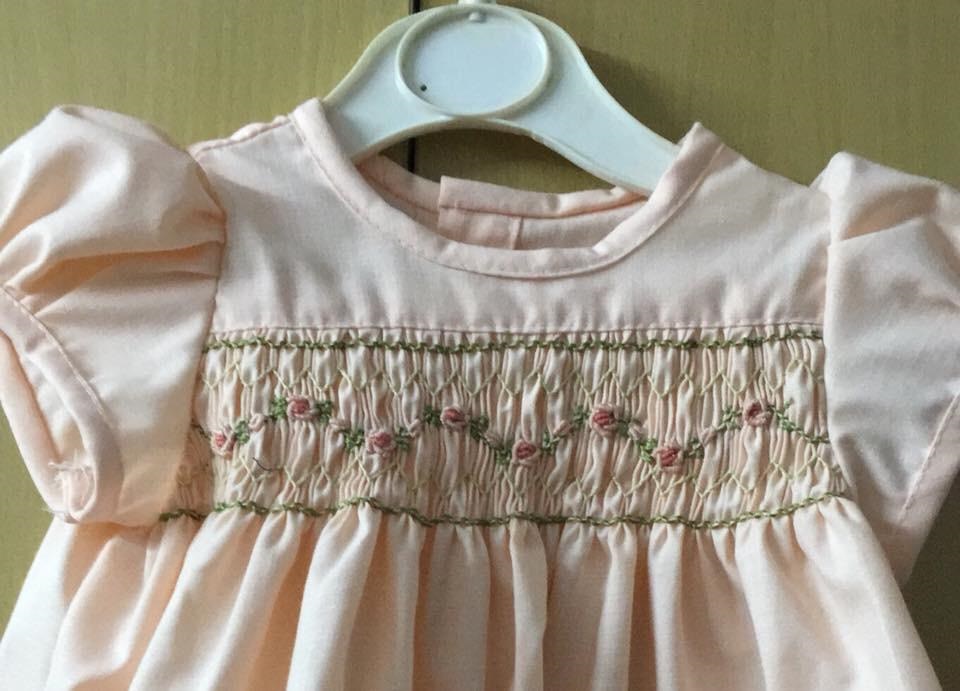 "It is my dream to set up a beautiful boutique for kids," says Kavitha who feels happy for not only doing her bit in reviving traditional art but also giving employment to women and empowering them.
Silver Lace Smocking
Founder: Kavitha Bharathi Devaiah
+91-9448108250
Founded: 2002
Location: Bangalore
Facebook:
https://www.facebook.com/silverlacesmocking/