By: Nidhi Agarwal
Ingredients
Whole wheat flour 100-110 gms.
Corn flour  2 tbsp.
Cocoa powder  2 tbsp.
Baking soda  1/2 tsp.
Vanilla bean powder 1/2pwd.
Apple cider vinegar 2 tbsp.
Salt a pinch
Brown sugar 2 -3 tbsp.
Over riped bananas 2-3 small
White choco chips 3 tbsp.
Dessicated coconut 2 tbsp.
Milk 1/2cup ( 120 ml.)
Canola oil 1 tbsp.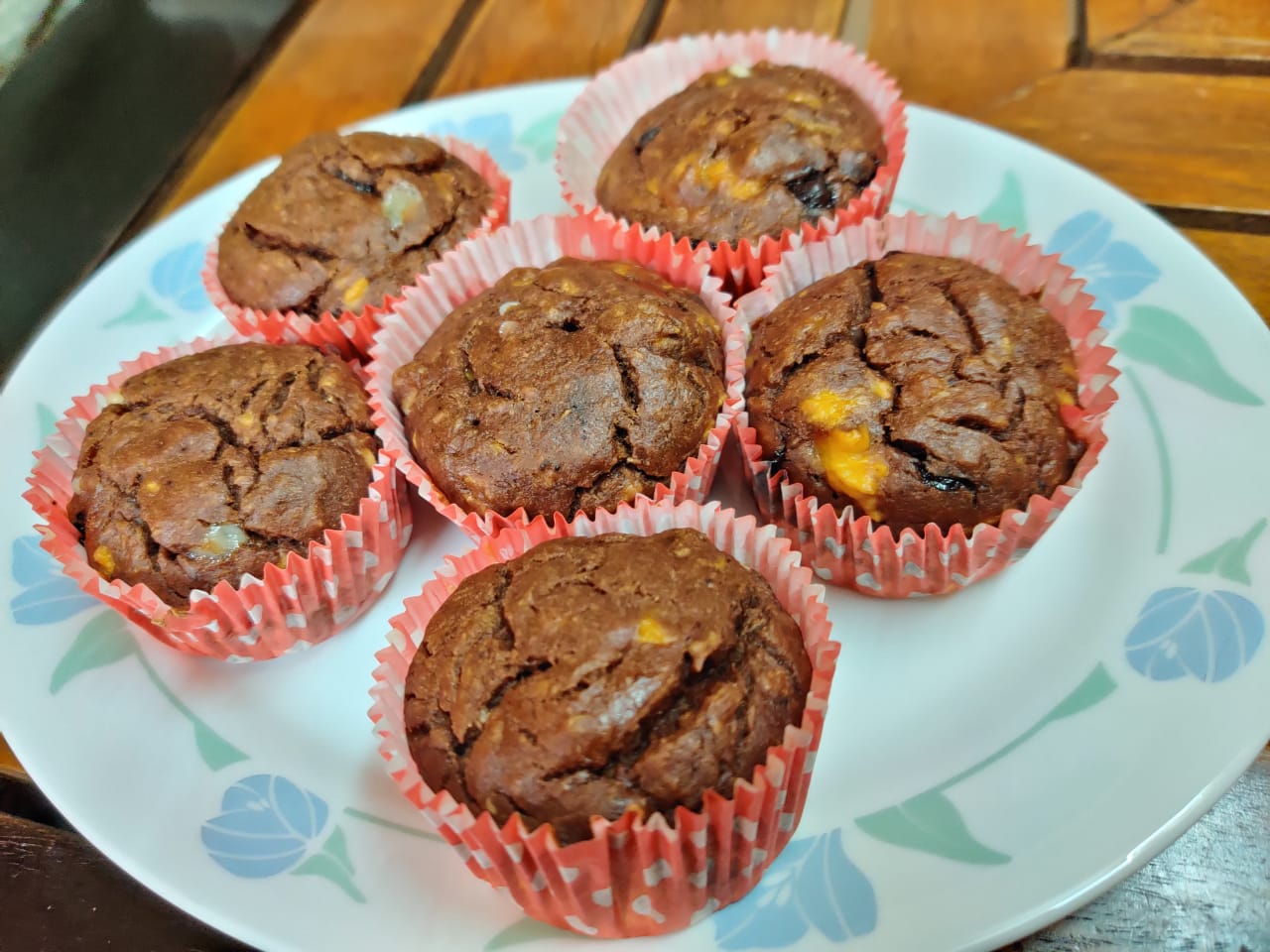 Method
Preheat the oven at 160 -180 degree Celsius for at least 10 minutes.
Grease a cup cake or muffin mould and keep it ready. If needed, line it with a cup cake liner.
Mix flour, salt, baking soda, cocoa powder and dessicated coconut in a big mixing bowl.
4. Mash the bananas using a blender or fork until it is pureed well.
In another bowl, add the mashed bananas, oil, sugar, vinegar and milk.
Whisk well till the sugar is fully dissolved in it. Add vanilla powder and stir.
Pour the liquid mixture into the dry ingredients and fold gently using a spatula. Do not over mix.
Pour the mixture into the muffin mould till 2/3rd of its capacity. Tap the tray on the counter to remove air bubbles.
Bake in the oven for 20 to 22 minutes or till its fully do e. U can check the doneness using a toothpick.
Remove from the oven and cool in the mould for 4 to 5 minutes.
Invert muffins on a wire rack and cool well.
Serve it immediately or store in air tight containers after it is fully cooked.
Enjoy healthy banana muffins with a cup of coffee or tea.