By: SSN
With an aim to scale up the ranking in the Swacch India Survey 20201, curb open urination and improve sanitation facilities under its jurisdiction, the Navi Mumbai Municipal Corporation (NMMC) has launched 'Upcycle Art Toilet Buses.' The first of its kind in India, the buses were unveiled at the corporation's headquarters in CBD Belapur recently.
Navi Mumbai is currently ranked as the third cleanest city in the country and first in the State of Maharashtra. NMMC is determined to get the first rank for the satellite city and has started various activities under the guidance of Navi Mumbai Municipal Commissioner, Abhijit Bangar.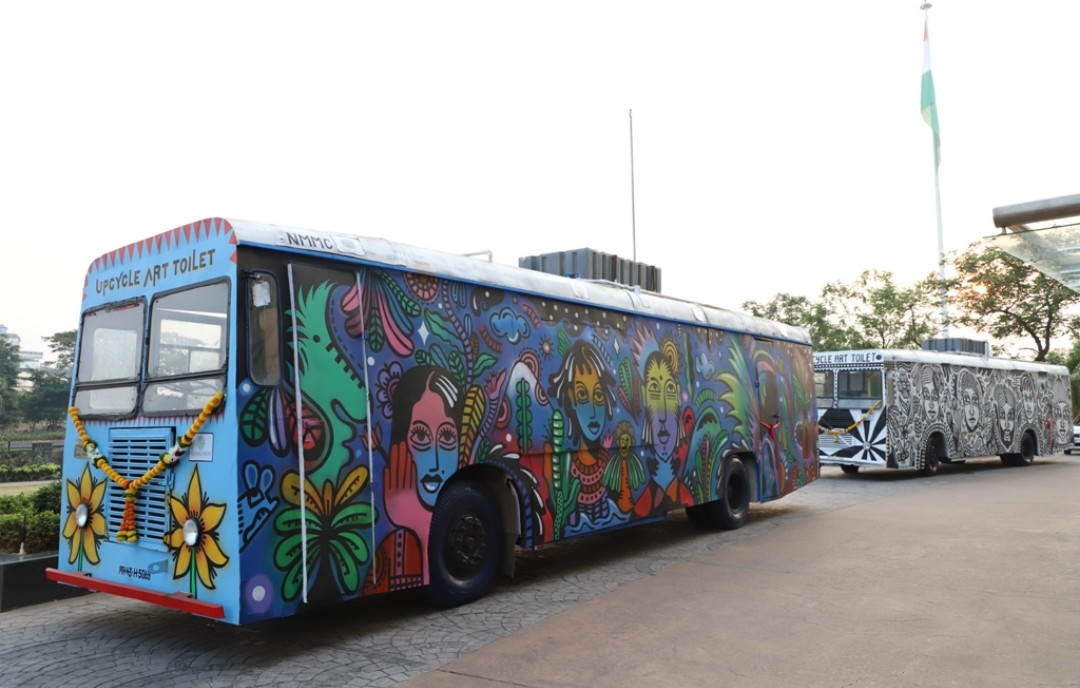 Navi Mumbai is the only city in Maharashtra to get the five-star rating of garbage-free cities and has also received a double plus rating for Open Defecation Free (ODF). Special attention is being paid to the toilets which are an important part of cleanliness. NMMC has been pushing the three 'R's' concept; 'Reduce, Reuse, and Recycle' in an innovative manner and is using the same concept of 'sustainability from waste'. Two old buses of its transport wing (Navi Mumbai Municipal Transport) which were not fit to carry passengers have been transformed into 'Artistic Mobile Toilet Bus'.
With flagging of these two 'Upcycle Art Toilet Buses', these are now available for the service of Navi Mumbaikars.
Features
• Both the unused buses, which have been converted into artistic mobile toilets, have toilet facilities for women at the front and for the men at the rear. With separate entrances for men and women on both sides, it ensures enough privacy.
• There are three western style lavatories for women and two western-style lavatories for men and two urinals for men. In addition, there are 2 wash basins with a separate store room facility. A water tank with 750 litres of capacity has been installed on the top of these buses. And with an inbuilt septic tank, the tank will be cleaned with the suction method or can be connected to the sewerage link of the civic body.
• To ensure the electricity is not wasted a sensor-based system has been placed i.e. when the door of lavatories is open, the light will be 'On' based on the sensor module.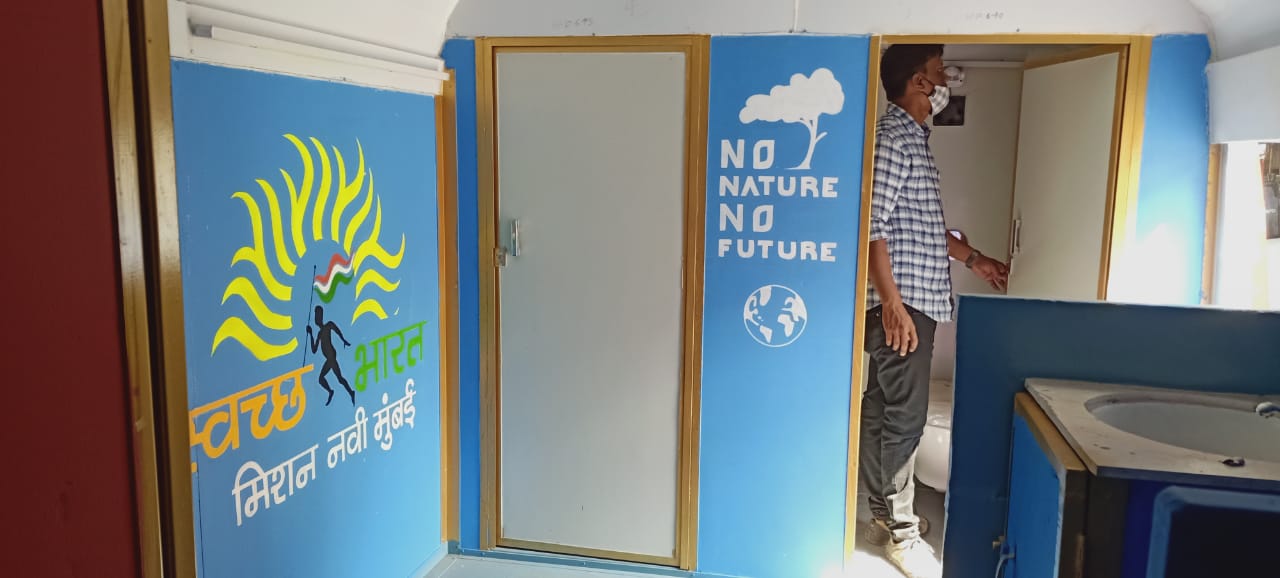 The buses have been transformed into mobile toilets by M / s. Kalyani Cleantech Pvt. Ltd., an associate company of M / s. Sara Plast Pvt. Ltd. While Globalgreen Innovators Pvt. Ltd. gave an artistic touch by making it very attractive.
The mobile toilets were inaugurated by Additional Commissioner, Sanjay Kakade in the premises of NMMC headquarters. On this occasion, Deputy Commissioner of Administration Dadasaheb Chabukswar, Deputy Commissioner of Solid Waste Management Dr. Babasaheb Rajale, Deputy Commissioner of Social Development Shrimati. Kranti Patil, Deputy Chief Sanitation Officer Pralhad Khose, Deputy Engineer Vasant Padghan, Kalyani Cleantech Pvt Ltd General Manager Saurabh Ranade, Accountant Meenal Dongre, Globalgreen Innovators Pvt Ltd Directors Jaspal Singh Naol, Binoy K, Nikhil M, and other dignitaries were present.