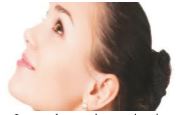 Laser photo rejuvenation is a newly introduced treatment that offers skin tightening effects, skin glowing, skin lightening, etc. It removes effects of photo aging like wrinkles, spots, textures etc. especially for those who are in their 30's and 40's. It gets rid of fine lines and keeps wrinkles at bay. This non-surgical treatment can also treat sun damaged skin; rosacea, hyper pigmentation and can transform a red blotchy skin into a radiant complexion.
Dr. Vinod Vij, Cosmetic Surgeon at Clinique Asthetica & Fortis Hospital, Vashi says: "It is an excellent procedure and the feedback is awesome. The patients are so thrilled after the sitting that some of them come back for a second sitting, which is not required, just so that they get that one more dollop of extra glow".
Most women in their late 30's and 40's complain about tanned and discoloured skin, tired eyes, shrunk lips, wrinkles. Adding to this woe is the wear and tear of the skin due to sun exposure and harsh pollutants. The skin loses its youthfulness which needs treatment that is beyond anti-ageing products. Photo rejuvenation is one of the answers to all of this. The benefits are consistent and there is visible improvement in the skin with minimum discomfort.
Women today are getting very conscious of their appearance and want to look their best at all times. Rising up the career ladder may take most of their waking hours but they can still steal some time off to get that one dose of beauty that will further enhance their personality. Looking good and feeling good is becoming an inherent part of their living and therefore they are feeling more assertive. Availability of better, newer and safer non-surgical procedures is only making it simpler for women to look better and better as they get older.
The whole process takes not more than 20 minutes and without any anaesthesia because of its non-surgical nature.