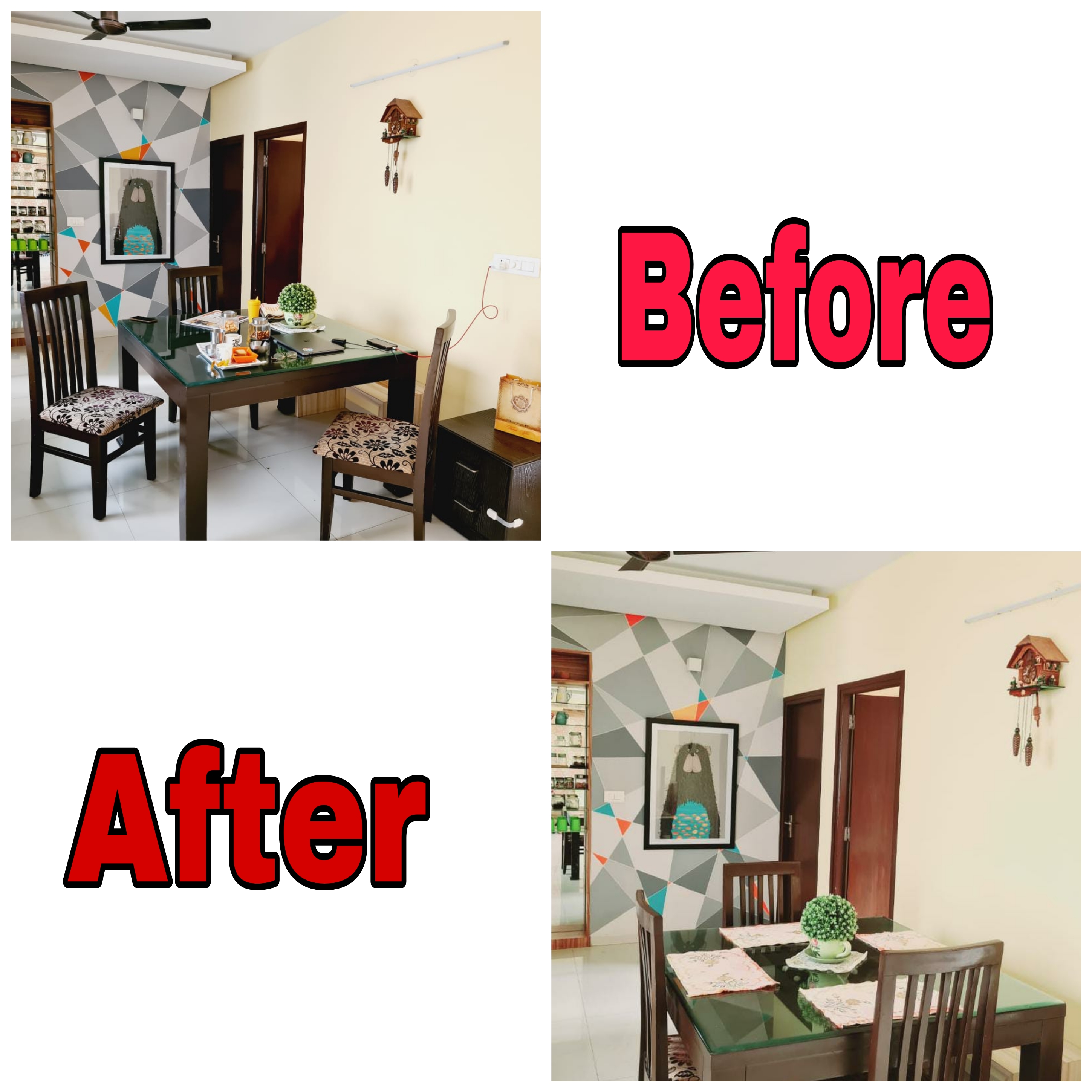 By: Meena  R Prashant
Getting into the Diwali saf safai is a ritual in itself. However, one wishes to have an organised and clutter free home not just during the festival but throughout the year. This issue has been looked into, say professionals who are into decluttering and organizing.
Shreya Agarwal, a professional organizer from Bangalore, says, "Decluttering and organizing is a science. Once a person knows the simple steps, the goal is easily achieved". Divide zones in a given room and plan accordingly, she says. Giving an example she says, let's take the living room. When we think of a living room, the space is used as entertainment room, dinning space, and at times even a reading zone. In such a scenario, keeping the space well organised seems to be a challenge. This happens because people often have the habit of not keeping the things back at the designated space. For instance, when simple salt, sugar bottles are brought during lunch or dinner, these are not kept back in the kitchen. "If they are just kept back at the designated place and the dining table is cleaned after every use, the area is not only cleaner but organized and clutter free", she asserts.
Speaking further she says, another mistake which people tend to make is displaying many things in the showcase or the TV unit cabinet. We must have seen homes where people display play toys, antiques, photos, ceramic items and the list goes on. This not only looks cluttered, but they are also not in sync. "Thus, it is very important to stick to a particular theme or style".
"If you have many soft toys, one should theme them according and display. However, challenge with soft toys is that these catch dust very soon and only dusting them won't help. Thus, displaying things which can be cleaned easily should be displayed and the number of items in a given shelf should be based on the space available", she points out.
When asked how one can maintain books, Shreya says let's call it 'Knowledge Corner'. The first basic step is to collect all the books at one place that are kept here and there. Once this step is done, books need to be segregated into the ones which need to be kept and the ones which need to be donated. After this, the books need to be divided into genres. Once the first three steps are done, one can place the books either, author wise, colour wise or even size wise.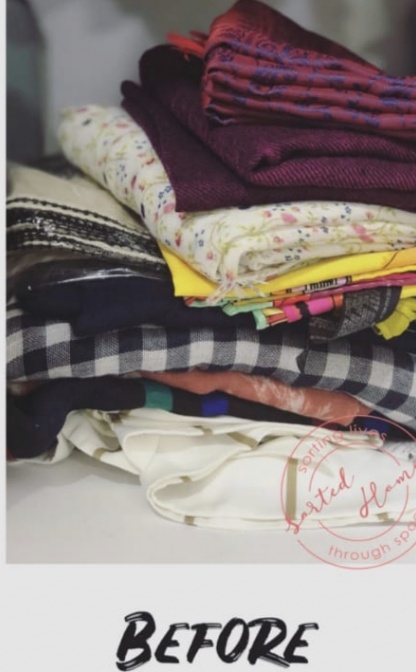 Agreeing to Shreya, Chennai based organizing expert Smriti Bhatia says, another challenge that we see is the kitchen area. "People generally have a misconception organising means cleaning". Smriti points out, "We clean our kitchen platform after use, clean and mop the floor everyday. However, this is cleaning and not "organising". Multiple people use kitchen and organizing and keeping clutter makes things easy," she says.
In today's scenario we not only cook Indian food with traditional masalas, but we also have added variety of herbs like rosemary to paprika for our international cuisine. This in turn increases the number of boxes/containers. While planning an organised kitchen, be in the modular kitchen or the traditional open shelfs storage space, one needs to understand 'what is useful and not' and change the thought of, phir kabi kam ayega, says Smriti.
Another basic factor which one misses is to choose the containers for storing food items as per the climatic condition. For example, in moist and humid climate, steel containers tend to get corroded or in places where water is too hard plastic over a period get brittle. She says, "Glass is best. However, many may not be comfortable. Thus, good quality steel and plastic should only be used."
The other challenge is finding things. There are two reasons why one does not find a given thing in one go. Firstly, keeping the things at the allotted space. Secondly, not knowing what is kept in the container. Smriti says, the first challenge can be overcome by keeping the things at the right place. This can be further simplified, by prioritizing the utility. For example, "We know we need salt in all our cooking so just keep it near or at hand reach."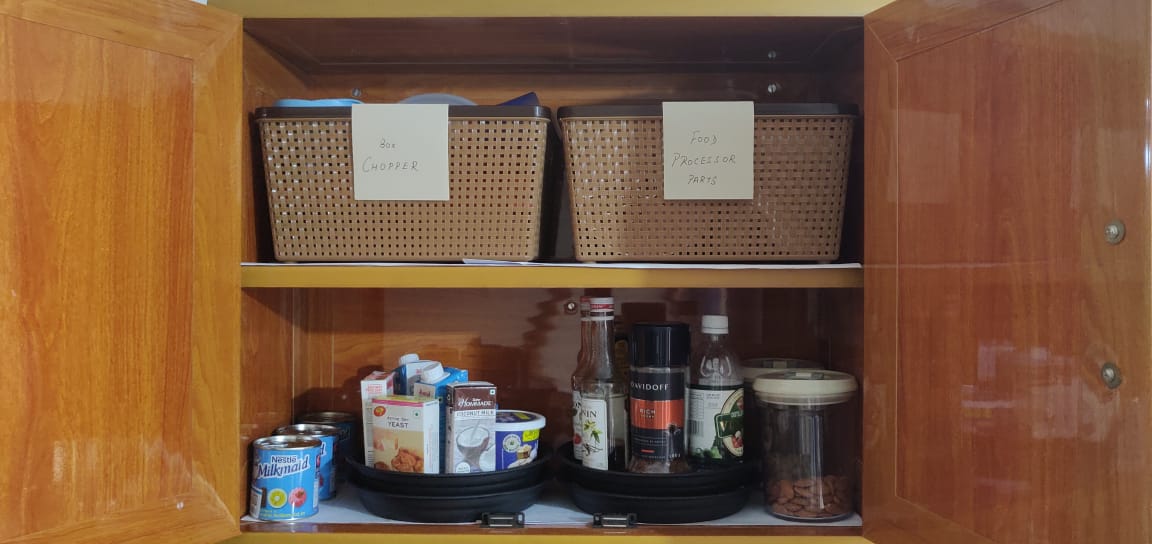 Tackling the second challenge she says, "A simple label method using a permanent marker works like magic in sorting". Speaking further she says, labelling can be done internally and externally. For instance, you have three different verity of rice in your kitchen, simply use internal labelling method while for other things, use external labelling method.
Karishma Khanna, a Mumbai based decluttering and organizing expert says, the first thing which one needs to do is bring a 'change in mindset'. 'We are holders' and this has been coming through generations. If you see your grandparents or parents they have always insisted on keeping things. That is because they have seen so many tough days. "They saw civil wars. They were relocated from their home. That is the reason they got the habit of holding on to certain things as it was the only memory that they could have. Luckily, we no longer live in such times", she says. Thus, while organising the wardrobe, one needs to have conscious mind and keep only those things which one uses, points out Karishma.
The other challenge faced by many is the lack of space. For this one can adapt the 'Konmari method'. This method not only helps in saving space, but we will be able to see what all we have.
The other mistake which people do is not keeping things on the right shelf. For instance, it is practical to keep clothing in the middle shelf, says Karishma.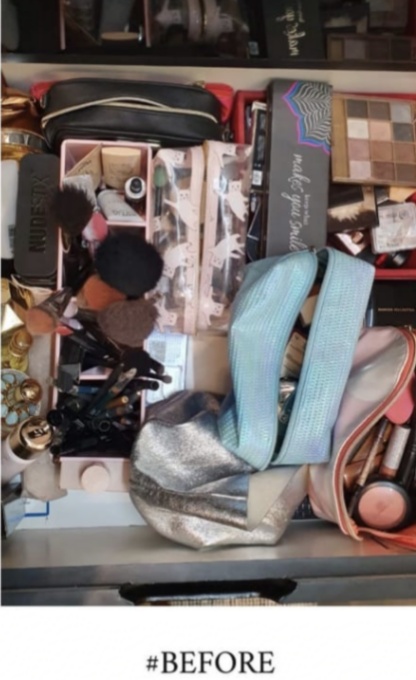 When asked if one needs to have modern wardrobes, Karishma says 'No'. Simply use good boxes which we get while we buy shoes, laptop books or even mobile boxes can be used for organising small things such as handkerchiefs, jewelleries, undergarments. 'By adopting these methods, we not only reuse, but, also save money.'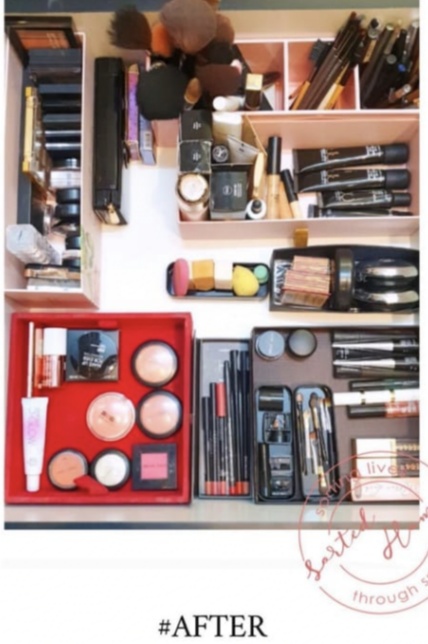 Speaking further she says, "We see three climates in India and we need to keep certain clothing. Thus, it is important to have organizers which are made out of breathable nature materials. In case one is going to store garments in spaces which are open, then good quality plastic boxes are needed and keeping them in colour theme would make it appear neat."