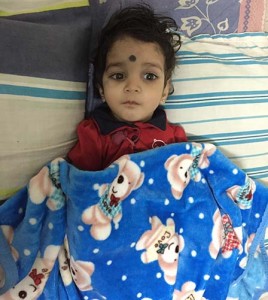 Baby Inaya was born as a normal child although she had low birth weight. However, in the first week following birth, her parents noticed that her wrists appeared bent and her feet were pointing downwards. At about 3 months of age, it was noticed that her eye and neck movements were jerky and random. Her parents consulted doctors who prescribed medications. At about 6 months of age, she had fits/epileptic attack which would occur at anytime during the day. During a seizure episode, she would curl completely. She continued to have epileptic attacks since then. Inaya was unable to lift or move her legs and she would bend her elbows and hold her hands at chest level. Her general growth is slow and now at the age of 1.4 years, she has the development of a 6 month old child.
Her parents consulted different doctors who prescribed her medications though no change has been observed in her symptoms. Finally, they consulted Dr. Pradeep Mahajan at StemRx, Rabale, Navi Mumbai for cellular therapy.
After examining the child, Dr. Mahajan advised her 3 sessions of cellular therapy over a period of 21 days. She has undergone one session till date.
"Just after one session of cellular therapy, her intensity of epileptic attacks has reduced tremendously. She seems to respond to voice commands and her eye movements appear coordinated. She also moves her legs to a certain extent," beamingly says Inaya's father.
"More improvement in her condition is expected following the remaining sessions of cellular therapy. The biggest advantage in this case is that, Inaya is still in her growth phase and thus, her response to treatment is faster and more effective than that observed in older individuals," says Dr. Mahajan.
Dr. Mahajan is confident that cellular therapy will benefit the child and she will be able to lead a normal life, which will not be possible to achieve through conventional treatment modalities. "The child will be monitored on regular basis in order to track her progress and initiate further therapy (if needed) at appropriate time intervals," adds Dr. Mahajan.
However, parents of Inaya, do not have adequate funds to carry out the entire treatment. The total cost of therapy is around Rs. 7-8 lakhs.
"The child does not come from a financially strong background. Nevertheless, her parents have managed to pay around Rs. 3 lakhs for the treatment. We have also tried to reduce the cost of treatment to the maximum permissible extent at our hospital. The parents are hoping to raise the rest of the cost from generous donors," says Dr. Mahajan.
The philanthropists who desire to help Inaya may contribute generously. The fund can be sent to Family Welfare Health Service Charitable Trust (Medical Foundation run by Dr. Mahajan's Hospital) in account number 010110100002776 of TJSB Bank, Airoli. IFSC code is TJSB0000010.